Inside the world of Hawaii's agriculture extension agents
Conversations with three experts who have contributed immensely to agriculture in Hawaii.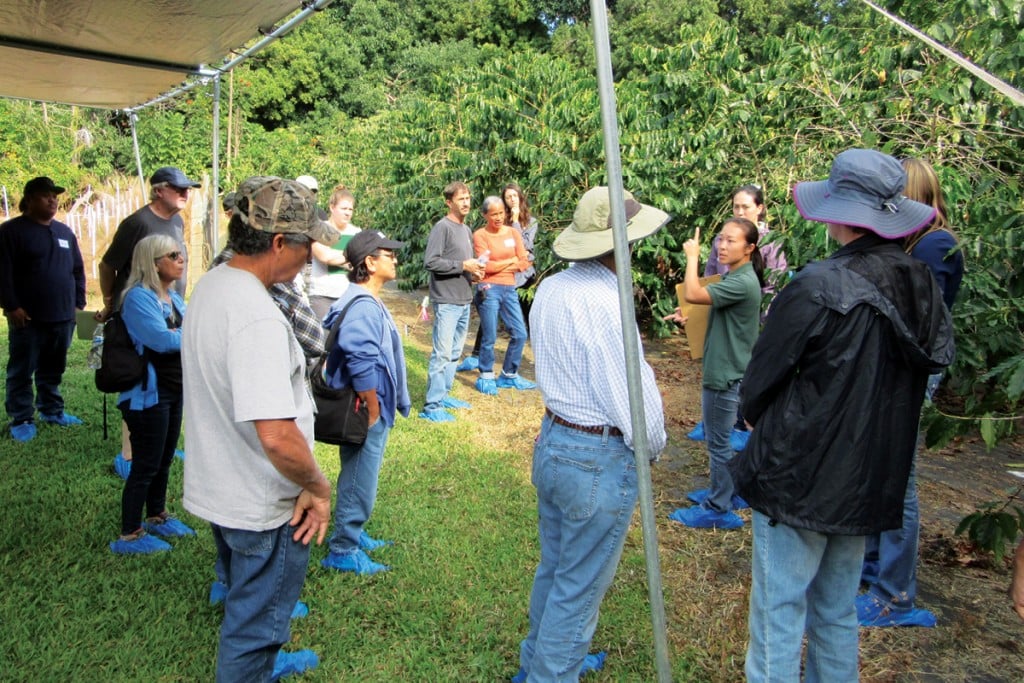 Extension agents may not have the sexy aura of undercover agents, but for farmers, it's no secret that the approximately 65 county extension agents across the state are indispensable. These agricultural experts affiliated with the CTAHR Cooperative Extension Service offer a range of help to the community, from individual farmers to entire industries, through diagnostic tests, consultations and research. Here are three of many who have contributed immensely to agriculture in Hawaii.
Andrea Kawabata
Associate Extension Agent for Coffee and Orchard Crops, Kona
Extension agent since 2011
How did you get started in agriculture?
I was born in Hilo, and my roots in agriculture began with my dad and mom and their love for gardening. In addition, my grand-uncle was a commercial orchid farmer and my dad's brother farmed cymbidium orchids and worked for many years in the Cooperative Extension with UH CTAHR. 
How did you get into studying coffee?
[When I got this job] I had to hit the ground running to be able to help coffee farmers. Prior to 2011, this position had been vacant for a few years. In addition, the coffee berry borer (CBB) was already found in Kona and the impact of CBB was being felt by the coffee industry. I learned as much as I could from other faculty, farmers, processors, researchers and continue to learn everyday. I've enjoyed the challenge of learning the jargon and idiosyncrasies of farming and processing coffee since coming to Kona. 
What projects are you tackling now?
I have quite a few projects at the moment. I'm fulfilling grant requirements for eight different grants. Some of these projects support research and outreach for coffee berry borer awareness, prevention and management; coffee root-knot nematode, a pest that is found around the Big Island and can severely weaken or even kill coffee trees; and coffee pruning techniques.
Another grant is in collaboration with Greenwell Farms and the UH IR-4 program, an important program that conducts research and registers pesticides for Hawaii's specialty crops, including coffee and most of the edible crops grown in the state. We will be researching the timing of application and residue levels of current and potential pesticides applied to coffee trees for the control of CBB and other pests. 
And still another targets the Hawaii Sharwil avocado industry, offering educational hands-on workshops about avocado grafting, shipping considerations and recordkeeping. 
I also have projects with citrus, testing of new pesticides, coffee grafting and lychee. 
What is your biggest challenge as an extension agent?
The Kona Research Station in Kainaliu is a diamond in the rough. CTAHR and USDA researchers, extension faculty and staff have conducted world-renowned work here. Eddie Fukunaga (CTAHR), Dr. Phil Ito (CTAHR), Dr. Roger Vargas (USDA), among others, have provided the world with innovative coffee production techniques, new macadamia varieties, and fruitfly control technologies through research conducted in Kainaliu. However, the Kona Research Station has experienced a decline since the retirement of Dr. Ito. Despite the station's lack of staffing, aging equipment and facilities that are often in disrepair, current faculty and staff continue to utilize the station for coffee and tree crop research and outreach.
Kona is an ideal growing location for coffee and other tropical crops and producers are experiencing an upswing in the market for coffee—the future looks bright. With much needed attention, the Kona Research Station could function as the flagship center of coffee and tropical plant research and outreach. 
What is a challenge today to improve our station's situation presents an incredible opportunity to serve Hawaii's agricultural industries and the world tomorrow.
Glen Fukumoto
County Extension Agent for Livestock Programs, Kona
Extension agent since 1985
How did you get started in agriculture, and in particular, livestock? 
I guess ag was in my blood, being born and raised in a small sugar plantation camp in Wailuku, Maui. Grandma always had a "Victory Garden" and since I was the youngest, I hung out with her and the ag essence must have rubbed on to me.
When we moved from an old-style plantation house to a modest and modern house, one of our neighbors had cattle and I was invited to tag along with Mr. Texeira and his children in the afternoons to check on his cattle. I would help mix the molasses, pineapple bran and sometimes alfalfa cubes for the cattle. After that, we would play in the pastures and with the tame cows.
What do you find particularly rewarding about being an extension agent?
Every time a rancher or farmer invites us to their operation to look at a problem or engage with CTAHR as a cooperator in a project, it's an honor and privilege to work with these agriculturalists who produce high quality food for the people in the state and beyond. As we work with farmers and ranchers over the years, we develop more than casual extension agent-to-client relations—they develop into deeper relationships with some degree of kinship, as we share technical support activities on the farm and also share in family gatherings and celebrations in the community we both live in. 
On the youth side, it's been rewarding to coach the Hawaii State 4-H Livestock Judging Championship teams. I've been coaching since 1989 and have seen the children of former 4-H members now competing. It is gratifying to see that the 4-H livestock program is still an important part of the lives of many rural communities on Hawaii Island and heartwarming to see the next generation of 4-H members continue in this long standing program of the Land Grant College system.
On the industry side, waste management is a key component in confined livestock operations that requires attention and management to reduce nuisance complaints from neighbors. Working with hog farmer George Kahumoku, Jr. (also a Grammy Award winner in Hawaii an slack key) and David "Buddy" Nobriga, who served as chair of the West Maui Soil and Water Conservation District, we developed a novel waste management system for hogs that we called the Dry Litter Technology. It is now an accepted waste management practice under USDA NRCS Environmental Quality Incentives Program. The practice has been adapted and implemented across the Pacific, from American Samoa to the Marshall Islands.
How did you decide to start Taste of the Hawaiian Range? 
When the sugarcane industry closed on the Big Island in the early 1990s, those of us in extension thought this could be an opportunity for the beef cattle industry to return to the land once dominated by sugar. Interest in grass-fed beef was very small at the time, as most of Hawaii's beef cattle were shipped for business opportunities in the US mainland and Canada. Local beef had a bad reputation of being tough, gamey and low quality. Education was needed in a three-pronged approach: rancher education on raising quality grass-fed beef, chef education about the whole carcass, and consumer awareness to drive the market. I put together a proposal to feature all parts of the beef carcass in a food venue that was like "Cuisines of the Sun" (once the signature food event of the Mauna Lani Bay Hotel and Bungalows), but priced for the average Joes and Janes in our struggling communities. It's now become one of the premier food and agricultural events on the island. 
What projects are you tackling now?
With the growth of the grass-fed market, producing quality and tender grass-fed beef is a key focus of my work. Through our research and rancher education outreach efforts, we have seen a significant improvement in tenderness of grass-fed beef produced in Hawaii over the past 10 years. Sixty percent of the beef would qualify for the USDA Certified Tender criteria, compared to only 35 percent in our 2007 study.  
Another project is to improve the efficiency of producing grass-fed beef. We are investigating the efficiency of grass-fed beef production by incorporating Leucaena leucocephala, a variety named "Wondergraze." The first published results show that with the "Wondergraze," plus guinea grass pasture combination, cattle grew 40 percent faster and were marketed six months faster compared to guinea grass pasture. In the second study, since the pastures are more productive, we increased the stocking rate (the number of cattle in the same given area of land) and showed that the improved pastures produced three times the pounds of beef compared to the guinea grass pasture based.  This is an exciting finding and can lead to increases in grass-fed beef cattle being produced for the local markets.
Jari Sugano
County Extension Agent, Wahiawa
Extension agent since 2001
How did you get started in agriculture? 
I was allergic to soil as a kid so going into agriculture that involved soil wasn't on my initial radar. My parents were biologist, zoologist and hukilau practitioners so I always had an interest in marine biology. When I attended the Oceanic Institute, I quickly realized I did not like working with fish, as they make crying-like noises. So, I found myself at the doorstep of CTAHR. I took a class in horticultural practices, where you are given a small plot to garden, and I was hooked. My grandparents and parents grew a lot of fruits and vegetables in the backyard. I was so intrigued that you could put a seed into the ground and it would reap a bounty of food. So, my interest in food production grew out of the soil that I was once allergic to. 
What interests you about agriculture?
Through agriculture I have been able to travel the world from California to South Africa. Before working at CTAHR, I worked for the USDA Forest Service, Del Monte Hawaii and a private technology company. I have witnessed how agriculture feeds and provides shelter for people and how it can also improve people's life medicinally. What motivates me the most about agriculture is the character behind those who grow our food, fiber and medicine. Farmers are such good spirited people with warm hearts and a passion for what they do. They treat people with respect and concern themselves with providing good quality, safe and nutritious products on a consistent basis. I have never met a farmer I didn't like.  
You've authored quite a few papers, from under represented farmers to mamaki tea. What would you say is your focus (if any)?
I have always considered myself a Jack of All Trades, Master of Nothing type of extension agent. I have always wished that I had the time to be an expert or specialist in a certain crop or subject during my tenure at CTAHR, but as an extension agent on O'ahu, there has never been enough time to work on personal interest projects. Our number one priority has always been to address the producer's priority problem. There has been no drought on problems. 
If I had a specialty, it would be what I call on-farm triage. Farmers often call on Cooperative Extension when there is a pest, disease or soil problem. Our specialty is to stop the immediate 'on farm bleeding' by first identifying the problem. We then develop timely solutions to keep the producer in operation and maintain their market share until a long-term solution can be implemented. I have the ability to tap many resources internal and external to CTAHR to help solve the growers' eminent issues. Collaborative partnerships are my secret weapons. 
What's your biggest challenge now?
Our ongoing challenge is finding long term funding for our diverse and ever-changing projects that support increasing food sustainability in our island state. Edible crops are fast turn over commodities that are vulnerable to variable changes in our environment. Year-round farming and no overwintering conditions create new and re-occurring problems for commercial farming operations. Farming is back breaking work. In order to maintain our fast-paced stamina in producing ongoing, applied, field trial-based information, we have to recruit good extension agents, technicians and/or students who are interested in working in this field. For Cooperative Extension to remain relevant, we need to have the science-based information behind us.