It's Kamehameha Day in Hawaii. Where to go for celebrations, lei-drapings and parades.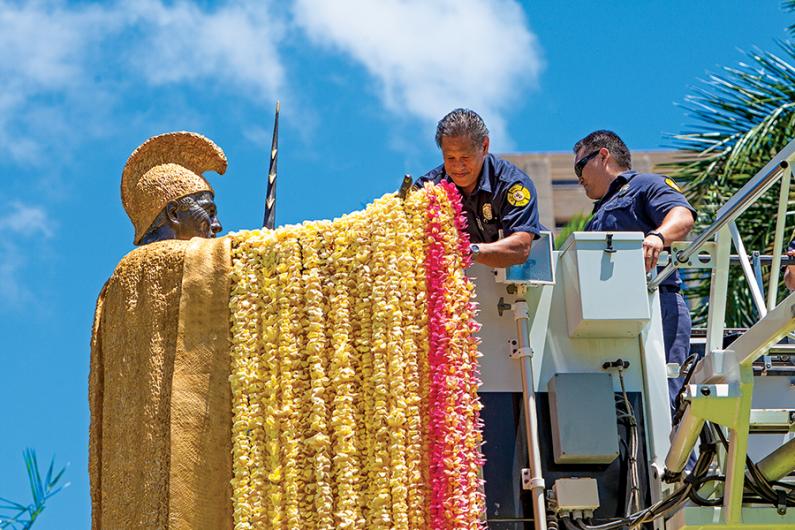 Today is King Kamehameha Day in Hawaii. The official state holiday honors and remembers King Kamehameha the Great—who established the Kingdom of Hawaii in 1810 and was its first monarch—with lei-draping ceremonies, parades and other cultural celebrations.
King Kamehameha V began the holiday to honor his grandfather, King Kamehameha I, on June 11, 1872 and the day is just one of two honoring a Hawaiian monarch (the other is Prince Kuhio Day, held March 26). Kamehameha Day was one of the first holidays proclaimed when Hawaii became a state in 1959.
Though the official holiday is today, Thurs., June 11, some festivities commemorating the holiday have already begun. Yesterday at 5 p.m. on Hawaii Island, the official lei draping took place at the King Kamehameha Statue in Hilo Bayfront Park. Most of the other official events throughout the state take place today through Sunday.
The largest celebration takes place in Honolulu with festivities this year beginning at 3 p.m. on Fri., June 12. That's when organizations and community members will gather across from Iolani Palace in downtown Honolulu's historic Capitol District to drape fresh floral and maile lei—all more than 20-feet long—over the arms of the King Kamehameha I statue.
The 99th annual King Kamehameha Celebration Floral Parade—a processional of floats, dancers, marching bands and pau horseback riders representing royal courts from each of the Islands—will begin at the lei-draped statue at 9 a.m. the following morning (Sat., June 13) and proceed through the city and Waikiki via Punchbowl Street, Ala Moana Boulevard and Kalakua Ave. ending in Queen Kapiolani Regional Park. For a map of the parade route, click here. There, a huge free and open-to-the-public hoolaulea (celebration)—with arts, crafts, food and cultural booths will take place from 11 a.m. til 4 p.m.
Here's a list of some of the other upcoming King Kamehameha Day events across the state.
HAWAII ISLAND
• Thurs., June 11— A hoolaulea presented by the Royal Order of Kamehameha I, Mamalahoa in Hilo begins at 9 a.m. at Mokuloa (Coconut Island). Click here for more information. The North Kohala King Kamehameha Day lei-draping ceremony honoring Kamehameha the Great in his birthplace, will take place in Hawi beginning at 9 a.m. Ceremonies are followed by a parade and hoolaulea. For more information, click here.
• Sat., June 13— Kailua Kona's King Kamehameha Day Celebration Parade follows Alii Drive from the Royal Kona Resort beginning at 9 a.m. A hoolaulea following the parade takes place at the Courtyard Marriott King Kamehameha Kona Beach Hotel. For more information, click here.
• Sun., June 14— The Daughters of Hawaii celebrate the life and memory of King Kamehameha the Great with Afternoon at Hulihee, a free concert on the Hulihee Palace grounds in Kailua-Kona. Musical entertainment begins at 4 p.m. and will be provided by the Merrie Monarchs, the Hulihee Palace Band and with dances by Kumu Hula (hula master) Etua Lopes and his hula halau (hula troupe) Na Pua Ui O Hawaii. For more information, click here.
MAUI
• Sat., June 13— In Lahaina, the annual Na Kamehameha Commemorative Pau Parade and Hoolaulea will begin on Front Street at 9 a.m. The parade terminates at the site of its hoolaulea in Banyan Tree Park with food and artists' booths and Hawaiian cultural demonstrations and entertainment. For more information, click here.
KAUAI
• Sat., June 13— The King Kamehameha Floral Parade in Lihue starts at Vidinha Stadium at 9 a.m. and ends at the County Building on Rice Street. Hoolaulea to follow. For more information, click here.
For additional information about King Kamehameha holiday observations and celebrations, click here.