It's Kamehameha Day in Hawaii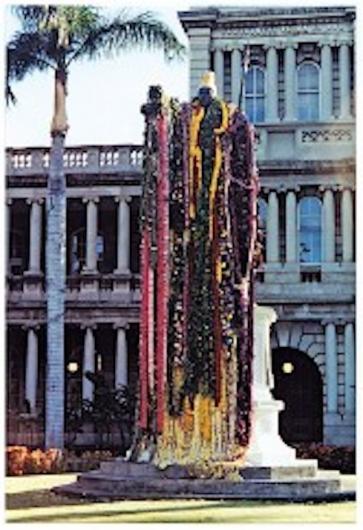 Today we celebrate the birthday of King Kamehameha I, the alii who united the Hawaiian Islands in 1795.
It's a state holiday. Schools and farmers markets are closed, city buses operate on a holiday schedule and state government officials have the day off.
Waikiki had its celebrations this past weekend, but now it's Kapaau's turn.
Because the king was born in North Kohala, the small Big Island community honors his birthday with hula performances, a hoolaulea (music festival) and statue decorating ceremonies. Besides Kapaau's birthday activities, there are celebrations on Maui. Unfortunately, celebrations on Kauai have been cancelled.
The King Kamehameha I statue in Honolulu (pictured above) was decorated last Friday. Despite its fame among tourists, it's not the original statue. It's a replacement.
The original King Kamehameha statue stands in Kapaau (pictured left). It was lost at sea, repaired and painted to protect the statue from corrosion. Every year, volunteers wash the Kapaau statue with coconut-fiber brushes before the king's birthday celebration.
For a more complete story on the Kapaau statue, read our May/June 2007 issue of HAWAII Magazine.
Did you know? The only other state holiday dedicated to Hawaii's royalty is Prince Kuhio Day, which is held every year on March 26. In fact, without Prince Jonah Kuhio Kalanianaole Piikoi, we wouldn't have King Kamehameha Day.
In 1903, Kuhio created the Order of Kamehameha, an organization dedicated to preserving the memory of Kamehameha the Great. The following year, Kamehameha Day was observed for the first time. Today, one hundred and four years later, we're still wishing King Kamehameha "Happy birthday."