It's Prince Kuhio Day in Hawaii. Here's where to celebrate.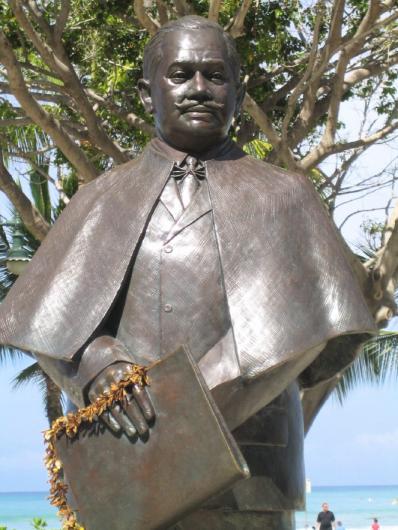 Every year Hawaii celebrates Prince Jonah Kuhio Kalanianaole Piikoi's birthday.
It is Hawaii's way of paying tribute to the man who created much of the Hawaii the world sees today. His determination and dedication for the Hawaiian Islands and its people led him to serve as Hawaii's second congressional delegate from 1903 until his death in 1922. Thanks to Prince Kuhio, we have King Kamehameha Day—the only other state holiday dedicated to Hawaii's royalty.
For more information on Prince Kuhio's life and the impact he had on Hawaii, check out "Who Is Prince Kuhio?" in our March/April 2007 issue of HAWAII Magazine.
In honor of Hawaii's beloved prince, today is a state holiday—schools are closed, city transportation operates on a holiday schedule and many people have the day off.
If you're on Oahu this weekend, here is a list of Prince Kuhio celebrations:
Thurs., March 26:
Prince Kuhio Statue Ceremony (Kuhio Beach)
Prince Kuhio Celebration of Life (Royal Mausoleum)
Prince Kuhio Day Celebration (Hilton Waikiki Prince Kuhio)
Sat., March 28:
Prince Kuhio Hoolaulea (Kapiolani Park)
Prince Kuhio Annual Parade (Saratoga Road, Kalakaua Avenue, Kapiolani Park)
Prince Kuhio Moonlight Concert (Kapiolani Park)
In the Koloa district on Kauai, Prince Kuhio's birthplace, there are many Prince Kuhio celebrations scheduled throughout the weekend, including cultural demonstrations, commemorative ceremonies, carving demonstrations and a celebration luau.
Below is a slideshow of a past Prince Kuhio Day ceremony at Oahu's Royal Mausoleum in Nuuanu Valley. There's also a video of the hula performance in his honor.
Click on the slideshow screen for larger photos.