Kauai's Classic Hamura Saimin Stand is Noodle Nirvana
This must-stop little Lihue stand has been dishing out some of Hawaii's favorite noodles for nearly 60 years.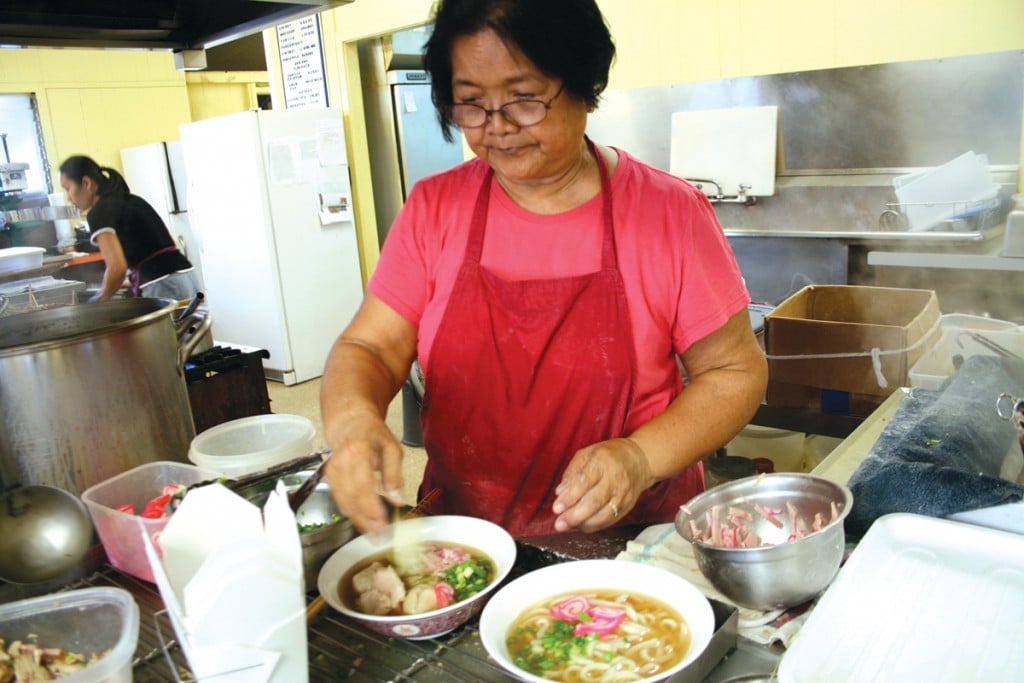 It's raining, as it has been for the past few days on Kauai. Cars swerve to avoid potholes and people are armed with hooded sweatshirts, umbrellas and newspapers held over their heads.
The scene in Lihue looks more like Seattle in the summer than Kauai in January. Still, while the bus stops and parking lots at nearby restaurants are empty, there's a growing line at tiny, hole-in-the-wall Hamura Saimin Stand on Kress Street.
"That's when we get busy, see," says Hamura Saimin president Lori Tanigawa, granddaughter of the stand's founders, Charles and Aiko Hamura. "Rain is a plus for us."
Opened in 1952, the Kauai landmark housed in a converted Army barracks painted a distinct periwinkle has been serving what many say is the best saimin in the Islands. Saimin, for the uninitiated, is a local-style soup dish that uses curly egg noodles, as opposed to the flat noodles in ramen, in a hot broth garnished with fish cake, green onions and char siu (sweet roasted pork). Its origin traces back to the plantation era, when immigrant workers cooked these noodles with whatever they had on hand. It's been a popular Hawaii comfort food ever since.
People stop in daily from around the island, state and world to sample Hamura Saimin's version, with its toothsome secret-recipe broth, char siu, won ton (pork-filled dumplings), luncheon meat and fresh noodles—still made daily at the family's home-run-factory on nearby Ilima Street.
Matched with the restaurant's tender, tangy grilled teri-beef and chicken sticks and a slice of homemade lilikoi (passion fruit)  chiffon pie, the stand's much-loved saimin menu has kept Hamura a favorite of foodies and the plain ol' hungry for decades.
"This is not a craving, this is a want," says Mary Lou Roberts, a 64-year-old Kauai resident who's been a regular at Hamura for 15 years. "This place has wonderful … wonderful … saimin."
When Hamura first opened 59 years ago, there were only six wooden stools surrounding a cook who made the saimin to order. The stools are still there, and the stand's original saimin recipe, created by Aiko Hamura, is relatively unchanged. A few other things, however, are a bit different.
The dining area has expanded over the years, now accommodating about 35 people (or as many stools as the stand has that day). Hamura Saimin's menu has grown a bit, too, to include shrimp saimin, fried noodles, shave ice and the now wildly popular lilikoi chiffon pie, created by Tanigawa about 10 years ago. The stand sells about 50 of the pies every day.
Two years ago, Hamura also traded its old, clunky cash registers for high-tech ones that connect to the Internet.
Even the saimin itself, of which the stand sells more than 1,500 bowls a month, has been upgraded. Slightly.
A year ago, Tanigawa began adding scallops to the base of the broth — which already has shrimp, pork and chicken — to give it more intense flavor and depth.
She says people's tastes have changed over the years, with more visitors hearing about the little family saimin stand through travel books and online reviews. Some want healthier options; others want dessert. But one thing remains on everyone's "must-try" list when they arrive at Hamura and manage to snag a sometimes difficult-to-find seat: the saimin.
"People say they have other reasons for coming," Tanigawa says, "but I think it's the saimin. That's what makes it."
Roberts takes a break from reading her Stephen King short story, The House on Maple Street, to slurp a spoonful of noodles, the kind "you can bite into," she says. It's a welcome reprieve from the gloomy, soggy weather outside.
"The nostalgia this place offers as ambiance—and pretty much everything on the menu here—is good … You have to come here," Roberts says, smiling. "It's ace."
Hamura Saimin Stand
2956 Kress St, Lihue, Kauai, (808) 245-3271, 10 a.m. to 10:30 p.m., Monday through Thursday, 10 a.m. to midnight Friday and Saturday, 10 a.m. to 9:30 p.m. Sunday.