Keeping the Beet: Chef Jeff Scheer of the Mill House
The Mill House serves dishes as beautiful as the Maui views.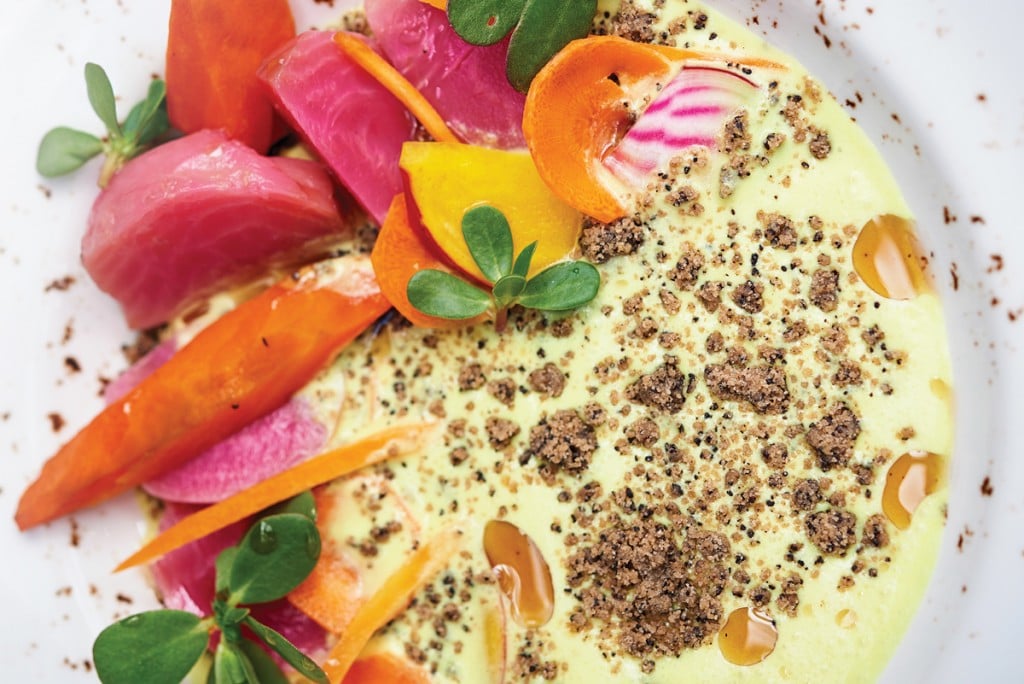 The Mill House is a contender for the most beautiful restaurant on Maui, in a field of stiff competition. It's tucked away at the Maui Tropical Plantation in Waikapu, between Central Maui and Lahaina. There's no postcard view of the sun dropping into the sea here. Instead, guests at the Mill House gaze into the emerald heart of Waikapu Valley, where mists flirt in the mountains and farmland stretches right up to a manmade pool. A native heron preens at the water's edge. The building is an art deco assemblage of found objects: giant sugar mill gears, river stones, chunks of bleached coral and luminous woods. The floor is an elegant patchwork of marble. The food served here is some of the best in the state.
Executive chef Jeff Scheer likes to do things the hard way. He buys entire sides of beef and breaks them down. He ages his striploin for two weeks and his pork loin for ten days. He makes his own cheeses, pickles, and jams. Everything on his menu has been through multiple treatments; in short, it has earned its right to be there. So it's no surprise that Scheer's beet salad is something extraordinary.
It arrives to the table looking like something Matisse might have painted: a perfect mess of bright, tantalizing color. Slivers of orange are sprinkled with pea shoots and puffed grains: crunchy bits of quinoa, wild rice, buckwheat and black sesame seeds. "They're the best thing for texture," says Scheer. Ribbons of heirloom carrot and fennel are coated in snow-white flecks: heavy whipping cream mixed with red wine vinegar. Beneath this, shiny ruby beets bleed fuchsia into thick smears of fromage blanc. "We strain it for two days," Scheer says of the soft, almost yogurt-like cheese. "It's got a really nice acidity."
He's right. When I'm finally willing to quit staring at the dish, I taste a bite. The cheese is both tangy and creamy. It's a perfect complement to the beets' sweetness. The bright red roots are from another world taste-wise. Scheer buys them from the onsite farm, Kumu Farms, or from Kupa'a Farms in Ha'iku. He wraps them in foil, buries them in coffee beans with a little water, and roasts them.
The resulting flavor is hard to describe; coffee-roasted beets taste earthy and exotic—almost resinous. When mixed with the other components—the crunchy grains, smooth dairy, and licorice-y fennel—they're sensational. "I've always really liked beets," says Scheer. "They may be an acquired taste." Those who have yet to acquire this taste should head to the Mill House stat. And save room for dessert. The frozen Meyer lemon curd with candied olives is just as crazy good.
Coffee Roasted Beets
By Jeff Scheer, executive chef at the Mill House, Maui
907 g beets, medium (if multiple colors of beets are being used they should be separated to avoid color run off)
907 g coffee beans
1 bunch thyme
1 Tbsp black peppercorn
1/2 cup extra virgin olive oil
salt
Beet Marinade
1 cup white balsamic vinegar
3 cups grapeseed oil
2 sprigs of thyme
2 cloves of garlic, smashed
1. Wash the beets. Toss with extra virgin olive oil and lightly season with salt.
2. Spread the coffee beans, thyme and black peppercorns on the bottom of a roasting pan. Place the beets on top and add water just to moisten the bed of coffee below.
3. Cover with foil, bake 350F for one hour or until tender. A sharp knife should be able to pierce the beets with no resistance.
4. Place the beets in a stainless bowl and quickly wrap with plastic wrap to steam the beets and loosen the skin. Allow to steam for 10 minutes only or they will begin to cool, and the skins will adhere to the beets.
5. Using a damp towel, brush along the outside of the beets to remove the skins. Discard the skins and place the beets in a container deep enough to hold the beets and the marinade. Do not rinse the beets or you will be washing the coffee flavor away.
6. Rinse off the coffee beans and dry. They can be reused.
7. Mix all the beet marinade ingredients together and pour over beets. Cover and refrigerate 24 hours before serving.