La Bettola Offers Authentic Italian Cuisine in Waikīkī
In the lobby of the ʻAlohilani Resort, the restaurant's award-winning chef is still adapting, experimenting and traveling down new paths.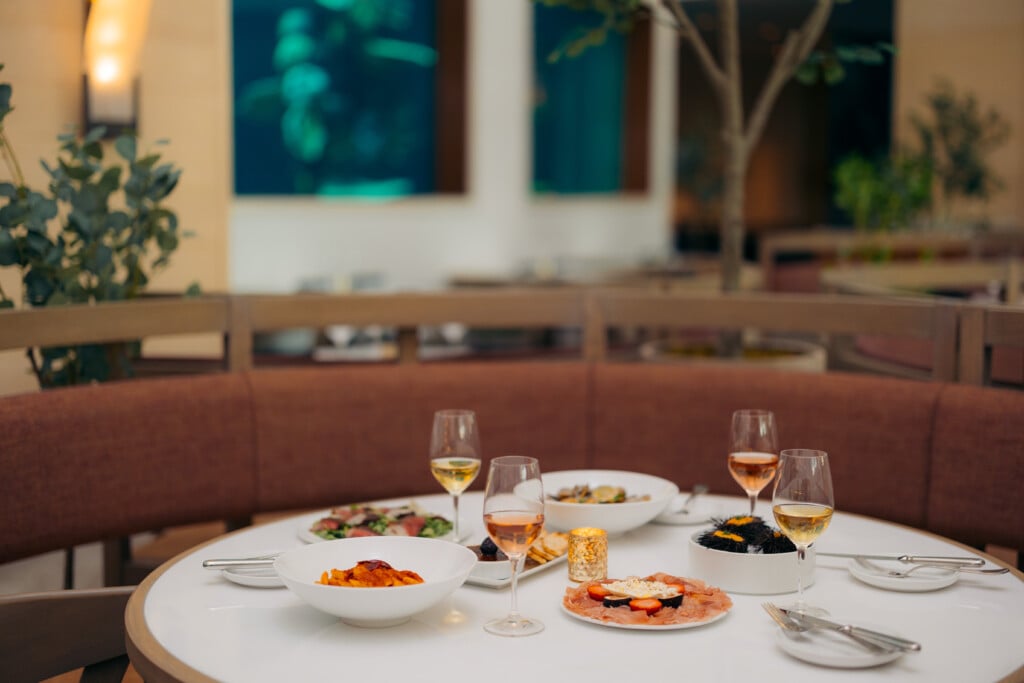 New to 'Alohilani Resort Waikīkī Beach is La Bettola Waikīkī, a restaurant serving authentic Italian cuisine and an upscale dining experience. And while they're eating, the resort's massive two-story aquarium treats diners to mesmerizing views of Hawai'i sea life.
It's the latest project from restaurateur Hide Sakurai, and the first La Bettola to open outside of Japan. It had its soft opening at ʻAlohilani Resort on June 14.
Award-winning chef Tsutomu Ochiai, known in Japan for his innovation as creator of the buttery uni pasta, is the brain behind the restaurant's cuisine. Ochiai, born in Japan in 1948, traveled to Europe when he was 28 to explore and then master the techniques of French cuisine. But during his trip, he first sampled the foods of Rome and was quickly entranced by the sophisticated and flavorful dishes he found there. Italian cuisine would be his focus.
Ochiai charmed the palates of many when he took what he learned about simple, authentic Italian cuisine and adapted it to the sensibilities of Japan. One of his first moves was to come up with a recipe for a creamy uni-tasting pasta sauce, making it more affordable and accessible to people. Today, it's a beloved dish enjoyed by many and a staple at the four La Bettola locations in Japan.
But even as he adapted and gave his recipes a uniquely Japanese touch, Ochiai never wavered about keeping his cuisine authentically Italian. For him, if an Italian person believes his cooking is true to its roots, that's success.
"He wanted to improve any new ingredients or cooking methods but he doesn't want Italian people from there to think this is not Italian," Sakurai says about Ochiai's cooking philosophy. "Improve, adapt to nowaday trends, but always remain Italian. Stay true to it."
Beautifully plated, La Bettola offers many rustic and savory menu items. Airy sliced prosciutto with burrata cheese and seasonal fruit, a wonderful balance of salty and sweet. Various flavorful pastas accompanied by fresh seafood and creamy sauce. The restaurant also boasts an on-site pastry chef who creates airy yet firm pastries with a satisfying crunch, as well as concoctions like a sweet, lightly flavored lemon meringue.
The restaurant's grand opening is Aug. 15; until then, Ochiai continues to adapt his recipes, going down new paths while using local ingredients and taking in the day-to-day feedback from customers.
ʻAlohilani Resort Waikīkī Beach, 2490, Kalākaua Ave., Waikīkī, www.alohilaniresort.com/dining/la-bettola/