Lanai's only movie theater back in business after years of closure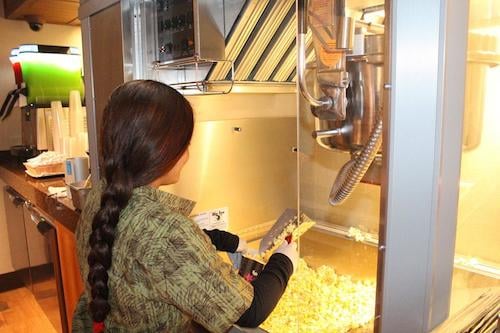 This holiday season, residents and visitors to the island of Lanai have been doing something they haven't been able to do for more than a decade: watching movies at the local theater.
The former Lanai Theater in Lanai City reopened on Dec. 20 under the new name "Hale Keaka." It's small by cinema standards, but boasts two screens, 93 seats and a green room following significant renovations.
The Lanai Theater was the only cinema on the island when it closed in the 1990s. Located in Lanai City, the downtown landmark was originally commissioned by James B. Dole in 1926, and for many years provided community entertainment including live plays, musical performances, and of course, movies.
Renovations to the building kept this history in mind and Hale Keaka has a vintage 1930s vibe thanks to several architectural features—arched entryways and dormer windows—retained from the original building.
The theater will keep regular weekly show times with two shows nightly between Monday and Thursday, four shows on Fridays and six shows each on Saturdays and Sundays. The theater will bring a rotation of popular, recent movie releases to its new state-of-the art screens.
Current regular show times are as follows:
Monday through Thursday: 6:30 p.m. and 7 p.m.
Friday: 4:30 p.m., 5 p.m., 8 p.m. and 8:30 p.m.
Saturday and Sunday: 1 p.m., 1:30 p.m., 4:30 p.m., 5 p.m., 8 p.m. and 8:30 p.m.
The box office opens one hour prior to the start of each movie. You can see what's showing and when here.
You can also learn much more about the Pineapple Isle in the February 2015 Photo Issue of HAWAII Magazine, on newsstands now!