Lantern Floating Hawaii ceremony slated for sunset on Memorial Day. Watch it live online.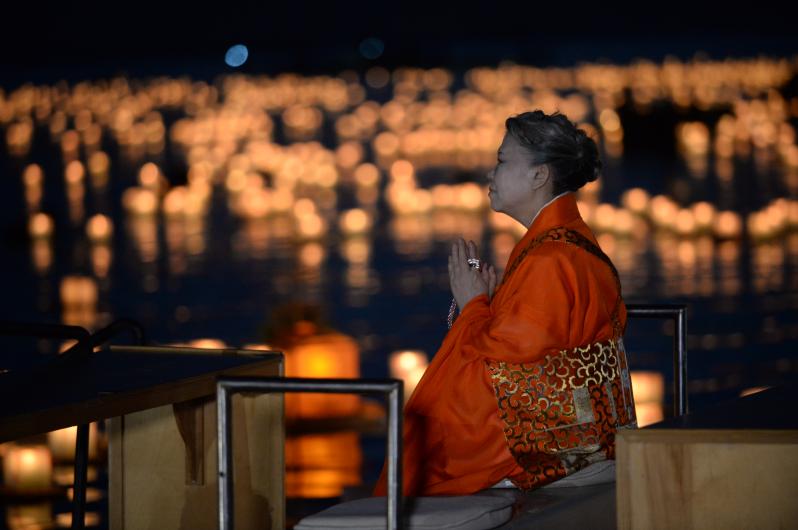 On Memorial Day, just after sunset, the protected lagoon off Ala Moana Beach Park will fill with 6,000 flickering candlelit rice paper lanterns.
The serene and moving scene is the climax of Shinnyo-en Hawaii and the Na Lei Aloha Foundation's free and open-to-the-public Lantern Floating Hawaii, an aptly multicultural commemoration and broad reinterpretation of the federal holiday to honor all lives lost.
A short ceremony led by the head of Sinnyo Buddhism, Her Holiness Shinso Ito, precedes the lantern floating—each lantern is inscribed with names and remembrance messages for loved ones who have passed away. The ceremony begins at 6:15 p.m (Hawaii Standard Time) on Mon., May 25 with events live-streamed until 7:30 p.m.
Lantern Floating Hawaii will again open with the Hawaiian tradition of a sounding pu (conch) and the offering of an oli (chant). Her Holiness will then lead thousands of residents and visitors in blessings, reflection and ultimately down a flower-dripped path to the harbor for the Japanese Toro Nagashi offering ceremony of floating lanterns. This year's theme "Many Rivers, One Ocean," reflects participants shared thoughts and prayers offered at the ceremony.
In addition to the individual lanterns, Shinnyo-en Hawaii will float six large parent lanterns bearing sentiments of goodwill and gratitude for all people. These will be offered with prayers for victims of war, water-related accidents, natural and manmade disasters, famine and disease.
To float a lantern in honor of your loved one, visit the lantern request tent on the eastern side of Ala Moana State Regional Park in Honolulu starting at 10 a.m. Online submission of prayers and memories ended on May 16th in order to allow time for volunteers to hand transcribe messages.
The event began as a ceremony with 3,000 participants—most from the Shinnyo-en temple's Japan membership—and now draws more than 50,000 participants and observers from around Hawaii and the world.