Magical Moringa: The rise of a new 'miracle plant'
Michelle Karr-Ueoka of MW Restaurant is an evangelist for the super green.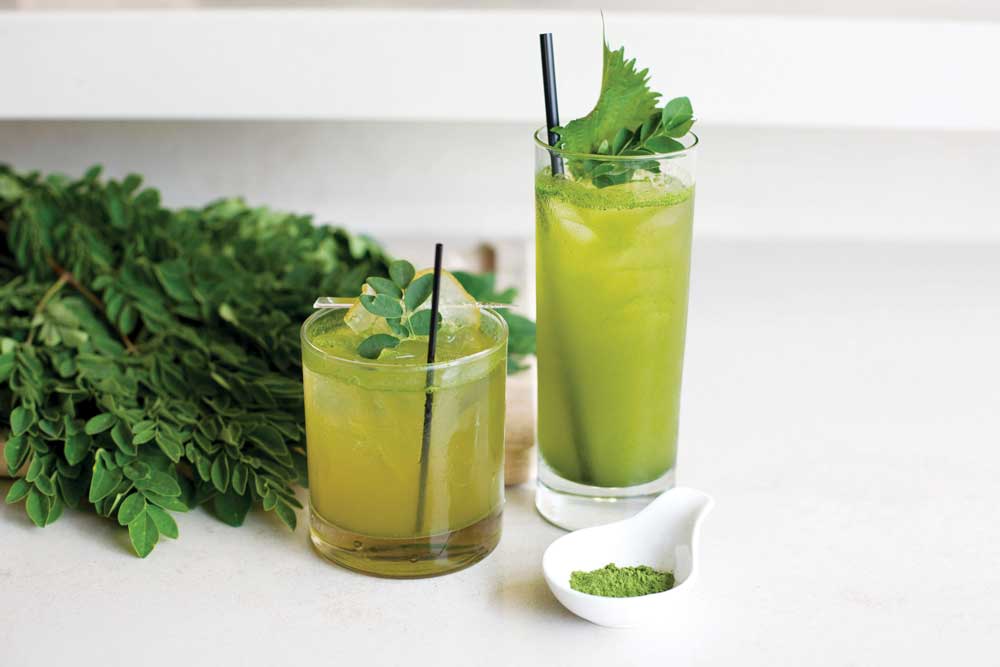 Michelle Karr-Ueoka is drinking the moringa Kool-Aid. Or make that moringa iced tea. The chef and co-owner of MW Restaurant in Honolulu sprinkles the vivid green powder like fairy dust in drinks and desserts, mixing it with shiso and fresh pineapple juice and rolling Russian tea cookies in moringa and powdered sugar. "Why don't more people know about this!?" she says of moringa. It's been touted as a miracle tree, packed with nutrients and vitamins, and some initial studies show promise in its ability to lower blood sugar and fight cancer. In Hawaii, it's better known as kalumungay, often used in Filipino cuisine, and the tree grows easily in the Islands, mostly in people's backyards.
When a diner first told her about the beneficial qualities of moringa, Karr-Ueoka immediately set out to find some, and discovered that her pig farmer, David Wong of Mountain View Farms in Waianae, grew tons of it. For MW Restaurant, he picks the leaves, sun dries them, and processes the moringa into a fine powder.
Karr-Ueoka and her co-owner and husband, Wade Ueoka, who are known for their inventive twists on classic comfort foods, have found all sorts of ways to incorporate moringa into their menu items. She blends it with chocolate ganache for truffles, and folds it into pastry cream for a strawberry shortcake layered with matcha lady fingers. She finds its slightly bitter, peppery taste pairs well with other "green" flavors, such as green tea, cucumber, and shiso. On the savory side, Ueoka mixes the fresh leaves into a dried scallop fried rice and tops the whole thing with fresh scallops and a coddled egg. They've become evangelists for moringa, selling the powder, as well as a matcha moringa blend, at the restaurant, and have introduced other chefs to it: Chris Kajioka, the chef at Senia, dusts his cabbage dish with moringa and dill so that it looks like a moss-covered wedge from the forest.
In Hawaii, no one currently grows moringa on a commercial scale, but Wong and the College of Tropical Agriculture and Human Resources at UH Mānoa hope to change that: Wong plans on retailing his moringa powder, and last year, CTAHR hosted a field day introducing farmers to their moringa research. "A lot more people are getting exposed to it," Karr-Ueoka says.
Moringa Matcha Tea
5 grams matcha powder
30 grams moringa powder
Mix matcha with 1 gallon hot water. Chill. Then mix moringa into chilled matcha tea. If desired, add pineapple juice to taste.
Moringa Wedding Cookies
2 ounces butter
2 ounces powdered sugar
6 ounces flour
1 ounce macadamia nuts, diced
Pinch of salt
2 grams matcha powder
Dusting sugar:
4 ounces powdered sugar
3 grams moringa powder
2 grams matcha powder
Preheat oven to 325 degrees F. In a stand mixer, beat butter and powdered sugar until light and fluffy. Add in flour and mix just until combined. Mix in salt and macadamia nuts. Using a small ice cream scoop or spoon, portion the dough into ½ ounce balls. Flatten and bake until golden brown, about 15 minutes. Roll cookies in dusting sugar.
Recipes by Michelle Karr-Ueoka