Matsumoto Shave Ice Celebrates 72 Years of Business with $1 Shave Ice
To thank the North Shore community for more than seven decades of support, the family-run shop is offering special prices on shave ice and limited edition apparel this Saturday.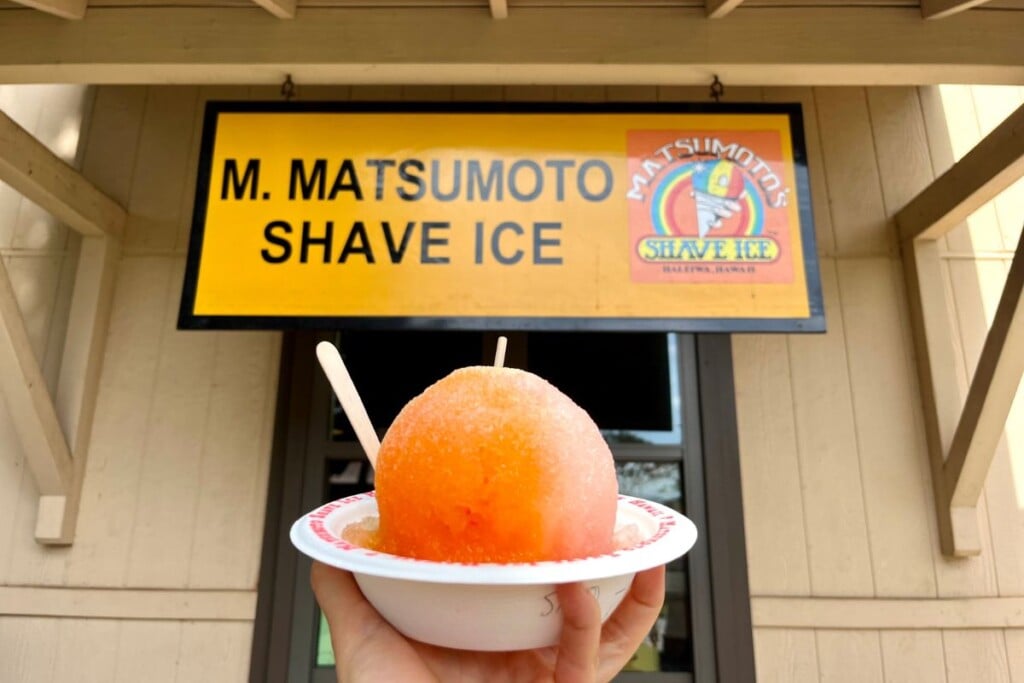 It's difficult to find a name more legendary in Hawaiʻi's shave ice industry than Matsumoto. Serving the Islands' ubiquitous cold treat and maintaining an endearing charm, Matsumoto Shave Ice has drawn residents and visitors to Oʻahu's North Shore for decades.
This week the Matsumoto family celebrates 72 years of business in Haleʻiwa. On Saturday, Feb. 18, the local shave ice shop is commemorating its anniversary and thanking the North Shore community for its support with $1 shave ice specials, $10 deals on limited-edition T-shirts and scratch card giveaways.
"My parents would be so proud, especially my dad. He always had the dream of opening his own business," says Stanley Matsumoto, who goes by Stan and took over Matsumoto Shave Ice in 1976.
In 1951, long before it was a surfing hotspot, Mamoru and Helen Matsumoto opened M. Matsumoto Store Inc. in what was a sleepy plantation town. At the time, the couple had two children and Helen was pregnant with Stan.
Five years into operating their general store in Haleʻiwa, the couple decided to buy a shave ice machine from Japan hoping to increase sales. Shave ice—a dessert introduced to Hawaiʻi by Japanese immigrants—was a popular treat among laborers working in the Islands' sugar and pineapple fields. At the store, the Matsumoto family created homemade syrups to douse over cones of finely shaved ice and prepared azuki beans for the base, a sweet paste made from red beans boiled with sugar. Stan recalls the family kept its syrup flavors simple in those early years with options like strawberry, lemon and lime. The treat was an instant hit in Haleʻiwa, but according to Stan, it wasn't until the 1960s that the popularity of shave ice soured with the arrival of Mainland surfers—many who were lured by the epics swells at Pipeline and Waimea Bay.
Decades later, Haleʻiwa is now a vibrant town attracting surfers and visitors from around the world. And many of them make Matsumoto Shave Ice a part of their travel plans. According to the Matsumoto family, the shop produces more than 1,000 orders of shave ice every day. Even on an overcast afternoon, customers can be spotted outside the store, giddy over a delightful bowl of Matsumoto Shave Ice.
Sitting on a bench outside of his family's shave ice shop, Stan sports a Matsumoto Shave Ice t-shirt and a black baseball hat with the business logo. He points to Kamehameha Highway and recalls the days when he used to ride his skateboard down the road as a kid. "We didn't have to worry about any cars back then," Stan says with a laugh.
Like the family business, Stan will celebrate his 72nd birthday this year—and he has no plans of retiring. He admits running the store has been challenging over the years and he's made a lot of sacrifices because of it, but he feels at home at Matsumoto Shave Ice. As the afternoon unravels, customers approach Stan to take photos and he obliges with a smile and shaka.
While Haleʻiwa has changed over the decades, Matsumoto Shave Ice remains a cornerstone establishment of the town. However, don't expect a second location anytime soon, says Stan.
66-111 Kamehameha Highway #605, Haleʻiwa, matsumotoshaveice.com.