May Day in Hawaii: What it is. Where to go.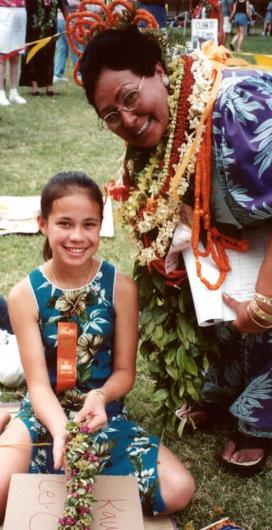 Tomorrow is May 1: May Day, or Lei Day, in Hawaii.
It's an annual celebration of Hawaiian culture that's popular with residents and visitors alike. A day for attending music and hula shows (many organized just for the occasion), sporting your best aloha wear and, especially, wearing colorful lei.
Hawaii's May Day origins date back to 1927, when writer Don Blanding suggested in an article for the Honolulu Star-Bulletin that a holiday be created to honor the custom of making and wearing lei. Colleague and fellow Star-Bulletin columnist Grace Tower Warren came up with the idea of having the holiday on May 1 in conjunction with May Day, stating that "May Day is Lei Day." The tagline stuck.
The first Lei Day was held on May 1, 1928, with Honoluluans greatly encouraged to wear the flowery wreaths. The practice soon spread throughout the Islands, encompassing all facets of Hawaiian culture—hula, music, cultural demonstrations and lavish court processions. Still, lei has always remained at the heart of Hawaii May Day festivities.
Lei were certainly the focus of last year's Honolulu May Day hoopla. The celebration culminated with the city-sponsored construction of a 5,336-foot-long lei in Waikiki's Kapiolani Park—good enough for entry in the Guinness Book of World Records.
There won't be a giant garland at the city May Day festivities this year, but there'll still be lots to see and do. The most popular events are the investiture of the Lei Queen and her court, and the May Day Lei Contest. The 2009 royal court ceremony starts at 10:15 a.m. at Kapiolani Park bandstand, while judging for the lei contest takes place from 10 a.m to noon. The lei contest exhibit and a full afternoon of entertainment from Hawaiian bands Kapena, Manao Company and several hula halau (hula troupes) follows, from noon to 5:30 p.m.
Don't have a lei? Booths selling all manner of lei, Hawaiian crafts and food will be open in the park all day. For a complete schedule Kapiolani Park May Day events, click here.
Other May Day-only events:
• The Halekulani resort's House Without A Key in Waikiki celebrates May Day with an evening of song and dance from Hawaii's first May Day in 1928, and the era. Stories about various lei will be shared throughout the evening. Cocktails here are great. The view is stunning, too—oceanfront, with a Diamond Head backdrop. Wear a lei. Click here for more information.
• Outside of Waikiki, drop by the ever-popular monthly First Friday Gallery Walk in downtown Honolulu's Chinatown culture and arts district. In honor of May Day, several artists will be displaying wares with a distinctly Hawaiian aesthetic in the Mendonca Building Courtyard: including wooden bowls, oil paintings and photography. Click here for more info and a list of artists.
Post-May Day events:
• The Brothers Cazimero May Day Concert will be held on May 2, at the Maui Arts & Cultural Center this year instead of the Waikiki Shell. The show begins at 7:30 p.m. Click here for details.
• Ever wondered where the lei from the May Day festivities end up? On May 2, the colorful lei will be placed on the tombs of the alii (Hawaiian royalty) at the Royal Mausoleum in Nuuanu and upon King Lunalilo's tomb at Kawaiahao Church in Honolulu.
For more insight into the flowers and foliage used to make Hawaii lei, check out the feature "What's In Your Lei?" in the May/June 2009 issue of HAWAII Magazine. You'll find copies at most national bookstores and newsstands, by print subscription, or digital subscription.