Meet the farmers providing Hawaii with locally sourced food
Lucky we eat Hawaii? The answer is a resounding "yes."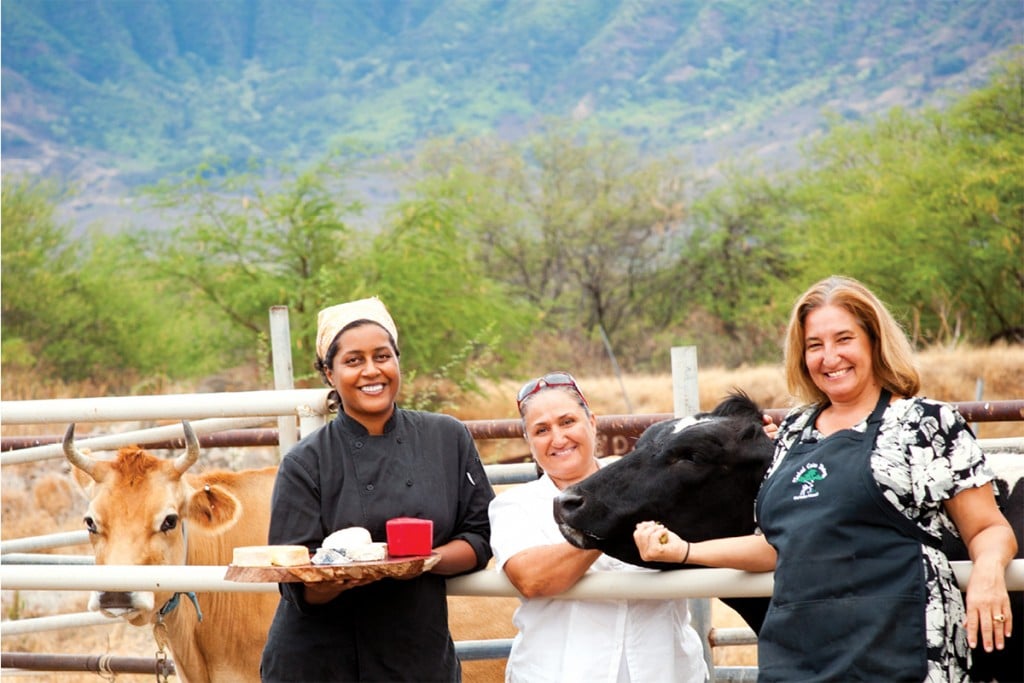 Though our state still imports 85 percent of its food from the U.S. mainland and international sources, a growing number of Hawaii farmers, ranchers and food producers are trimming that dependency with edibles born, raised and/or created right here in the Islands. This is fantastic news for folks like us who appreciate, say, a tomato that wasn't plucked from a vine on the Mainland weeks ago then flown thousands of miles to get here. These days, we're relying less on imports thanks to the availability of a growing diversity of fresh-picked and fresh-made food. Items that, until the last decade or so, Island chefs and residents had rarely seen or tasted are now showing up at farmers markets and in grocery stores with the words "Made in Hawaii" attached.
All of which makes these Hawaii farmers and ranchers (and dozens of others like them), who've elected to take Island produce, meats and food products in unique, unexpected and sometimes untried directions, heroes in our book.
Malama Farms, Haiku, Maui
Berkshire Pork
What David and Lehua Fitch's Berkshire pigs like to eat they get to eat. Everything from bananas, guavas and papayas to melons, lettuce and macadamia nuts, much of it grown on a small orchard planted just for the oinkers, on the couple's picturesque Malama Farms property in Upcountry Maui's verdant Haiku district. "They especially go nuts for avocados," says David. No broccoli or carrots, though. "They just leave that behind."
The Fitches began raising the heritage English pig breed, prized for its tender, heavily marbled, richly flavored meat, in 2009, with a goal of ranching sustainably and inspiring other small-scale Hawaii farmers to do the same. Disturbed by literature and videos detailing the inhumane treatment of pigs on large Mainland farms, David, a woodworker by trade, and Lehua, a software entrepreneur, decided to turn over a portion of their land to raising Berkshires. Says David, "We did tons of online research, read lots of small-scale farming and pig books" and talked to pig and grass experts here and nationally.
The Fitches devised a side-by-side rotating pasture system so their pigs would be able to roam and explore freely (as Berkshires are naturally wont to do), always have high-protein grass and never live in their own filth. Their healthy lifestyle and living conditions mean Malama Farms' Berkshires require no antibiotics, vaccines or growth hormones. The farm's small breeding stock gets regular belly and back rubs, and lots of down time between raising litters, all with the goal of keeping them happy and healthy. Of course, that homegrown orchard menu makes a difference, too. The Fitches' extra TLC has produced a Berkshire pork increasingly sought after by discerning Hawaii chefs for its freshness and wonderful flavor. "A result we attribute to just happy, healthy living," says Lehua.
Blue Ocean Mariculture, Kona, Big Island
Hawaiian Kanpachi
Lance Hubbert says there's no better place in the world than the waters off the Big Island's Kona Coast for raising kanpachi—a fish desired by sushi and sashimi aficionados for its marbled flesh and subtly sweet flavor when served raw, and buttery texture and clean taste served grilled, steamed or poached. As general manager of Blue Ocean Mariculture, which farm- raises kanpachi from spawning to harvest in the warm, calm waters of the coast, Hubbert should know. "Our fish grow like crazy because the ocean temperature here doesn't fluctuate from season to season," says Hubbert. "There's a drop to a deep bottom immediately at the edge of the coast's lava shoreline so we also have constant water exchange with very little swells or wave chop. The fish just love it."
After three months in an onshore nursery facility enriched by Kona seawater, Blue Ocean's kanpachi mature for another year in four offshore ocean net pens with large dimensions designed to replicate swimming in the wild. Kanpachi, harvested in yields now topping 20,000 pounds a week, are chilled on ice immediately after harvest, packed whole overnight and flown out of Kona Airport the next morning to restaurants in Hawaii and the U.S. Mainland. Hawaiian kanpachi on your dinner plate in Hawaii was likely swimming in Blue Ocean's pens the day before; on the East Coast, perhaps two days before. That's seriously fresh. "On the scale of international big-business aquaculture, this is very small scale," says Hubbert. "But we're not really looking at high volume and small margins. We're more of a niche species in a niche market that's more high end. Kampachi is a nice fish and we want to keep it that way."
Naked Cow Dairy, Waianae, Oahu
Cow's Milk Cheese
Making cow's milk cheese—an extremely rare made-in-Hawaii artisanal food item—was a goal of sisters Monique Van der Stroom and Sabrina St. Martin when they opened Naked Cow Dairy in 2007. The problem? The expense for a startup business like theirs. "We began with making butter because that was the easiest thing to get started with," says Van der Stroom. By early 2012, Naked Cow's homemade flavored butters—garlic, macadamia nut, toasted coconut, truffle, lavender and pesto, among them—were fan favorites at local farmers markets. Still, no cheese was being produced in their west Oahu dairy.
Enter Gida Snyder, a student chef in Kapiolani Community College's noted culinary program. Snyder had no cheese-making experience short of "knowing that I liked eating it." But her enthusiasm for learning about and experimenting with cheese processing—and interest in producing a product otherwise always imported to Hawaii—impressed the Naked Cow sisters. In 2012, Snyder launched an online crowd-funding campaign asking fans of Naked Cow's butter to donate money toward a $15,000 goal of purchasing heating and cooling units for cheese-making. The campaign wound up raising more than $18,000.
With Snyder as head cheesemaker—fresh from intense cheese-making classes in Europe—and milk from its own small herd of milking cows, Naked Cow is now producing small quantities of farm-fresh soft cheeses (fromage blanc, brie) with a goal of someday doing aged hard cheeses and obscure French cheeses. Says Snyder, "I find it extremely cool that the milk for this cheese didn't travel thousands of miles to get here, and we get to create cheese that can be in the market the following day. Having farmers cheese may seem like a simple, normal thing to someone in Michigan. But here, it kind of blows my mind a little bit."
Honi Honi Honey, south and west shores, Kauai
Raw Honey
"You have to describe it like wine," says Chris Kauwe, the animated owner of Honi Honi Honey, of his small-batch raw honey, produced by bees on Kauai's south and west shoreline areas. "The beginning taste is floral, and sometimes like oranges. Then there's the sweet." The flavors retain distinct profiles matching whatever the bees in Kauwe's 70 hives enjoy that is growing within a mile radius—everything from coconut to kiawe (mesquite wood). The honey's aftertaste? Smooth. "You can taste the terroir," Kauwe says, with a comical faux French accent.
The origin of Kauwe's decade-in-the-making honey knowledge is the stuff of pure Island-style serendipity. After finding a hive in the backyard of his beachside residence, Kauwe, a longtime surfing and canoe-paddling instructor, decided to relocate it to his roof. After a few years of perusing bee books, enduring stings and "fumbling through" beekeeping, Kauwe met his mentor, entomologist Hubertus E. Kohn. "When the student is ready, the master appears. It was exactly like that," Kauwe says. "For months I had been like, 'What am I gonna do?' Then this German guy shows up on the beach and says: 'I'm going to show you how to do this.'"
Kohn still offers beekeeping guidance, but these days, despite increased demand for his honey, Kauwe is focused on keeping Honi Honi (Hawaiian for twice kissed) a small, homegrown operation. "I'm like, 'Dude, I have plenty to do already,"' says Kauwe. When not tending to his buzzing pollinators or student wave-riders, Kauwe paddles as a member of West Kauai Canoe Club's six-man team and in one-man outrigger canoes. "I'm happy," says the Hawaii-born beach boy and self-described "laid-back" businessman, flashing a smile. "Why do I need to have more money in my pocket, if it takes all my time away? I'd rather be out paddling."