Meet the New Eateries to Waikīkī's Restaurant Scene
Together, Waikīkī Market and Piko Kitchen + Bar are a one-stop shop for delicious bites, creative drinks—and your grocery needs.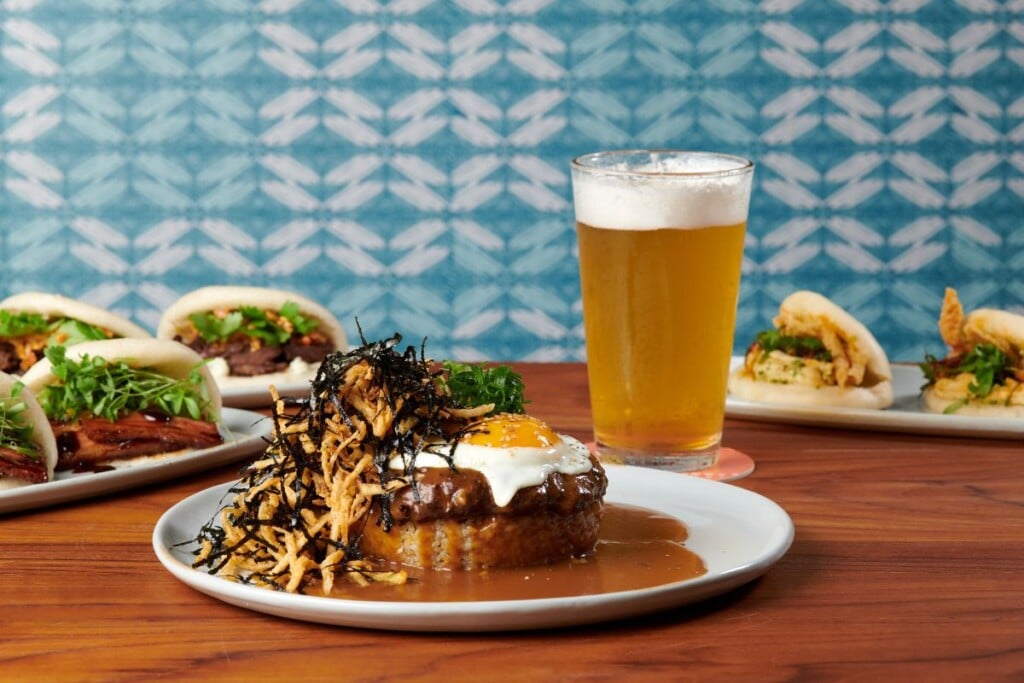 New restaurants and dining adventures always await in Waikīkī. And the most recent additions to the district's restaurant scene are Waikīkī Market and Piko Kitchen + Bar.
At Waikīkī Market hungry beachgoers can order signature fried rice bowls such as the North Shore Style with garlic shrimp or the Seoul Style with bulgogi beef and kimchi. Just mere steps from the rice bowl station, customers can customize individual flatbread pizzas, with topping options that include Kamuela tomatoes and Portuguese sausage. And these are just a few of the satisfying dishes that are available beside aisles of everyday grocery needs.
Downstairs from Waikīkī Market is Piko Kitchen + Bar, a hip yet relaxed pau hana spot with inventive cocktails that include a mango mule and kimchi martini. Here, diners can also build their own pūpū spread with dishes such as pork belly bao buns, cold Somen salad and fries loaded with fish cake and chair siu.
The businesses—both operated by Food Pantry, Ltd.—opened their doors on Jan. 11, 2023, in a two-story locale at Līlia Waikīkī. On the ground level, Piko Kitchen + Bar opens to a bright al fresco dining area that extends onto the city block. Tables and seats are just close enough to the lively sidewalk for diners to feel the kinetic energy of Waikīkī without being completely immersed in the boisterous atmosphere. Upstairs, shoppers can select grab-and-go foods, locally grown produce, seafood, wine and spirits as well as Hawaiʻi gifts and even flower lei.
Although its debuting a fresh storefront, Waikīkī Market has deep roots in this location. Food Pantry Waikīkī opened in this same spot back in 1960 and served the community for nearly 60 years before closing in 2019 for the construction of the Līlia Waikīkī complex.
"We are excited, proud and grateful for the opportunity to return to Waikīkī with a brand-new store to continue our company's legacy of serving this vibrant community," said Brad Iwasaki, the general manager of Food Pantry, Ltd., in a news release. "We like to think of this as a store where aloha meets ʻono as we honor the unique spirit of Hawaiʻi and share and celebrate the diverse food culture of this place we call home."
To spotlight the Islands' multifaceted cuisine, Waikīkī Market operates four counter stations.
The poke counter honors the ubiquitous dish that traces back to ancient Hawaiian feasts of freshly caught fish. Customers can create their own bowl of raw fish over a bed of rice with a variety of sides and sauces. Or they can choose a signature bowl like the Surf and Turf, which is packed with poke and crispy roast pork.
From sushi and musubi to plate lunches, rice is an integral part of local food culture and was brought to Hawaiʻi by Chinese immigrants. At the rice station, customers can choose signature fried rice bowls like the North Shore or customize their own, with protein choices including chair siu pork and bulgogi beef.
If there's one dish that completely embodies Hawaiʻi's multicultural cuisine, it might just be the plate lunch. The store's rotating local plate offerings include adobo-spiced pork ribs, fried chicken with garlic sambal sauce, smoked ʻahi potato salad and miso-glazed fresh catch.
As for the sweetest station, it's certainly the bake shop, where hungry customers can grab one or two—or dozen malasadas. These sugar-dusted doughnuts were introduced by Portuguese plantation workers back in 1878 and are a beloved treat across the Islands. You can grab a classic sugar or try one of the rotating flavors like lilikoʻi, guava and li hing.
Overseeing Waikīkī Market's collection of mini eateries is Chef de Cuisine Owen Imaizumi. Here the vision is to share the story of Hawaiʻi through its rich medley of cuisines.
Similar inspiration flows through the menu at Piko Kitchen + Bar, where Chef de Cuisine Adam Kamahele is at the helm of the restaurant. Here, diners can sample bites from the family-style menu like garlic noodles, oxtail-broth boiled peanuts and Manila clam pinakbet. For dessert, diners can indulge in the restaurant's creamy mango soft serve that comes with mochi balls, lilikoʻi popping boba, crushed okoshi and finished with a condensed-milk snow cap.
Waikīkī Market and Piko Kitchen + Bar are located on 2380 Kūhio Ave. For more information, visit waikikimarkethawaii.com and pikowaikikihawaii.com.