Monkeypod Kitchen Opens in Waikīkī with Breakfast and an Ocean View
Veteran local chef Peter Merriman opens in his "dream" location with menus that highlight Hawaiʻi-grown ingredients.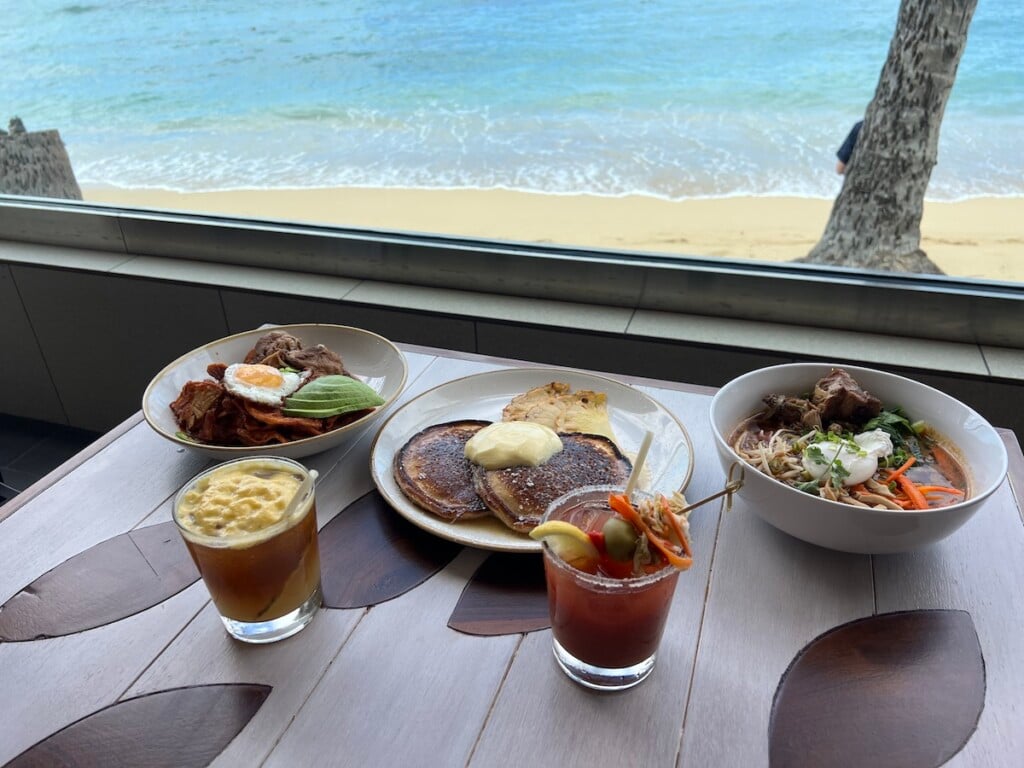 Some of you might remember Shore Bird, the iconic oceanfront restaurant at the Outrigger Reef Waikīkī Beach Resort. It opened in 1979, a restaurant with one of the best views in Waikīkī and a grill-your-own-steak experience; it shuttered in 2017 after 38 years.
But when the hotel planned an extensive, multimillion-dollar renovation, the plan was to anchor it with Monkeypod Kitchen, the second on Oʻahu and fourth in the state.
"Our values align with the Outrigger and we resonate with [its] voyaging ethos and locally rooted values,' Merriman says, adding the restaurant is donating a portion of every sale of Pete's Island Wheat, a beer brewed for him by Koholā Brewing, to the Polynesian Voyaging Society.
The restaurant is huge, sprawling across 13,000 square feet—the size of the basement at ʻIolani Palace and the largest Monkeypod to date—in the lobby of the hotel and panoramic views of Waikīkī Beach. You can even see Lēʻahi (aka Diamond Head) in the distance. It's a casual, open-air restaurant with chill vibes—you feel like you're on vacation when you're dining here.
"We're in Waikīkī and have the beautiful Diamond Head views," Merriman says. "It's still the same farm-to-table concept from scratch but in an even larger space with unparalleled views."
View this post on Instagram
This is the only Monkeypod Kitchen—for now, anyway—that serves breakfast, in addition to lunch and dinner. It's also got a daily happy hour, from 3:30 to 5 p.m., with discounts on drinks (including hand-crafted cocktails), most appetizers and hand-tossed pizzas.
You can get most of the lunch and dinner dishes on the menu—poke tacos, pumpkin ravioli, lobster deviled eggs, pizzas on a scratch-made crust—at the other Monkeypod Kitchens, but this is the only place where you can get breakfast.
"This is the first Monkeypod to be on the beach and in a hotel," Merriman says, "so it's the perfect place to serve breakfast."
So get breakfast!
The menu boasts a blend of breakfast classics—think Benedicts, avocado toast and eggs—with unique dishes that you won't see anywhere else. Like the Monkeypod mai tai flapjacks, topped with Kula rum butter syrup and the same honey-lilikoʻi foam that's on the restaurant's signature mai tai. Or the Hawaiian chilaquiles, with shredded kālua pork, housemade ancho chile salsa, jalapeño, white cheddar, avocado and more on tortilla chips.
My favorite dish, though, was the The Cure, a hearty ramen dish with kālua pork, bok choy, mushrooms, poached egg, red onion, carrots and bean sprouts in a red chili chicken broth. So spicy and warm—the perfect hangover cure, hence the name.
There are daytime cocktails, including the signature mai tai made with Maui rum; and the 24K Coffee, a blend of cold-brew coffee and Selva Rey cacao rum. (This is the rum brand co-owned by Hawaiʻi-born Bruno Mars.) Other beverages include Maui-grown French-pressed coffee, fresh juices, a green smoothie, wines by the glass and a Bloody Mary with kimchi.
The restaurant is open from 7 a.m. to 11 p.m. daily.
Monkeypod Kitchen by Merriman in the Outrigger Reef Waikīkī Beach Resort, 2169 Kālia Road, Honolulu, (808) 900-4226, monkeypodkitchen.com