National Geographic Society and Hawaii Volcanoes National Park team up for species inventory and cultural festival this weekend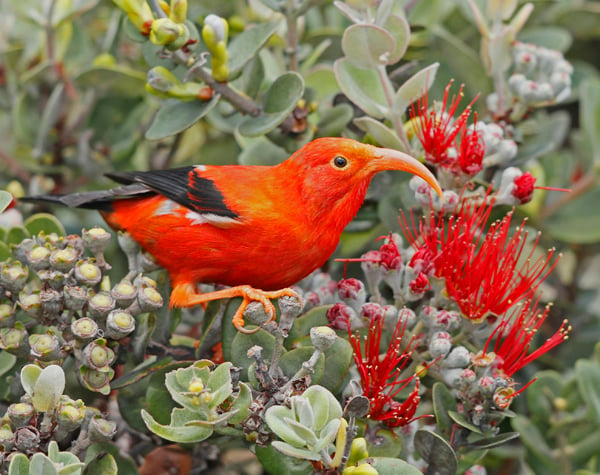 How many species of animals, plants, microbes and fungi currently call Hawaii Volcanoes National Park home? With 333,086-acres of barren lava rock, dry forest and rugged coastline, that's a pretty challenging question to answer. But, after this weekend's National Geographic Society-organized BioBlitz, it could get easier.
Themed I ka nana no a ike (by observing, one learns), the BioBlitz will dispatch more than 150 scientific experts with thousands of volunteers to locations throughout Hawaii Volcanoes National Park to take a biological inventory of its residents. The park's 35th annual Cultural Festival—usually held in July—will run simultaneously and offer the chance to learn about the interconnectedness of the Hawaiian people and culture to the environment.
The BioBlitz and Biodiversity & Cultural Festival will take place Friday and Saturday (May 15 & 16) with festival events held next to the Kilauea Visitor Center. The park is offering free admission both event days.
During the BioBlitz, expert-led teams will head deep into the park to count, map and find some of the park's unique species such as native butterflies, nene (Hawaiian goose), endemic forest birds such as the iiwi (pictured above) and the Mauna Loa Silversword. The count will contribute the park's official species list but is as much an excuse to get area residents and visitors learning about and experiencing the park's ecosystems as it is about tallying up individual critters.
Though registration is now closed for the inventory teams, park visitors can still participate in the Biodiversity & Cultural Festival. Hawaiian cultural practitioners and area non-profits will be on hand for the festival, which promises more than 30 exhibition booths showcasing culture, art and science. Learn about local conservation efforts, talk to a scientist, look through a microscope, watch a hula performance or catch live music by Hawaii musicians Keoki Kahumoku and Kenneth Makuakane. There will also be photography workshops with National Geographic photographers and editors.
Held in a different national park every year since 2007, BioBlitzes are a way for area residents and visitors to contribute to a citizen science project while learning more about the plants and animals of the park. This is the first time a National Geographic Society BioBlitz has been held in Hawaii.