New Bishop Museum exhibit highlights modern and traditional weaving in Hawaii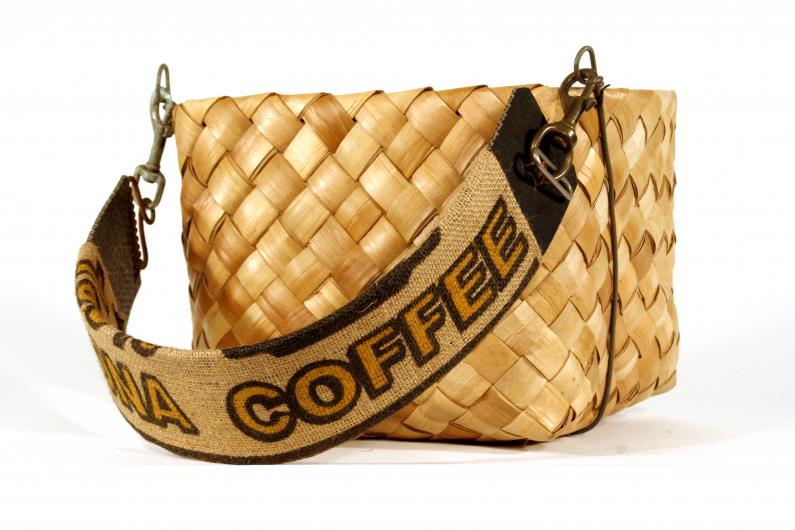 If you spotted a hala (pandanus or screw pine) plant in Hawaii and didn't know any better, it would be easy to discount it as just another tropical plant. But this strange looking vegetation—twisted and palm-like in appearance with pineapple-shaped fruits and hovering in size somewhere between a tree and a shrub—has been a significant cultural mainstay here for millennia.
Early Hawaiians wove the fibrous and easy-to-rip lau hala (hala leaves) into thatch for houses, floor mats, baskets, and even loincloths. Lau hala sails topped traditional voyaging canoes and played a significant role in linking Pacific Island cultures. Today, modern lau hala artisans continue the tradition of ulana (weaving), plaiting the plant into a myriad assortment of functional and aesthetic products.
The hala plant, including its many uses past and present, is the subject of the Honolulu-based Bishop Museum's latest rotating exhibit: "Nani I Ka Hala (Beauty of the Hala): Weaving Hawaii." The new exhibit will be housed in the museum's JM Long Gallery and opens this Sat., March 28.
The new exhibit promises many historical lau hala weavings, including a 16 ft. full-size traditional sail, the only one in the Bishop Museum's collection and on display for the first time.
Interactive video installations will share the stories of modern lau hala artisans and demystify some of the tools and techniques they employ. Some of the more contemporary lau hala weavings housed in the new exhibit include: iPad covers, handbags, eyeglass cases and hats, including the personal lau hala hat collection of Bernice Pauahi Bishop, the museum's namesake and the last descendant of the royal Kamehameha family.
One section of the display will also explore the future of the hala plant in Hawaii and will detail emerging partnerships between weavers and biologists as the plant faces a new invasive insect threat.
Want try your hand at hala weaving and make something you can take home? Visitors can join in daily, guided workshops and learn how to make a small woven hala piece or bracelet.
For more information about the Bishop Museum or the new exhibit, follow the link to their website.