New land conservation on Hawaii Island could become part of Hawaii Volcanoes National Park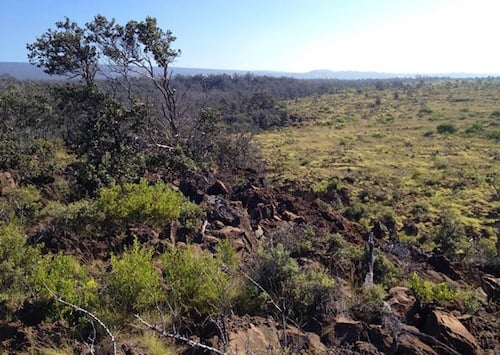 Last week, The Nature Conservancy finalized its acquisition of 222 acres of southern Hawaii Island land. The international conservation non-profit says the parcel could turn into an expansion of the neighboring Hawaii Volcanoes National Park in the next few years.
The triangular-shaped acreage, called Kahuku Iki (Little Kahuku), is adjacent to the national park's Kahuku Unit on the slopes of Mauna Loa.
According to The Nature Conservancy, the plot's agricultural zoning meant that sale of the land to another owner could have seen an agricultural subdivision or even a strip mall built on the property. The organization's purchase, finalized on Dec. 30 for $330,000, will prevent any future development of the land.
Mostly comprised of dry scrubland, Kahuku Iki lies between the towns of Ocean View and Naalehu. Its southern boundary follows 1.6 miles of Highway 11 (Hawaii Belt Road).
Several native plants live on the site including ohia, pukiawe, hoawa and aalii, as well as two native birds and possibly even the elusive opeapea, or hoary bat, one of the state's two endemic mammals (the other is the Hawaiian monk seal).
The Nature Conservancy will manage the plot as a nature preserve for the foreseeable future, until federal funding allows the park to purchase the plot from the non-profit. The organization predicts that could still be two to four years away.
But Hawaii Volcanoes National Park staff have already begun making plans for what the park could do with The Nature Conservancy's new land. Park superintendent Cindy Orlando said in a Nature Conservancy press release that possible scenarios include a new scenic access point to the park's Kahuku Unit, a parking area and two new trailheads—one to the 1868 lava flow passing through the area's dryland forest and the other a connector from the Kahuku Ainapo Trail alignment to other area trails.
This is not the first time that The Nature Conservancy and Hawaii Volcanoes National Park have worked together. In 2003, the organizations jointly purchased the 116,000 acres of land that became the park's Kahuku Unit, which increased the park's size by half.