New upscale Oahu restaurant caters to seafood fanatics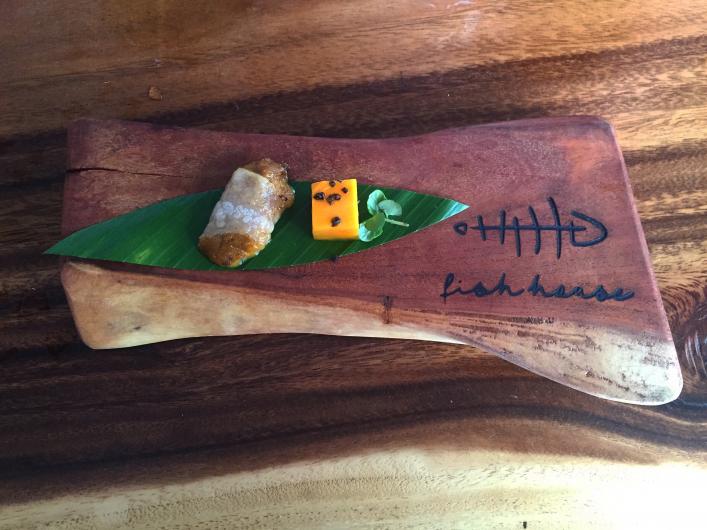 Forget about Red Lobster. If you want to treat yourself to a feast of never ending shrimp, lobster, crab and fresh-caught fish, then make reservations at Fish House, an upscale seafood restaurant at the Four Seasons Resort Oahu at Ko Olina.
The restaurant is a great excuse to get out of Waikiki and head west to the Island's Leeward side. Afterward, walk around the newly-opened, lavish resort grounds (or stay the night, if you're feeling extra fancy).
The restaurant is next to one of the resort's three main pools, and virtually every table, whether inside or out on the lanai, offers an ocean vista, and during the evening, sunset viewing. There's even a barefoot sand area. Even though Fish House is a Four Seasons restaurant, it's comfortable and unpretentious – the bar area houses a pool table. Interior décor combines rustic touches like exposed wood rafters and monkeypod wood tables with nautical features like fishing nets draped on the wall and iridescent scalloped-shaped tiles on the bar, resembling fish scales.
Libations include handcrafted cocktails – many of which feature rum – beer, wine and house-made kombucha and cold-pressed juices. For a drink to match your feast, order the Pineapple Elyx-ir, made with vodka, Oahu pineapple juice, pomegranate, hibiscus, champagne and bitters.
On to the food. Fish House is open for lunch and dinner and like the name implies, it's all about that seafood. You can enjoy the bounty of the ocean from the starters, such as traditional ahi (tuna) poke with taro chips, a cold seafood tower with crab, lobster, shrimp and oysters, to the Fish House salad and side of garlic shrimp with lemongrass, fennel and cucumber. The seafood tower ranges from $36 for one person to $125 for four to five people. As tempting as towering plates of seafood cocktails are, save enough room for the hot dishes!
For the main course, the table can dig into a whole grilled onaga (red snapper), stuffed with lemongrass and served with chili water. One of the best dishes, and a breather from the self-induced crustacean coma, is North Shore corn on the cob, made with condensed milk aioli, Parmesan cheese and seasoned with paprika.
Even better, the seafood is locally sourced. Executive Chef Ray German—who has worked with Four Seasons since 2001—gets the lobsters and crab from Hawaii Island, Keahole and Kona respectively, shrimp from Kauai and the fish of the day from Hawaii waters. You'll see onaga, opakapaka (pink snapper), ahi (tuna), nairagi (striped marlin) and opah (moonfish) on the menu. If you feel like surf and turf, filet, New York strip steak and Colorado lamb are available, too.
After a feast this grand, there's no way you won't walk out of Fish House, with your seafood cravings adequately satiated.
---
Fish House at the Four Seasons Resort Oahu at Ko Olina
92-1001 Olani Street, Kapolei • 1 (808) 679-0079 • Open daily for lunch from 11 a.m. til 5 p.m. and dinner 5 p.m. til 11 p.m. • Live entertainment on Wed., Thurs. and Sat. evenings • Reservations recommended