Not for everybody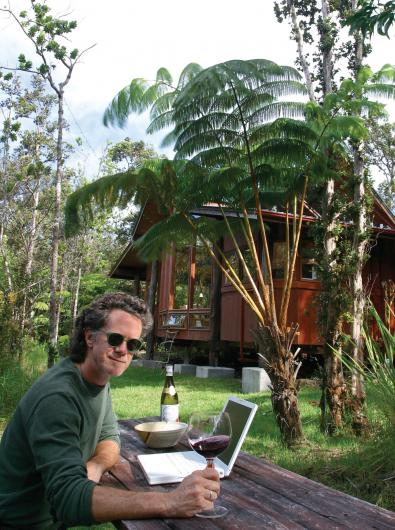 I live on the Big Island in a forest cottage with huge windows, 4,000 feet above sea level, less than five miles from the summit of Kilauea, the volcano that's still tirelessly gushing molten lava after 13 years.
Making your home atop a hyperactive volcano is not for everybody. Up here, it's not the heat—temperatures actually average a refreshing 50 to 75 degrees—it's the humidity, as in 100 percent. It rains, frequently. It's not for everybody. But I moved to Volcano three years ago.
After 25 years of living in Honolulu on Oahu, I threw good sense to the wind, quit my job and moved to my little dream cottage just outside of Hawaii Volcanoes National Park.
I loved Honolulu, had friends there, had never lived outside a city. I was scared. Was I just being stupid?
Three years later, I must face the truth: I'm a genius. I look out on my glistening patch of forest, my wood stove crackling, and marvel that I have remade my life in this strange and wonderful place.
Never mind sun, sand and surf. I prefer my lush jungle's soft ferns and dewy moss. I prefer never having to water my garden. I prefer a cozy sweater to a T-shirt. I prefer this cool place that mosquitoes don't.
I also prefer living right by Hawaii Volcanoes National Park. This park is the most visited site in the whole state, apparently just because, here, we can touch the womb of the planet as it continues to create itself.
Plus there's Volcano Village. It's tiny, but it has superb B&Bs, an excellent European lodge restaurant, a good Thai place, a farmers' market, and, just up the highway, a friendly bar and little bowling alley with beer and great greasy burgers.
In our two general stores, you can cross paths with the odd yin and yang of Volcano Villagers—left-brain scientists and right-brain artists, along with a salting of third-generation farmers and us newbies who have stopped resisting the magnetism of this place.
The village is surrounded by nothing much— nothing besides acres of native tree ferns whose fronds unfurl like hands after prayer, crimson-beaked forest birds that exist nowhere else on the planet, the world's most welcoming active volcano, hula being danced and chants chanted for volcano goddess Pele.
Having our very own goddess-in-residence has perhaps taught us uplanders to go with the flow a little better when things get shaky. For example, you may have heard about the rather large earthquake that happened in Hawaii last October.
I was at the Volcano Village farmers' market when it hit. Elsewhere in Hawaii, according to news reports, people mostly screamed and ran in circles. But up here, we like a little shake, rattle and roll. As the earth began to bump and the planks of the community center rattled, we all started grinning like kids on a carnival ride, whooping and hollering.
No doubt, it was raining at the time. In fact, as I write this, the rain is falling. But the sun is shining, too. Now, the rain has been transformed into a curtain of mist parting onto the forest.
Like I say, it's not for everybody. But I'm staying.
Don't miss another story from HAWAII Magazine
Sign up for our weekly E-Newsletter today!