"One Last Look" From HAWAII Magazine: Pueo, A Native Hawaiian Owl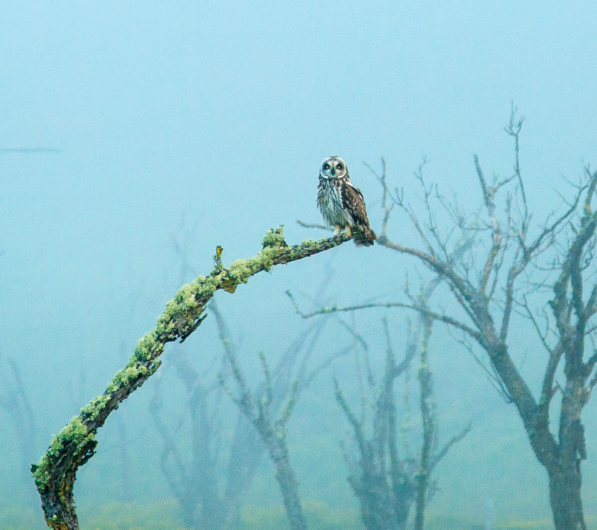 Here's a blast back to HAWAII Magazine's 2014 Outdoor Issue and a photo that itself deserves "One Last Look."
In the above photo, a native pueo (Hawaiian short-eared owl) rests on a tree branch in central Hawaii Island. An endemic subspecies of the migratory short-eared owl, the rare and elusive pueo can be found on each of the main Hawaiian Islands where some Hawaiian families revere them as aumakua—benign embodiments of an ancestral spirit that appear at opportune times to warn, reprimand or comfort their human ancestors.
For photographer Jack Wolford, who captured this ethereal image featured in our May/June 2014 issue, this particular pueo sighting was deeply significant.
"My grandmother would always have these stories about the pueo and I knew that it was our family's aumakua," said Wolford. "I had just returned from the memorial services of a close family member on Maui." Driving alongside the mist-enshrouded Saddle Road between Mauna Kea and Mauna Loa volcanoes, "the sun was setting and the light was just beautiful."
Reminiscing about the life lost, "I came around the corner and there was this bird. It was a heavy-duty thing," said Wolford. "Not only was I able to pull over and get out of the car, I walked up to the fence and photographed it. It stared at me and stayed there and wasn't spooked. I was able to get a number of frames off. I walked back to the car and I thought: I can't believe that just happened."
But that wasn't all. A few miles down the road he encountered a pueo again. Perhaps it was another bird, "but I like to think it was the same one," he said. "It swooped right in front of the windshield and flew two or three large S's around and above the car. It was a full-on chicken skin moment."
…
Lifestyle photographer and frequent Hawaii visitor Jack Wolford grew up in Honduras, the Philippines, Hawaii and California and returns to Hawaii Island several times a year for work and pleasure. Learn more about Jack and his work at jackwolford.com.