Our 10 Essential Experiences on Hawaiʻi Island
From hiking an active volcano to visiting the southernmost point in the U.S., here are our must-dos for your next vacation to the Big Island.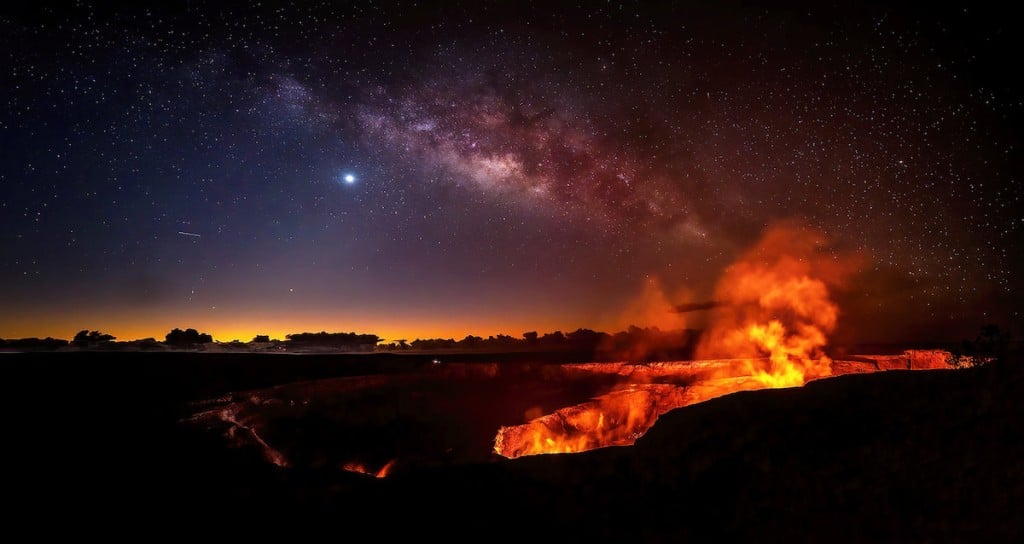 Don't get confused: Hawaiʻi Island is not where Honolulu is. (That's Oʻahu.) But this is the island that's home to an active volcano—Kīlauea—and the world's tallest mountain (from base to peak)—Mauna Kea. It's often referred to as the Big Island, and for good reason. Spanning 10,931 square miles, Hawaiʻi Island is nearly twice as big as all of the other Hawaiian Islands combined. You can travel through all but four of the world's different climate zones here. It's truly an island for exploring, from the charming coffee farm towns in Honaunau to the rolling hills of Waimea, from the jet-black sands of Punaluʻu Beach to the verdant valleys in Hilo. You'll get lost here—and you won't mind it at all. Here are 10 essential experiences every traveler should have while on the Big Island.
1. See a Volcano
There's no other U.S. state where you can visit an actively erupting volcano. Kīlauea, one of the world's most active volcanoes, is part of the 335,259-acre Hawaiʻi Volcanoes National Park, about 30 miles south of Hilo International Airport on Hawaiʻi Island. The park, which stretches from sea level to the top of Maunaloa, the world's largest active subaerial volcano, features six of Earth's climate zones and offers miles of hiking, walking, camping and birding. Walk through a lava tube, hike across an old lava flow and explore steamy sulphur banks. Kīlauea began erupting again in September 2021, and the new eruption created an 89-foot-deep lava lake in the Halemaʻumaʻu Crater. On clear days (or nights), you can see the warm glow from the lava. It's an unforgettable experience.
2. Lounge on a Black Sand Beach
Hawaiʻi is known for its gorgeous golden-sand beaches—but Hawaiʻi Island is also home to strikingly beautiful black-sand ones, made from eroded volcanic material like lava and basalt rock. Punaluʻu Black Sand Beach is probably the most famous, located on the southeastern Kāʻu coast. It's lined with coconut palms and often dotted with basking honu (Hawaiian green sea turtles). (Swimming here isn't recommended.) Pohoiki Beach (aka Isaac Hale Beach Park) is another stunning black-sand beach, this one located in Puna. It's fairly new, the result of the 2018 volcanic activity of Kīlauea. You can lounge, swim and surf here, though, as with every beach in Hawaiʻi, check with lifeguards first before heading into the water.
3. Swim with Manta Rays
There aren't many places in the world—and none in the U.S.—where you can swim with friendly manta rays in luxuriously warm water. In Keauhou Bay off the Kona coast, you can get in the water with dozens of resident rays on guided tours at night. Anelakai Adventures takes guests out on a traditional double-hulled Hawaiian canoe to a spot in the bay where, after sunset, giant manta rays come to feed on photoplankton, attracted to the area by ultraviolet lights. These otherworldly sea creatures grow up to 15 feet across here, weighing as much as 3,000 pounds. You'll get to slide into the water with them and watch them flip and twirl.
4. Ride a Horse in Waimea
Find rolling hills and green pastures in Waimea—a stark contrast from the barren volcanic landscapes in the southern part of the island. Here, you'll find working paniolo (Hawaiian cowboys) and lush open spaces, grazing sheep and cattle, and easy country living. You can explore this area on horseback; Kahuā Ranch, one of the oldest working ranches in Hawaiʻi, offers trail rides with panoramic views of the mountains and coastline from Naʻalapa Stable. Don't skip Waimea town, with its fun shops, restaurants and a lively farmers market every Wednesday. If you have time, venture north on Kohala Mountain Road (Highway 250) to the remote town of Hāwī, best known as the bicycle turnaround for the annual Ironman World Championship. It's also where you can find the original King Kamehameha I statue and the stunning Pololū Valley Overlook.
5. Drive to South Point
Hawaiʻi Island is home to the southernmost point in the U.S. Called Ka Lae—aka South Point—this area is believed to be where the first Polynesians arrived in the Hawaiian Islands somewhere between 400 and 800 A.D. A
National Historic Landmark
, this site features ruins of a
heiau
(Hawaiian temple), fishing shrines and other cultural vestiges. It's also a popular spot for fishing; the waters off the point are very deep and abundant with large fish such as
ʻahi
,
mahimahi
and marlin. It's a long haul to get here; it's about a two-hour drive from Kona. Three miles from Ka Lae is Papākolea Beach, famous for its green sand made from olivine from the surrounding cinder cone. And in nearby Nāʻālehu, dine at the popular
Punaluʻu Bake Shop
, known for its Hawaiian sweet bread.
6. Eat Big Island Specialities
Hawaiʻi Island has a rich food history. For starters, the famous loco moco—a dish consisting of beef patties on a bed of white rice and topped with brown gravy and an egg (or two)—was invented on this island. In Hilo, to be exact. Café 100 in Hilo sells more than two dozen varieties of this classic local dish, including ones with grilled fish, housemade chili and plant-based beef. Similar to loco moco, gravy burgers are a must while in Hilo. Imagine a burger with gravy instead of ketchup. Find classic ones at Blaine's Drive In or an upgraded version at Hilo Burger Joint. While you can find mochi—a traditional Japanese treat made from sweet glutinous rice—anywhere in Hawaiʻi, only Hawaiʻi Island has Two Ladies Kitchen, a small shop in Hilo that makes tasty mochi in dozens of flavors. (The most popular is the strawberry mochi, which you need to order in advance.) And just FYI: Hawaiʻi Island folks call shave ice "ice shave." Good to know when you're at the counter at Wilson's by the Bay in Hilo or Scandinavian Shave Ice in Kailua-Kona.
7. Snorkel in Kealakekua Bay
About 12 miles south of Kailua-Kona,
Kealakekua Bay State Historic Park
is one of the best snorkeling and scuba diving sites on Hawaiʻi Island, thanks to its natural wind protection and remote location. The waters here are filled with diverse coral and tropical fish—yellow tang, flame angelfish, butterflyfish—and the occasional pod of spinner dolphins. This is also the site where the first documented westerner, Capt. James Cook, landed in Hawaiʻi in 1779. A year later he was killed at this spot in Kealakekua Bay; a white obelisk stands on the shore of the historical park to memorialize his death. On the east side of the bay is the Hikiau
heiau
dedicated to the Hawaiian god, Lono. Only a few companies like
Kona Boys
and
Aloha Kayak Co.
have permits to lead guided commercial kayak tours in this bay and monument.
8. Go Star Gazing
The light pollution is far less on Hawaiʻi Island than Oʻahu, and star-gazing can be as easy as strolling a beach just after sunset and looking up. But there are areas on the island that are particularly perfect for this after-hours adventure. Hawaiʻi Forest & Trail offers a 7-hour star-gazing tour to the nearly 14,000-foot summit of Mauna Kea, where you'll be standing above the clouds. And Hawaiʻi Volcanoes National Park has made efforts to reduce its light pollution and output—it helps keep migrating birds and sea turtles safe—as it seeks designation as an official Dark Sky Park from the International Dark Sky Association. That means on clear nights in the park, which is near sea level, you can look up and see the Milky Way.
9. Drink Kona Coffee
If you love coffee, you need to drink Kona coffee. This is coffee specifically grown on the slopes of Hualālai and Mauna Loa in the Kona region of the island. The unique flavor can be attributed to the environment: mineral-rich volcanic soil, sunny weather and just enough rainfall. Not only can you sample Kona coffee here, but you can tour some of the farms that grow, roast and cup these special brews. The historic Greenwell Farms offers free daily tours; Hula Daddy Kona Coffee has guided, hourlong plantation tours three times a week; and Mountain Thunder has various farm tours, including self-guided walks and private tours and tastings.
10. Hike to a Waterfall
Who doesn't love a waterfall hike? Hilo has two—both easy for anyone to get to. The first is Rainbow Falls—or Waiānuenue—in the Wailuku River State Park. (No entrance fees.) You don't even need to walk very far—just from your car to the lookout—to see this broad, 80-foot waterfall that cascades over a lava cave. (Legend says it's the home of Hina, the mother of the demigod Maui.) On misty mornings, you may see a rainbow spread across it. The other easy-to-access waterfall is ʻAkaka Falls, about 15 miles north of Hilo. (There are entrance fees for visitors.) The loop hike itself is short: about 0.4 miles, with slight uphill sections, through bamboo groves and lush foliage. You can see both the 100-foot Kahuna Falls and ʻAkaka Falls, which plummets 442 feet into a stream-eroded gorge, from this trail.