Our 10 Favorite Spots for Summer Dishes on Maui
Did someone say boozy shave ice?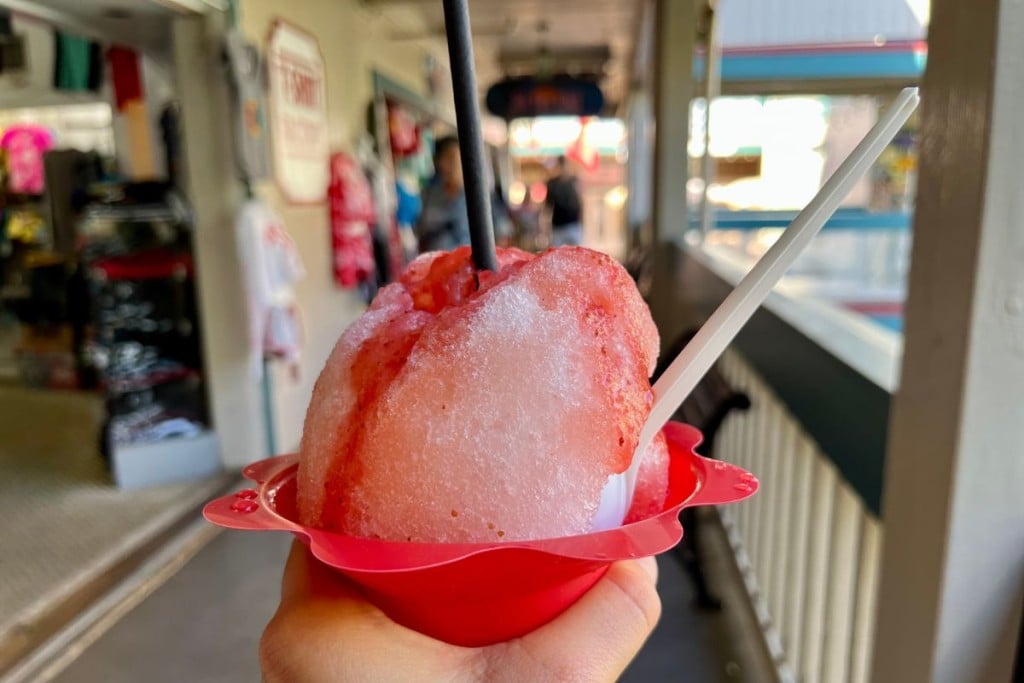 It certainly feels like summer on Maui, which means eating copious amounts of lychee, shave ice and plate lunches at the beach. While most food can be enjoyed year-round on Maui—aside from in-season fruit—certain dishes just taste a little better on a sweltering summer day. Among these 10 Maui restaurants and eateries are a mix of young businesses and classic establishments that are worth visiting for a summer treat.
1. Adult shave ice from Breakwall Shave Ice Co.
Shave ice is the ubiquitous treat of summer. Fine, shaved ice is drenched in bright, fruity syrups. But Breakwall Shave Ice Co. on Lahaina's Front Street raises the bar and crafts what many people have been asking for: boozy shave ice. Customers can choose an icy cocktail such as mango margarita, mai tai or mojito float—or take complete creative liberty and choose their own booze and syrup flavors. 658 Front St., Lahaina, dthmaui.com/breakwall-shave-ice-company.
2. Summer fruits from local farmers' markets
Across the islands, you'll notice pink bulbs of lychee, yellow lilikoi (passion fruit) and mangos blushing with red hanging from trees. It's that time of year when neighbors and friends are often exchanging summer fruit harvests. One neighbor has a tree dotted with pink lychee, while green mangos ripen on the tree next door. Fortunately, an abundance of these fruits can also be found at local farmstands and farmers markets, including the popular Upcountry Farmers Market in Kula as well as the Napili Farmers Market on the west side. Only during the summer can you enjoy lychee, lilikoi, mango, dragon fruit and mountain apple that have been grown on the island. So don't miss your chance to slice into a juicy, golden mango or peel the scaly skin of a lychee for the sweet, clear flesh.
3. Açaí bowl from Pāʻia Bowls
View this post on Instagram
And what better way to enjoy in-season fruit than as a topping on an açaí bowl? For years, açaí bowls have been the trendy treat to grab after a hike or surf session. The purple-hued smoothie base is topped with crunchy granola, diced fresh fruit and a drizzle of honey, making a refreshing and picture-perfect snack. And Maui's beloved Pāʻia Bowls is back after closing its outdoor café in 2021. Açaí afficionados can now find the superfood bowls being served at Better Things Café on Baldwin Avenue, where the café has it down. Granola is layered in the açaí base for the ideal balance; not too much açaí and not too much granola. The bowl is finished with thinly sliced fruit and options for nut butter and superfood toppings. 115 Baldwin Ave., Pāʻia, betterthingscafe.com.
4. Boba from Boba Bar Pāʻia
While it seems like there is a boba shop on every block on Oʻahu, options are limited on the Valley Isle. Fortunately, boba lovers can get their fix at the Boba Bar Pāʻia. Right on the corner of Baldwin Avenue and Hana Highway, you can find the little shop making homemade tapioca pearls and tea. After a day of exploring the colorful town of Pāʻia, stop into the shop to slurp on boba and grab a snack or two this summer. 2A Baldwin Ave., Pāʻia, thebobabarpaia.com.
5. Plate lunch from Tin Roof
View this post on Instagram
You can't visit Maui without grabbing a plate lunch, or kau kau tin, from Tin Roof. The eatery is less than 10 minutes from the airport and should be your first stop after a long flight to the island. "Top Chef" alum Sheldon Simeon opened this eatery in an industrial pocket of Kahului, where you'll see a line of bankers, construction workers, dentists, surfers and visitors all waiting to order a kau kau tin of Simeon's famed juicy mochiko chicken, fried pork belly or his dry mein noodles. Each plate comes with a base of either white or brown rice, kale salad or garlic noodles. And you can expect the plates and most dishes on the menu to be under $15, a rare find for an establishment started by a James Beard Award nominee. 360 Papa Pl., Kahului, www.tinroofmaui.com.
6. Poke plate from Tobi's Shave Ice
Don't get thrown off by the name. While Tobi's Shave Ice makes phenomenal shave ice, the Pāʻia eatery is also known for its poke plates. The poke tastes unbelievably fresh, with a firm yet easy-to-chew texture. Marinated in sauces such as a spicy wasabi or classic shoyu, the poke sits on a bed of lettuce and comes with two scoops of rice covered in furikake. While poke can be eaten year-round, there's something satisfying about eating a poke plate on a summer day. 127 Hana Hwy., Pāʻia, www.tobismaui.com.
7. Banana Bread from Aunty Sandy's
On the winding drive to Hāna, make a left after mile marker 16 onto Keʻanae Road toward Keʻanae Peninsula. Here, you'll find Aunty Sandy's famous farm stand, renowned for its melt-in-your-mouth banana bread. The warm, moist loaves are made every day, following a recipe that's been passed down for generations. The palm-size loaves make a great snack while you're back on the road to Hāna. 210 Keʻanae Rd., Keʻanae, auntysandys.com.
8. Eat farm-to-table at Moku Roots
View this post on Instagram
Creative chefs are pioneering the farm-to-table landscape on Maui. Sourcing its ingredients from local farms, Moku Roots in Lahaina has been a favorite for innovative vegetarian and vegan cuisine. It's also the only zero waste restaurant on Maui. Sandwiches come wrapped in ti leaves that are tied with banana-fiber twine and drinks are served in refillable mason jars. The dishes will also satisfy die-hard meat lovers, too. The protein loaded B.L.A.T. sandwich comes with crispy coconut bacon, lettuce, avocado, tomato and macadamia nut aioli on high protein bread. The Reuben has all the traditional flavors—just the ingredients are vegan. In between two pieces of rye bread, there's sauerkraut, brined eggplant, vegan cheese and vegan French dressing. So, stop for lunch in Lahaina at Moku Roots. 335 Keawe St., #211, Lahaina, mokuroots.com.
9. Wood-fired pizza from Flatbread Company
View this post on Instagram
Flatbread Company is at the heart of colorful Pāʻia town and the neighborhood's artsy personality flows throughout the pizzeria. So, settle into a cozy booth and enjoy the lively atmosphere of locals and residents feasting on pizzas. The mopsy is a local favorite, a twist on the Hawaiian-style pizza. With a mango, BBQ sauce base, the pie is topped with kālua pork, Maui pineapple, organic red onions, and a blend of goat and cow cheese for a local-style pizza you can't find anywhere else. 89 Hāna Hwy., Pāʻia, flatbreadcompany.com/locations/paia-maui-hi.
10. Sip local beer at Mahalo Aleworks
View this post on Instagram
There's nothing like sipping on a cold beer during Maui's golden hour. And the views are unbeatable sitting on the wrap-around lānai at Mahalo Aleworks. The microbrewery is the newest addition to Maui's beer scene and what makes it stand out is its extensive use of hyper-local ingredients. Native and foraged ingredients go into beers. Sample a flight with options such as hibiscus blonde, mango wheat, starfruit sour or P.O.G. 30 Kūpaoa St. #101, Makawao, mahaloaleworks.com.