Our 2014 "Best of Hawaii" issue is out! Check out some of our picks for Best Eats and Drinks in Hawaii.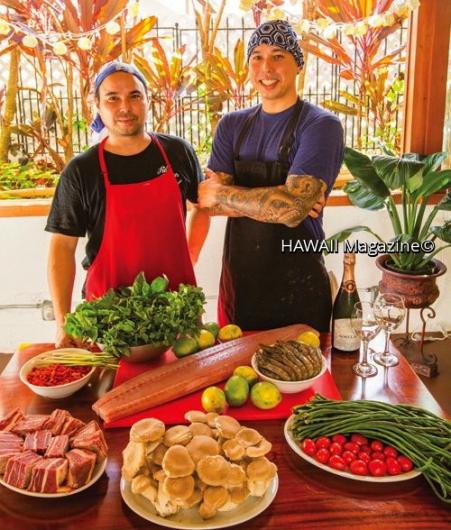 HAWAII Magazine's 2014 "Best of Hawaii" issue is on-sale nationwide now! The perennially popular issue features our annual collection of stuff that makes our Islands great.
The September/October "Best of" issue is chock full of staff-curated standouts, highlighting the best of the best throughout the state. From the "Best Festival You've Never Been to But Should," to the "Best New Hawaii Seafood," and even "Best New Breakfast Spots," "Best Spa Treatments" and "Best Art Hiding In Plain Sight," you're sure to find lots of awesome insider tips and insights.
Our 101 "Best of" picks are gathered within four umbrella sections, "Places!" "Eats & Drinks!" "Stuff!" and "Fun, Etc!" You'll have to pick up a copy of the "Best of Hawaii" issue to see all of our picks (we recommend subscribing to HAWAII Magazine so you never miss an issue). But, over the next few weeks here on HawaiiMagazine.com we're sharing a handful of highlights.
In a previous post we shared some of our favorite Best of Hawaii 2014 "Places!" And, today we're sharing six of our 35 winners from our Best of Hawaii "Eats & Drinks!" section.
"Best of Hawaii 2014: "Eats & Drinks!"
(6 of 35)
by Derek Paiva and Dawn Sakamoto
"Best New Restaurant: Maui"
Kaana Kitchen
Maui-born-and-raised chef Isaac Bancaco's stunning open-air, open-kitchen restaurant at the tony Andaz Maui is the culinary playground he's long deserved, tailor-made for having creative fun with his enviable bounty of Island-grown produce and product. It's a joy to watch him work the fruits of his career partnerships with Maui farmers, ranchers and fishermen into flavorful, artfully plated creations—abalone risotto with kampachi bacon and onsen-style egg; grilled, fresh-caught octopus panzanella; a salad of fresh watermelon squares topped with feta, arugula and hints of horseradish—that defy explanation in words. Amazing.
Kaana Kitchen
Andaz Maui at Wailea Resort, 3550 Wailea Alanui Drive, Wailea, Maui
(808) 573-1234 • Maui.andaz.hyatt.com
"Best New Restaurant: Hawaii Island"
Full Moon Café
We could dine at Big Island brothers Mark and Tedd Pomaski's small, unassuming downtown Hilo café every day and never tire of their food. Heck, if they'd let us, we'd move in. Save for a few items, the menu changes every day at Full Moon as the brothers—with Mark's wife, Soni—find what's looking good at the Hilo Farmers Market, pick up fresh-caught fish and locally raised beef orders, and work out a plan, brilliantly. If we could list everything Pomaski we love here—Salty Fish Fried Rice, Pork Belly Menma and the best cake noodles ever, among them, we would. Since we can't, follow Full Moon on Facebook to see for yourself.
Full Moon Café
51 Kalakaua Street, Hilo, Big Island
(808) 961-0599
"Best New Restaurant: Oahu"
The Pig & The Lady
Andrew Le has a kitchen! A real kitchen. A kitchen where the mastermind behind our favorite former pop-up restaurant and current favorite farmers market food stand can craft any number of his brilliant culinary readings of homestyle Vietnamese cuisine (smoked bacon, brisket and soft-boiled egg P&L Pho, Headcheese Katsu, Charcoal-Grilled Chicken with chicken cracklins, fried egg and chicken-fat rice) and we can comfortably sit back and inhale it all. Should we desire an entire Shinsato Farm's pig head at nine at night, Le will do it with some advance notice and toss in some extras to go with (fried shallots, raw oysters, turmeric rice).
The Pig & The Lady
83 N. King St., Honolulu, Oahu
(808) 585-8255 • thepigandthelady.com
"Best Reason to Love Mondays"
Aloha Mondays
Kanoa Miura, owner-chef of Hilo catering company Aloha Mondays once put together for us one of the finest bento lunches we'd ever had, filled with creative eats, much of it using local produce and product. We left hoping he'd one day do bentos and plate lunches we could get on every Hilo visit. He's finally doing it. You just have to preorder from a weekly specials email. Sign us up for Miura's burgundy-braised Kulana beef and garlic mashed potato, crispy lemon chicken with wok-fried chow mein and miso butterfish and cold soba salad plate lunches. Mahalo, Kanoa, for giving Mondays a better name!
Aloha Mondays
1348 Kilauea Ave., Hilo, Big Island
(808) 640-2093 • alohamondays.com
Poke pizza from Pizza Corner. Photo by Odeelo Dayondon.
"Best New Way to Eat Poke"
Poke Pizza at Pizza Corner

Pizza Corner chef Jerome LaSorba II had a killer spicy-sweet ahi poke recipe. Pizza Corner owner Frank Mento threw down a challenge for LaSorba to get creative. The so-oddball-it-shouldn't-work-but-weirdly-it-does result is a brilliantly tasty creation we never knew we were craving and now can't get enough of. The whole thing starts with LaSorba sprinkling Japanese furikake seaweed seasoning on buttered, hand-tossed dough, then baking it to a chewy crisp. After letting it cool a bit, he separately mixes fresh ahi poke and lomilomi chopped tomato and red onion and layers both on the pie, dusting the finished creation with sesame seeds and green onion. We're in love.
Pizza Corner
KoOlina Center, 92 Olani St., KoOlina Resort, Oahu
(808) 380-4626 • pizzacornerhawaii.com
"Best Hawaiian-Chili Pepper Water"
Nahiku Community Association "Basic" and "Shoyu-Infused" Chili-Pepper Water
Chili-pepper water is Hawaii's own condiment. Drizzled or flooded on meats and salads to raise flavor and heat, its basic recipe of Hawaiian chili pepper, sea salt and water is only a starting point for exploring its creative heights. We've tasted many, but none like the combination of the above ingredients with garlic, vinegar and other secret ingredients that make the homemade "basic" and "shoyu-infused" chili-pepper water from this nonprofit, based in the tiny north-shore Maui town of Nahiku, so good. We've never found it anywhere except the annual East Maui Taro Festival in Hana. Better believe we use it sparingly too.