Put This New Maui Eatery on Your Restaurant Radar
Spearheaded by Chris Kajioka and Mourad Lahlou, Waicoco is already a hot destination for elevated cuisine and oceanfront dining in Lahaina.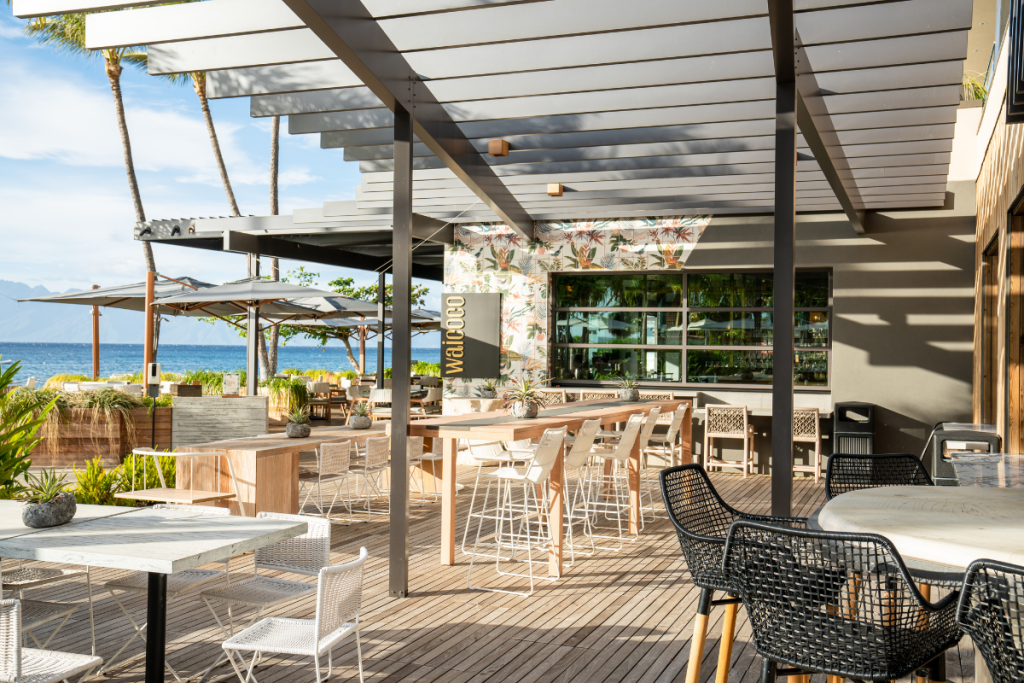 Along the coasts of Kāʻanapali and Wailea, there's a colorful culinary scene emerging. Chef-driven restaurants are taking up residency in hotels and resorts, crafting award-winning dining for guests and putting Maui on the map as a culinary destination. Waicoco is one of the most recent and brightest additions.
The new restaurant is an eminent piece in The Westin Maui Resort & Spa, Kāʻanapali's transformation. Located just steps away from the beach in the Westin's luxury Hokupaʻa Tower, Waicoco complements the resort's reimagined identity with an elegant yet warm island setting. Tropical tiles adorn the open-air bar, while the modern interior décor takes inspiration from the soothing sea and Hawaiʻi's natural elegance. It's a chic fixture impossible to miss not only at the resort, but also along the Kāʻanapali boardwalk.
Behind this exciting restaurant are James Beard Award finalists Chris Kajioka and Mourad Lahlou. Kajioka is known for operating Senia and Miro Kaimukī on Oʻahu, while Mourad is a trailblazer in Moroccan cuisine in the U.S. Mourad's restaurant Aziza is the first Moroccan restaurant in the states to be awarded a Michelin Star. Together, the duo designed a dining experience that connects guests to Maui through ingredients grown on the island and local style dishes, with strong Hawaiian, Asian and Moroccan flare.
Their menu showcases Kula greens and tomatoes, locally caught fish, as well as plates that represent the cultural diversity in the Islands. "Part of it is a celebration of the farms. A lot of it is a celebration of different cultures," Kajioka says, describing Waicoco's menu. While he calls it, "food with no ego," the humble dishes are certainly elevated with quality ingredients and creativity.
Open in the morning and again in the evening, diners can start and end their day soaking in Maui's west side. During breakfast, juicy Portuguese sausage is paired with nutty furikake-topped white rice, a morning staple you'll find in many homes across the Islands. The kiawe-smoked shakshuka is a nod to Lahlou's background, a North African dish popular in the Middle East, served with a poached egg and Kula tomato.
As the sun begins to set, Waicoco's offerings expand with craft cocktails, pūpū, fresh seafood and inviting entrées. Those that grew up in Hawaiʻi with an affinity for shrimp chips will especially appreciate the prawn poke. A crunchy, hand-size prawn chip is filled with fresh ʻahi poke topped with nīoi pepa (Hawaiian chili pepper) sauce, avocado and watermelon radish. Served warm, the fluffy Hawaiian rolls are comforting and complimented by a side of sweet, whipped butter. The firecracker-glazed short rib is already a favorite at the new restaurant; tender beef is topped with toasted peanuts and served with Molokaʻi sweet potato mash.
Capturing the spirit of Hawaiʻi, Waicoco also offers ʻohana style (shared family-style) dining, serving two to four people. Parties choose between a tender 20-ounce rib eye, seared hamachi, smoked chicken or a flavorful vegan coconut curry, all of which can be accompanied by three sides and the fluffy Hawaiian rolls.
"We need to cater to a lot of different types of people—lots of young kids, too," Kajioka says. The chef's new clientele is comprised of many families and children staying at the Westin. It's a sharp contrast from his regular customers at Miro, he admits. But being at the Westin has also allowed Kajioka and Lahlou to share their culinary brilliance with more diners. "This restaurant is much larger than any of my restaurants on Oʻahu. Here, I can reach many more people, which is really rewarding," the chef says.
2365 Kāʻanapali Pkwy., Lahaina, (808) 446-3020, waicocomaui.com.