Recipe: How to Make Hawaiʻi-Style Chocolate Haupia Pie
Chocolate haupia (coconut) pie is something of a dessert institution in the Islands.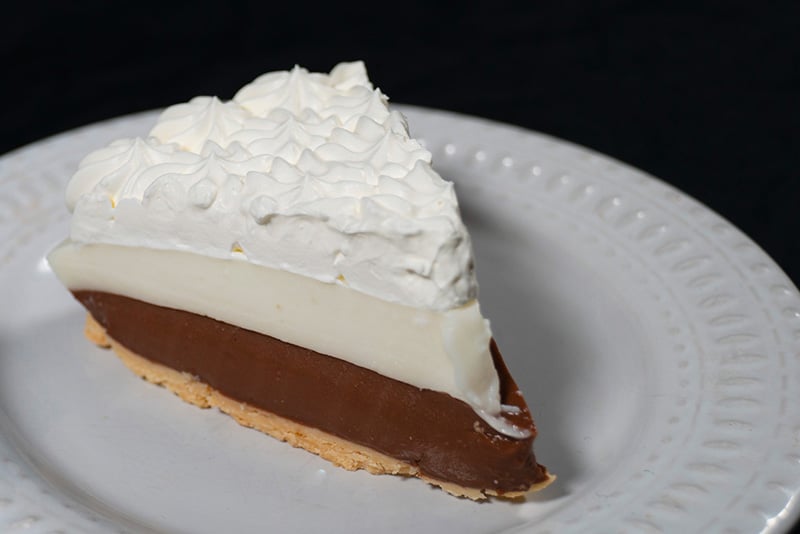 HAWAII Magazine reader Dinah Herrera e-mailed us for some help with a favorite Hawaii dessert: a chocolate haupia pie.
Can you get me the recipe for the chocolate haupia pie at Anna Miller's restaurant?
You ask. We answer.
Chocolate haupia pie is something of a dessert institution in the Islands.
Haupia is a sweet, gelatinous Hawaiian dessert made with coconut milk. Here in Hawaii, you'll often find little cubes of chilled haupia among the food offerings at a traditional luau or on a Hawaiian mixed-plate lunch.
A chocolate haupia pie combines the popular dessert with rich chocolate and fresh-baked pie crust for an even more delectable dessert.
For the first 15 years of my life, I resisted the idea of a cake for my birthday, opting instead for the rich chocolaty coconutty goodness of chocolate haupia pie.
Oh, the flaky crust, the fudge-y chocolate pudding filling, the haupia rendered rich and creamy, and the whipped cream topping! Having chocolate haupia pie was as exciting as the first day of summer vacation.
In Hawaii, you can order chocolate haupia pie at a variety of locations, including your favorite, Dinah: the open-24-hours-a-day coffee shop Anna Miller's Restaurant in Aiea on Oahu. One of Hawaii's longstanding favorite purveyors of the pie, however, is Ted's Bakery, on the drive to Oahu's famed North Shore surf spots.
Ted's is a great place to stop for a local-style plate lunch and a slice of fresh-made pie before a day at the beaches. Chocolate haupia is just one of several varieties of pies baked up daily at Ted's. Oahu-based Times Supermarkets also stocks Ted's Bakery pies and other brands of chocolate haupia pie to satisfy the sweet tooths of folks who can't make it to the North Shore.
We couldn't procure Anna Miller's chocolate haupia pie recipe for you, Dinah … or Ted's Bakery's recipe, for that matter. Both recipes are kept under lock and key. But give the chocolate haupia pie recipe we found (and modified a bit) a try and let us know if you think it compares.
Chocolate Haupia Pie
Ingredients:
1 9-in. unbaked pie crust
1 cup milk
1 can coconut milk (14 oz.)
1 tbsp. coconut extract
1 cup sugar
1 cup water
1/2 cup cornstarch
7/8 cup chocolate (Dutch chocolate, or any chocolate with high cocoa butter content)
1 1/2 cups heavy cream
1/4 cup sugar
Directions:
1. Preheat oven to 350 degrees F.
2. Bake crust for 15 minutes, or until golden brown. Set aside to cool.
3. In a medium saucepan, whisk together milk, coconut milk, coconut extract and 1 cup sugar.
4. In a separate bowl, dissolve the cornstarch in water.
5. After bringing coconut milk mixture to a boil, reduce to simmer and slowly whisk in the cornstarch mixture. Continue stirring over low heat until thickened—about three minutes. Divide evenly into two bowls.
6. In another bowl, microwave chocolate until melted.
7. Mix chocolate into one of the bowls of coconut pudding, then pour mixture into the pie crust, spread and let sit.
8. Pour the remaining bowl of coconut pudding on top of the chocolate-coconut pudding mixture and spread smooth being careful nut to mix the two layers. Refrigerate the pie for an hour or more.
9. Whip the heavy cream with 1/4 cup of sugar until stiff. Layer the whipped cream on the pie surface. Garnish with chocolate shavings.