Recipe: Kapalua Wine & Food Festival's Charred Hee
Try out this amazing Kapalua Wine and Food Festival entree for a special occasion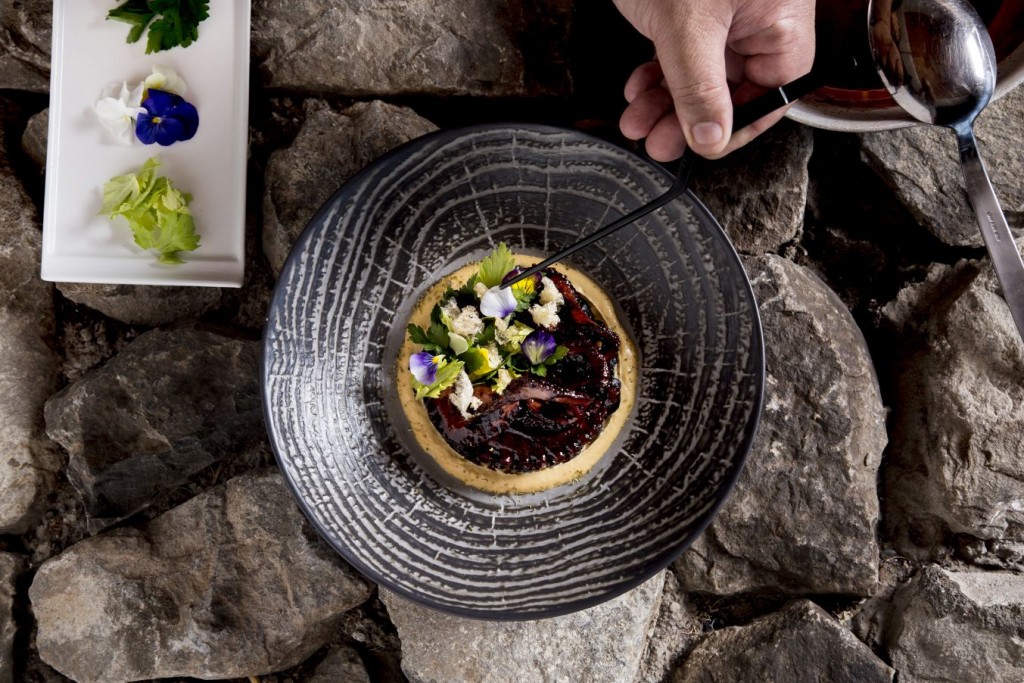 Charred hee (octopus) with squid ink spaetzle, chorizo, uni emulsion and chicharron
4 Servings
Charred Hee
1 Octopus (raw)
1 onion, large dice
1 carrot, large dice
1 fennel bulb, large diced
1 celery stick, large dice
½ cup white wine
½ gallon water
1oz olive oil
TT salt
TT pepper
Place onion, carrot, fennel, celery, white, wine and water into a large stockpot and let simmer for 15 minutes.
Add in the octopus and let simmer on low heat for 90 minutes.
Remove octopus from the water and season legs with salt, pepper and olive oil.
Finish octopus on grill about 4 minutes, giving it a nice char.
Squid Ink Spaetzle
125g flour
2 oz milk
2 eggs
1 Tbsp squid ink
1 oz. olive oil
1 garlic clove, minced
1 oz shallots, minced
½ cup white wine
4 oz chorizo
2 oz butter
2 oz uni
TT salt
TT pepper
Chicharon (for garnish)
Combine all ingredients in a mixing bowl and whisk until smooth.
Bring 1 gallon of water to a boil.
Push batter through a spaetzle press.
Let simmer for a minute and strain.
In a separate saute pan heat oil and saute garlic and shallots until translucent.
Add in chorizo and let it render down for about 5 minutes.
Drain out fat and add spaetzle to the pan.
Deglaze pan with white wine and reduce to au sec (nearly dry) and turn the heat to low.
Add in butter and uni then season with salt and pepper. Once butter is melted and emulsified, remove from heat and serve right away with charred hee and garnished with chicharon.
Recipe courtesy Chef Alvin Savella of The Ritz-Carlton, Kapalua.
To be served at the 36th Kapalua Wine and Food Festival, June 8-11 at The Ritz-Carlton, Kapalua.