Recipe: Kapalua Wine & Food Festival's Hamachi poke taco
Whip up this tasty Asian fusion treat from the 2017 Kapalua Wine and Food Festival for the perfect afternoon snack.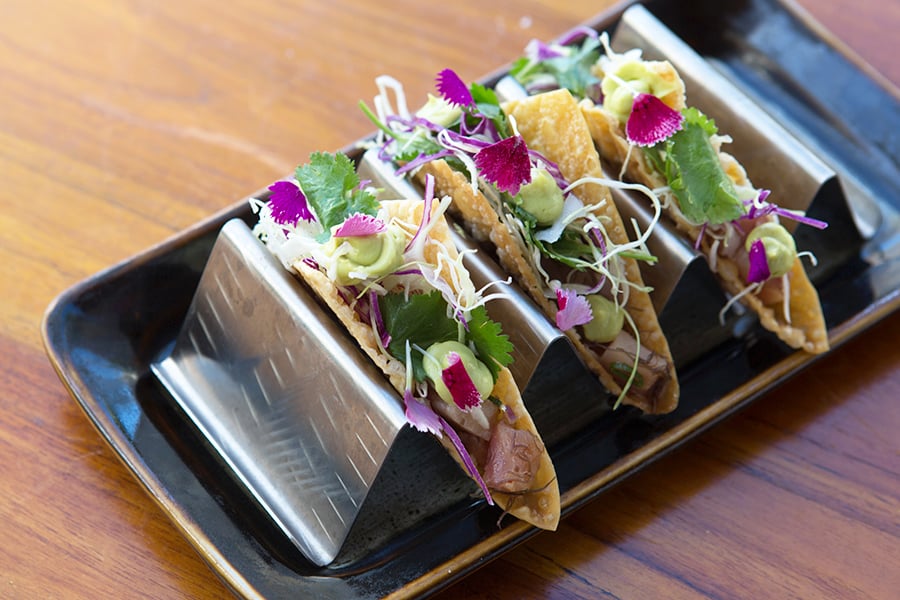 Hamachi poke tacos with mac nut slaw, avocado yuzu puree and crispy wontons
Poke sauce
¾ C soy sauce
¼ C sesame oil
1 t ginger, chopped
½ t crushed red chilis, toasted
1 pinch ground white pepper
2 limes, juiced
In a medium bowl, whisk together ingredients. Store in fridge until ready to use.
Avocado Yuzu Mousse
1 Avocado (skinned & seeded)
1 T Yuzu Juice
To Taste: Salt
In a food processor, add ingredients. Puree until smooth.

Mac nut slaw
2 C Napa Cabbage, shredded
¼ C Crushed macadamia nuts
¼ C Cilantro, rough chopped
¼ C Scallion, bias sliced
1 lime juiced
¼ C olive oil
Salt to taste.
In a medium bowl, mix cabbage, mac nuts, cilantro and scallion. Add lime juice and olive. Mix until all ingredients are well incorporated. Season to taste.

1 lb Hamachi, small diced
¼ C Poke Sauce
1 C Avocado yuzu mousse
2 C Macadamia nut slaw
12 Wonton taco shells
In a medium bowl, mix together Hamachi and poke sauce.
To assemble the tacos, put a layer of avocado mousse, followed by Hamachi poke and top with mac nut slaw.
Recipe courtesy Executive Chef David Viviano of Montage Kapalua Bay.
To be served at the 36th Kapalua Wine and Food Festival, June 8-11 at the Kapalua Resort, Kapalua.