Recipe: Marinated Tomatoes from Humuhumunukunukuapuaa Restaurant
Chef Mike Lofaro's recipe makes a bright, zesty side.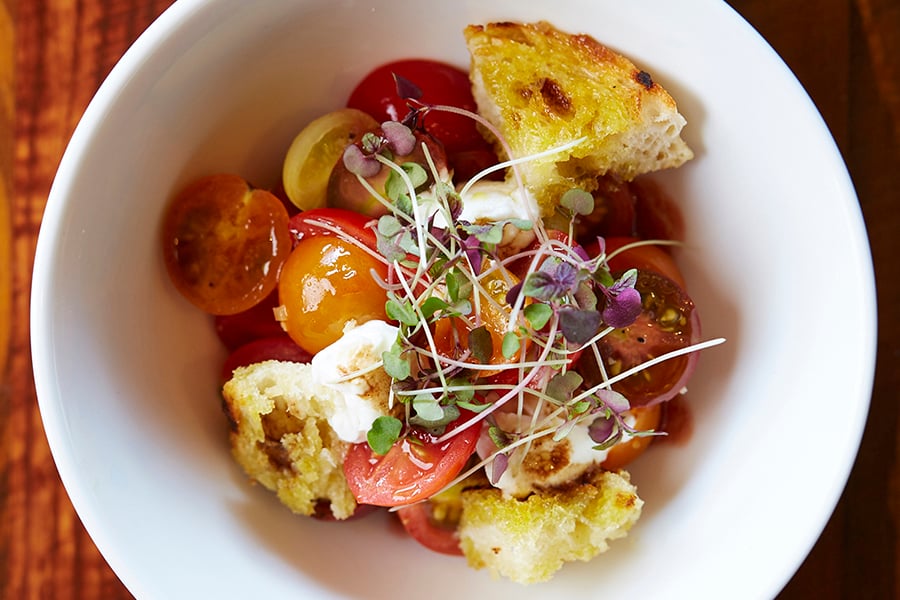 Presented by Grand Wailea, A Waldorf Astoria™ Resort
MARINATED TOMATOES
Serves 4

8oz Baby Grape Tomatoes Halved
8 Thai basil leaves torn
2 oz Garlic shallot confit (Minced Shallot and Garlic (2:1 ratio) cooked in Extra virgin olive oil over very low heat for 2 hours
Salt and Pepper
Sourdough Bread torn into 8 small pieces and toasted in extra virgin olive oil
2 oz Smoked Strawberry Molasses
2 oz Kiawe Molasses
Micro watercress and shiso to garnish.
Toss tomatoes with garlic shallot confit, basil and season. Allow to marry for 20 minutes then plate garnishing with all other ingredients.
Smoked Strawberry Molasses:
1 lb Strawberries halved and cold smoked for one hour.
½ cup Sugar
Zest and juice of ½ lemon, lime and orange
Bring all ingredients to boil, process with hand held immersion blender and cook in a shallow large pan at 200F for 6 hours.

Kiawe Molasses:
1 lb Kiawe pods or 1 cup Kiawe flour
Water
Cook pods or flour in water very slowly for 12 hours until nothing is left but molasses.
Recipe courtesy Chef Mike Lofaro
Chef de Cuisine of Humuhumunukunukuapuaa at Grand Wailea, A Waldorf Astoria Resort