Scenes from the 2010 Kapalua Wine & Food Festival on Maui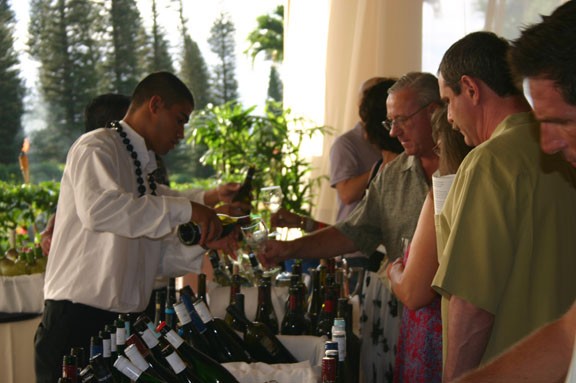 There's a slight morning mist drifting off the West Maui Mountains this morning, as we sit on the lanai of the new Ritz-Carlton Club & Residences, Kapalua Bay, perched above sheltered Kapalua Beach. Blue Hawaii skies are following, promising a pleasant final day for the Kapalua Wine and Food Festival.
It's been a pleasure so far. Early on, we chatted with award-winning Master Sommelier, Fred Dame, who has been to virtually every wine event across the globe, and is emceeing this annual festival for the seventh time. "I love Kapalua," said Dame. "It's the only wine festival left that's fun."
How much fun? Take for instance the "Heal the World with Pinot Noir" seminar yesterday morning. Not only was there a chance to taste some of the best and rarest West Coast Pinots—Patz & Hall, Hanzell, Scherrer, Sapphire HIll, Brooks. But also Fred Scherrer of Sherrer Vineyards and restaurateur/wine writer Michael Jordan whipped out their guitars and jammed on the Hapa song, "Haleakala," while wild man Gary Pisoni of Santa Lucia's Pisoni Vineyards did what might be charitably described as an interpretative hula.
Pisoni had introduced his own pinot by saying, with some enthusiasm, "My wine is good with meat or fish or just sitting in the bathtub."
All in all, definitely not your typical wine panel discussion. But a day or two in the Kapalua sunshine tends tends to bring out some level of relaxed playfulness in everyone.
The Pinot Noir seminar was just one instance of some exceptional eating and drinking at the fest. The fest's first night on Friday brought the Grand Tasting, featuring 400 wines around the world and cuisine from Ritz-Carlton Kapalua Executive Chef John Zaner and his kitchen team, matching the fest's "Summer Soiree" theme. Don't ask us what the wines were all like. We could hardly get past the champagne table, while munching on Maui Cattle Company teriyaki steak salad with Maui spinach and onions, and smoked BBQ brisket with truffle polenta.
Yesterday brought an artisinal cheese and Zinfandel seminar as well. The cheese master was Kent Torrey of the Carmel Cheese Shop. Torrey's actually a Hawaii boy, having gone to Punahou, and scooped ice cream at Baskin-Robbins, with "Barry" Obama, of whom you may have heard.
We took in two events in the evening. First, an elegant poolside cocktail party thrown by Waiwera, the official water of the festival, and Bombay Sapphire Gin, with libations created by Hawaii's best bartender, "Dr. Joey" Gottesmann.
Then a sunset "Locavore BBQ" at Peter Merriman's stunning restaurant out on the lava point of Kapalua Bay. Merriman himself was at the grill, wok-searing fresh ahi, steaming Keahole clams with Maui basil and grilled lobster sauce, serving up house-cured macadamia nut-smoked boar bacon on poached Kapalua Farm eggs. Not to mention pepper-crusted grass-fed Maui ribeye steaks. We were afraid we'd burst, by the time the Kapalua Farm apple-banana Foster arrived. We had some anyway.
Today brings Hawaii master chef D.K. Kodama demonstrating the secrets of his Sansei restaurants in a three-course lunch including Kona Cold lobster salad, Asian spiced beef and warm Waialua chocolate grenache with Kula strawberry lavender coulees Accompanied, of course, by not three, but five wines.
And all that's just a warm up for the culminating event tonight, the Kapalua Seafood Festival, with a baker's dozen of Maui restaurants cooking their best seafood recipes, a world of wine, all beachside during sunset.
Wish you were here.