Six reasons to visit the Windward Oahu town of Waimanalo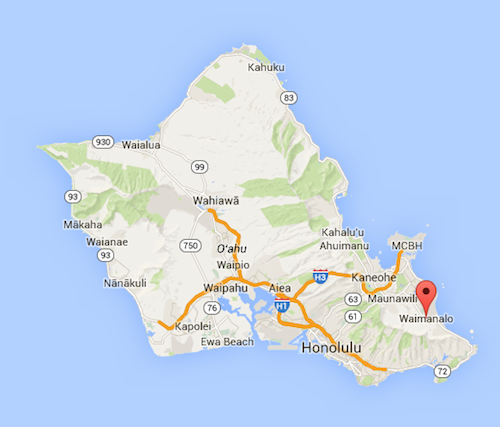 Waimanalo is a small, rural community sandwiched between the Koolau mountain range and Waimanalo Bay on the eastern side of Oahu. Visitors to Oahu's lush Windward side often bypass Waimanalo for its larger and more northerly neighbor, Kailua town, or drive through on their way to Sea Life Park on the island's southern tip, Makapuu Point. But that's a mistake.
The communities of Waimanalo and Waimanalo Beach, collectively called Waimanalo, have gorgeous white sand beaches, snorkeling with near-guaranteed honu (Hawaiian green sea turtle) sightings, several hole-in-the-wall but worth a stop eateries, roaming bands of wild chickens, and a handful of family-owned farms that grow leafy and trendy "'Nalo greens" destined for farmers markets and dinner plates.
In 'Nalo, as it's sometimes called, life moves at a slower pace. Literally. Drivers heed signs pasted on garbage cans to "slow down through 'Nalo town." It's not uncommon to see lines of cars and trucks backed up along Kalanianaole Highway while friendly residents wave to acquaintances or stop traffic to make sure no one waits too long to make a left hand turn.
As of the last census, Waimanalo had 5,451 residents, and for the last three months, I've been one of them. Here are six reasons (because five wasn't enough!) why I love Waimanalo, and why you should do more than just drive through on you next Windward Oahu visit.

Ono Steaks and Shrimp Shack
This tiny, brightly colored eatery in Waimanalo Beach's main commercial strip serves Hawaiian-style greasy spoon fare to a steady stream of locals and in-the-know visitors. Ono Steaks and Shrimp Shack is a no-frills, first-come first-served, order at the counter kind of place. No matter what you choose—papaya-mango smothered ono (wahoo) over brown rice (pictured), garlic ahi, fish tacos, sliced steak with poi and macaroni salad—expect generous portion sizes served in to-go containers and plastic cutlery. A radio tuned to Hawaiian music stations or the restaurant's dusty record player and old-school Hawaii-centric record collection really set the mood.
Ono Steaks and Shrimp Shack
41-037 Wailea Street • (808) 259-0808

Waimanalo Bay Beach Park
Waimanalo Bay Beach Park has gentle surf with a sandy beach floor, warm glassy green waters and a wide strip of white, powdery and often unoccupied sand. It's not uncommon for your only neighbors here to be a handful of sun-worshiping residents and several visiting Japanese couples, photographers in tow, posing for scenic wedding shots. Sharing more than a mile-long stretch of sand with the more northerly access point at Bellows Field Beach Park, this may be one of Oahu's largest sleepy beaches.
Waimanalo Bay Beach Park
Access point at 41-043 Aloiloi Street

Akebono Yokozuna statue in a strip mall
This curvaceous statue behind the 76 gas station and in front of Waimanalo's only strip mall (also known as Waimanalo Shopping Center) is a tribute to a famous former Waimanalo resident, Akebono Taro. Akebono, which means "new dawn" in Japanese, is the chosen name of a now-retired sumo wrestler born as Chad Haaheo Rowan and raised in Waimanalo. He achieved international fame for becoming the first non-Japanese-born wrestler to attain yokozuna, the highest rank in sumo. Akebono was also said to be have been one of the tallest and the heaviest sumo wrestlers in sumo history.
Akebono Yokozuna statue
Waimanalo Shopping Center, Kalanianaole Highway

Kaiona Beach Park
I love snorkeling. And for me there's no better place than Kaiona Beach Park. South of Waimanalo Bay Beach Park, a narrow strip of steeply sloping sands, abundant leafy shade and calm and inviting shallow waters make this the kind of beach where you'll want to spend more time in the water than out of it. Just offshore, many large coral-laden rocks and an abundance of vibrant juvenile reef fish offer a better-than-an-aquarium show. I've never snorkeled here without notching at least one honu sighting. Turtles stay close enough to shore that you can watch them surface from the beach.
Kaiona Beach Park
41-575 Kalanianaole Hwy

The Coconut Man
In a makeshift stall on a dusty lot across from Waimanalo Beach Park (in between Waimanalo Bay Beach Park and Kaiona Beach Park), Waimanalo resident James "Kimo" Kupahu and his family sell ice-cold coconuts. Choose your nut from their big plastic cooler and a machete wielding Kupahu will expertly lop off the top and put a straw in it for you. Coconuts are a great treat post-beach, cost $5 each and are worth every penny.
Ice Cold Coconuts
Hours vary, but the stand is up most days
Across the street from Waimanalo Beach Park

Shima's Market, Poke Bar
Shima's Market, a tiny shop run by the Oahu-based Times Supermarket chain, is the one of the only places to buy groceries in Waimanalo. In September, Shima's upped their ready-to-eat-foods game by adding a fresh Hawaiian and Asian-inspired seafood salad and poke bar. Choose from more than a dozen options such as tako (octopus) kim chee poke, dried aku (skipjack tuna) poke, seasoned teriyaki squid, kamaboko poke, smoked marlin poke and furikake salmon poke in addition to your standard ahi poke. Ordered deli style, you can take your poke to go or served ready-to-eat with poi.
Shima's Market
Open 8 a.m. to 8 p.m. daily • 41-1606 Kalanianaole Highway • (808) 259-9921
http://www.timessupermarkets.com/shimas-supermarket/