Small Farm, Big Story: Kaneshiro Farms
Hog farming may not be someone's first thought, but this family thrives and finds fulfillment in it.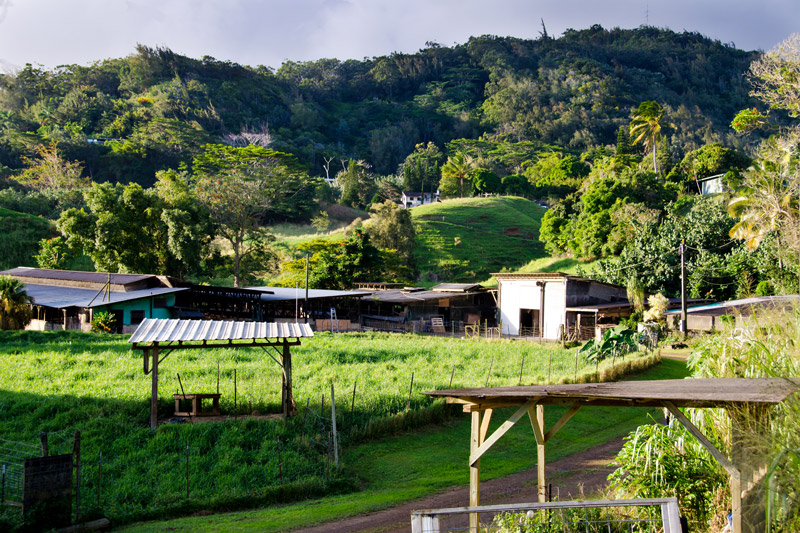 "People don't graduate from high school saying they want to be hog farmers," says Valerie Kaneshiro of Kaneshiro Farms in Koloa, Kauai. She herself married into the family legacy that started in 1920, and both her husband and father-in-law took every job they could to avoid the farm, only to find themselves back in hog farming when other businesses failed. "Hog farming may not be someone's first thought, but I bet there are a lot of people out there who, like me, could find happiness on a hog farm in Hawai'i," she says. "Not just survive, but thrive, and find fulfillment in their lives."
Kaneshiro Farms keeps around 100 sows and markets 30 to 40 hogs a week through its USDA-inspected slaughterhouse. "This herd represents almost 40 years of selection for the top performers, adapted to the tropics," Kaneshiro says. "Most people just breed whatever to whatever. There's no data driven selection going on to determine which sows go to the lū'au, and which are retained to be the mother of the next generation. I think it's what separates us from every other pork producer out there in Hawai'i—we're not just throwing a bunch of pigs together without a plan and taking whatever get. We're biosecurity conscious (that's why we closed the herd—to deter the introduction of disease) and genetics conscious and as well as a whole bunch more. Everyone is individually identified and their ancestral pedigree is recorded for the past almost 40 years."
As the former president of the Hawai'i Pork Industry Association, Kaneshiro sees demand for locally-raised pork far outstripping supply, and urges people to start new piggeries. But she admits that "hogs are not for the faint of heart. Being there for the individuals and their many various needs is constant. Hogs are tough on facilities so there needs to be constant maintenance, repair and replacement. The farmer needs to keep up with knowledge of nutrition, reproduction, health, housing and record keeping, to name a few." And yet, all the reasons that make her work difficult are also the reasons that she loves it. "I love seeing the results that come when you've connected with the animals on a non-verbal level. Whole herd attitude and behavior improves when we treat them not just as animals, but as individuals. I love providing their needs. I love the mix of mental and physical activity." She sees the hog farm as a classroom for everything from construction to genetics to interpersonal relationships.
At the moment, Kaneshiro Farms is looking for a new space to build new facilities—the current buildings date back to 1978. In the meantime, Kaneshiro is forced to reduce the herd, which means "there are fewer and fewer representatives of each family line," she says. "I'm sick and heartbroken." What she says of the pigs could just as well apply to hog farmers: "Once they're gone, they're gone."