Stalking Asparagus: Two farms that provide Hawaii with locally-grown asparagus year-round
The long-time farmers of Twin Bridge and Anuhea are diversifying Hawaii's market with local asparagus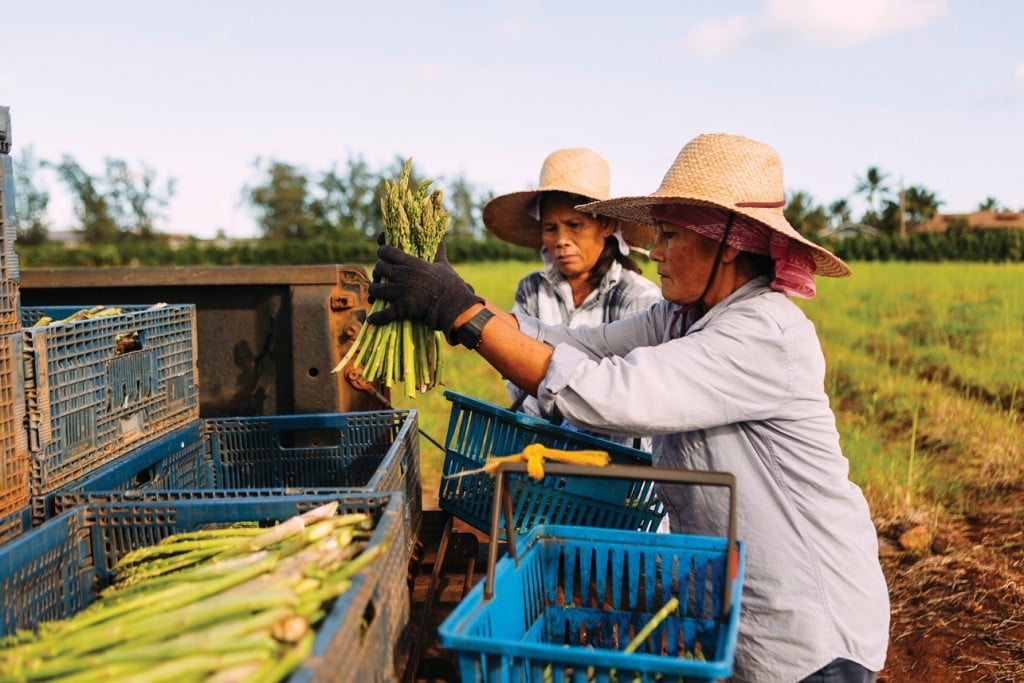 When it comes to asparagus, Hawaii is lucky. On Oahu, thanks to Twin Bridge Farms in Waialua, delicate and sweet asparagus is available year-round, and often arrives in markets within two to three days of harvest. On the mainland, the asparagus season is short, just three months, and so asparagus the rest of the year comes from Mexico or Peru, and can spend weeks in transit, resulting in woody and tough spears. Most of the time, with imported asparagus, you need to discard the base—not so with the Hawaii-grown shoots.
But while locally-grown asparagus is a benefit for consumers, it's not an immediately obvious crop for Hawaii farmers. One, it's labor intensive: once an asparagus shoot forms, it grows inches in a matter of hours, which means it has to be harvested daily, seven days a week, before the spears become too tough. Also, asparagus is traditionally farmed in temperate regions; the plant goes dormant in the winter, allowing it to build a strong root system for harvest the next year.
So why asparagus in Hawaii? For Milton Agader and Al Medrano of Twin Bridge Farms, asparagus is a second career. The two met at Waialua Sugar Company; when Waialua announced the closure of its sugar production in 1994, Agader and Medrano grew diversified crops for Dole such as papayas, alfalfa and biomass. None of these turned a profit, but on weekends and nights, Agader and Medrano also planted asparagus for the Hawai'i Agricultural Research Center, which was researching salinity's effect on asparagus. It turns out, asparagus thrived in Hawaii's salty conditions and in Waialua with its mild weather, neither too rainy nor too dry.
"Our first real commercial harvest was close to 9/11," says Agader. "I'll never forget when we started." Twin Bridge Farm now grows asparagus on 80 acres and sells it all, including what Agader calls the "off-grades." A single asparagus plant can produce spears of all sizes; Twin Bridge sends the thicker spears to restaurants such as Alan Wong's, the thin ones to supermarkets, including Foodland and Whole Foods, and everything else it sells at the open markets.
Over in upcountry Maui, Bill Mertens was experimenting with asparagus around the same time as Agader and Medrano. He, too, was a long-time farmer, and had worked on many of Dole's pineapple plantations, from Molokai to the Philippines, and has helped other companies set up pineapple farms in China and Sri Lanka. But he wanted to come home. So he started Anuhea Flowers in Makawao, planting protea in 1994. But protea flower less in the summer, so for diversification, and to keep his labor force employed year round, Mertens sought a perennial crop that didn't have to be planted every year and could be harvested in the summer. Asparagus fit the requirements. He knew little about growing asparagus, so he visited farms in Michigan to learn. "But it's completely different," Mertens says. "Whereas they get dormancy during October to late November, when the frost comes and kills the fern, I had to figure out a way to create dormancy."
Asparagus spears are actually the beginning of a fern, which can grow more than six feet tall. After the harvest period, the spears are allowed to grow out into ferns, and to achieve dormancy, Mertens stops fertilizing and watering the plants. They eventually die back, sending energy into the roots, and in the spring, when Mertens resumes the water and fertilizer, they send up the tender shoots that we eat. While other asparagus growing regions have short harvest seasons, Hawai'i's warm weather allows for a longer season; Mertens harvests six months out of the year, staggering his fields (he has a total of 33 acres in asparagus) and harvesting each field for several weeks so as not to weaken the plant for the next crop.
This year, however, has not been a good year for either asparagus farm. Constant rain in upcountry Maui has made it difficult for Mertens to achieve dormancy. "They just kept growing and growing and wouldn't produce spears," he says. "It was a very disappointing year."
On Twin Bridge Farms in Waialua, Agader estimates 50 percent less yields compared to last year. He guesses it might be root disease, or the new asparagus variety from southern California he recently switched to. "We thought we found a better variety, but maybe not," he says. "But that's farming. Some people talk like they know exactly what's happening. Sometimes it's obvious, like when weeds take over the field. But it's like when you go to a doctor and he cannot always diagnose you right away. We still can't figure it out. There's not too much data in growing asparagus in the tropics."
Both farms are diversified enough to weather the dip in production—Twin Bridge also grows seed potatoes and Anuhea protea. And demand is high for whatever asparagus they can harvest; as Agader, who has learned the lessons from working in sugar, says, "Fortunately, we can still compete against the imports. If we had to sell it for what the imports are selling in the market we wouldn't be able to do it as a business."