Sunshine Superman: Crafting pareo out of Hawaii flora with artist Bozo Pualoa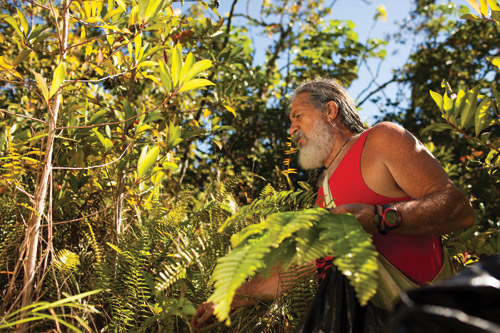 Bozo Pualoa III leads me deeper into Kahana, a remarkably untouched, 5,300-acre ahupuaa (early Hawaiian mountain-to-sea land division) on Oahu's verdant windward coast. More than 25 miles and thousands of residents removed from the cacophony of Honolulu, Ahupuaa o Kahana is a popular hiking spot, but today we're blazing our own trail through its valley forest.
Pualoa and I stop under a canopy of java plum and strawberry guava trees, a thicket of kupukupu and lauae ferns at our feet—mine in sturdy hiking shoes, his bare. The 6-foot-plus 63-year-old never wears slippers, much less shoes.
"I'm the oldest of eight—two brothers and five sisters," Pualoa says, explaining how tight family finances were during his childhood in Laie, a few miles north of Kahana Valley. He shrugs off the thought, a trait I'll discover is part of his friendly, no-worries demeanor.
Pualoa is a Native Hawaiian textile artist who handcrafts Polynesian pareos (wraparound skirts, similar to the Malay sarong) using heliography, a print process employing light-sensitive dyes to capture images on cloth. The process is simple. Pualoa's take on it is a bit more involved.
Once, sometimes twice, a week, Pualoa drives from his Waianae home, on Oahu's west side, to Kahana Valley—an almost 100-mile round-trip—to gather ferns, palm fronds and strawberry guava leaves. Then, home in his backyard, he shows visitors and residents how to place the fresh-picked foliage on blank cotton pareos and mist them with colorful, non-toxic dyes from a spray bottle. Place the work in sunlight, lift the leaves one to three hours later and voila! You've created your own unique, naturally patterned pareo.
Pualoa has crafted these bright, flowing wraps using this traditional heliographic method and flora-collecting process for more than two decades. Sometimes his clients join him on his forest sojourns, but, usually, he prunes in solitude.
The French, who colonized Tahiti in 1880, transformed the process, introducing dyes and cotton, but, "Tahitians have been doing this for years," he says. Pualoa puts his own Hawaiian spin on the art form, also making pau (skirts worn by female equestrians) and hula skirts. His skill is also self-taught, having formulated the idea for his design method and business, Pualoa Co., while working as a wholesaler for Tahiti pareo artists.
"I had a certain type of look in my head and no one else was doing it, so I started myself," he says. Achieving that look was a trial-and-error process that took almost five years for him to perfect. "I've tried using seaweed, sand, salt and nets," says Pualoa of natural elements he has employed to compose images on cotton fabric. He loves working with banana leaves, but they've become more difficult to procure. Today, he works exclusively with palm and strawberry guava leaves and kupukupu and laua'e fern.
There are three spots in Kahana where Pualoa finds his greenery. He employs a traditional Hawaiian gathering method each time he enters the ahupua'a.
Pualoa's Waianae backyard is his heliography art studio and classroom. Photo by Ryan T. Foley for HAWAII Magazine.
"From midnight to noon is the male, or ku part of the day, so I gather [the leaves] with my right hand," he says. "That's the male part of the body." During hina—the female part of the day, from noon to midnight—he cuts and gathers foliage with his left hand. As he plucks ferns with his right hand, the only sounds in the valley are the occasional rustling of leaves as Pualoa inspects them, and the conversations of birds above.
A day later, on the sunny Saturday I visit Pualoa's home to craft pareos, members of a hula halau (hula group) from Japan are there, too. Women, hula dancers and visitors from Japan are his primary customer base. Pualoa also wholesales his pau skirts to Aloha Outlet, a Hawaii-based online retailer with a large Japanese customer base. He welcomes visitors to his home to craft designs twice a week, selling the pareos for $60 and pau skirts for $200 to $350.
Everything is done under Pualoa's guidance and instruction in his backyard on eight tables topped with thin metal mesh. Pualoa purchases his cotton from China and dyes from France. Name or describe a color you want and he can mix it into reality.
Hula dancers usually choose earthy tones, says Pualoa. The women of the halau pick shades of avocado green, coffee brown and amber yellow. Seeking brighter colors, I select red, orange and the amber yellow.
"I have [everyone] choose multiple colors," he says, stirring the dyes in a large Pyrex measuring cup. "They reach into themselves and come up with an energy."
Pualoa offers me a worn, green and yellow pareo to wear so I don't get dye on my clothes. He has already soaked the cotton fabric in water and spread it tight on one of the mesh tables, secured with clamps. I spray each color in sections, trying to achieve a ombré effect. Having already decided on V-shaped patterns using kupukupu and lauae, I quickly set down the fern leaves.
Pualoa rolls a mesh sheet over my creation and clamps it down. Our work done, we sit on his patio and chat while we wait for the sun to finish the job. Pualoa and his family moved from Laie to Wai'anae in 2000.
"It's the sunniest part of Oahu. It never rains here," he says. After some time passes, he exclaims, "Sister, I think it's done. Let's go look."
We roll back the mesh together, but I excitedly lift the first fern off the fabric on my own. Immediately, I see the light imprint of where it once lay. Everyone leaves with something unique and beautiful that we, like Pualoa, crafted on our own.
Art inspired and created by nature.