Talk Story with Johnny Gordines
His take on the unique Hawaii floral industry and his plans as the president of the Kauai Farm Bureau.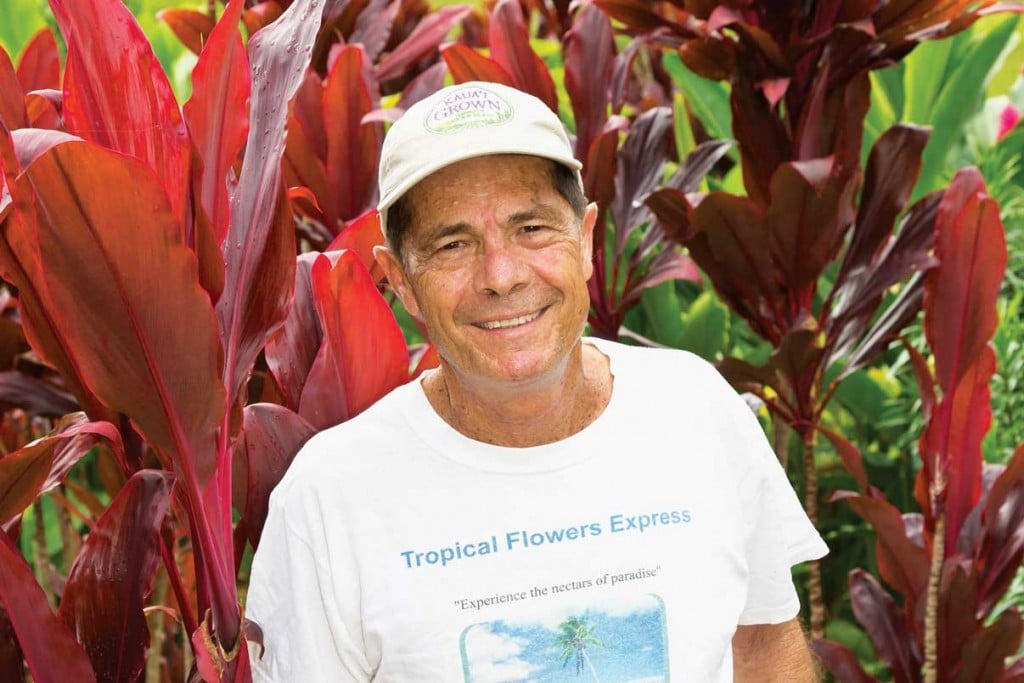 More than 25 years ago, Johnny Gordines and his wife Theresa switched from raising farm animals to growing flowers on their two acres in Kapa'a, Kaua'i. They were inspired by their neighbor, Howard Yamamoto, one of the pioneers in raising tropical flowers in Hawai'i, who said that flowers would be the next big thing. Today, Gordines' farm sells at Kaua'i farmers markets and, through Kauaiflowers.com, ships out about 100 boxes a week during busy periods like Christmas, Valentine's Day and Mother's Day. For the past two decades, Gordines has watched the floriculture and nursery products develop into one of Hawai'i's largest ag industries, bringing in $67.4 million in revenue in 2015.
Gordines worked as Wailua's CTAHR research station manager for 32 years and is now the president of the Hawaii Tropical Flowers and Foliage Association, president of the Kaua'i County Farm Bureau, and is on the board of the Hawaii Floriculture and Nursery Association**.
We talked with him about what's unique to the floral industry and his plans as the president of the Kaua'i Farm Bureau.
What have you noticed in the last 25 years in the floral industry?
I've seen it evolve tremendously in recent years because of cooperation between our industry, state and county government, and through the University of Hawai'i, we've been able to develop new varieties. Our industry is a fashion industry. People are always looking for new products, new varieties, new shapes. A lot of [the varieties] have been collected from trips to Central America, brought back home, and hybridized. UH CTAHR does a really good job with helping us with our breeding program.
Of the new hybrids what are you most excited about?
The new colors and shapes and longer lasting [flowers with] better shelf life. We're getting a lot of new cool anthurium and orchid varieties. Everybody's always talking about food food food but they never really talk about the floral and nursery industry. Our farmers also contribute to the economy in the state. Food feeds the body. Flowers feed your soul. No matter what the economy is like, people always order flowers for loved ones for any and all occasions.
What prompts you to be so involved in so many associations?
I have a passion for it and for flowers and for agriculture. Doing all we can and learning all we can so we can pass the baton to the next generation. A lot of us farmers are in our sixties. We need to encourage and educate young farmers to take the lead and to follow our footsteps. We talk a lot about self sufficiency but we need to teach them how to become profitable, too. What's the sense of doing it if you're not going to make a profit and be able to survive and make a comfortable life for you and your family? That's what sustainability is all about, too, right?
What are your plans for the Kaua'i County Farm Bureau?
My vision is to keep my eyes and ears open, question and follow through. Keep our members well informed and infuse every position with importance and lead with persuasion. Also continue to keep moving forward and get out in front to encourage and educate young potential farmers and protect Hawai'i farmers and agriculture.
Do you think there are agricultural issues or challenges that are unique to Kaua'i?
It's not land—we have plenty of land, and water, too. It's training and mentoring our youth to understand what it really takes to get an agricultural product from the farm to the table. Producers of all the forms of food crops, floral and nursery need to all come to the table and work out their differences for the good of the agricultural footprint for the future.
Import replacement is a large issue, as well as invasive species that present many hurdles for agriculture. We need all our farmers and agencies at the same table and have trained personnel to guard our gates from unwanted imports as well as interisland travel.
Every agricultural commodity has the responsibility to do what is right as far as best management practices and never compromise.
This interview has been edited for length and clarity.