The 5 Best Hiking Trails on Kauaʻi in 2021
See the natural beauty of the Garden Isle from these trails, voted the best in our 2021 Readers' Choice Awards.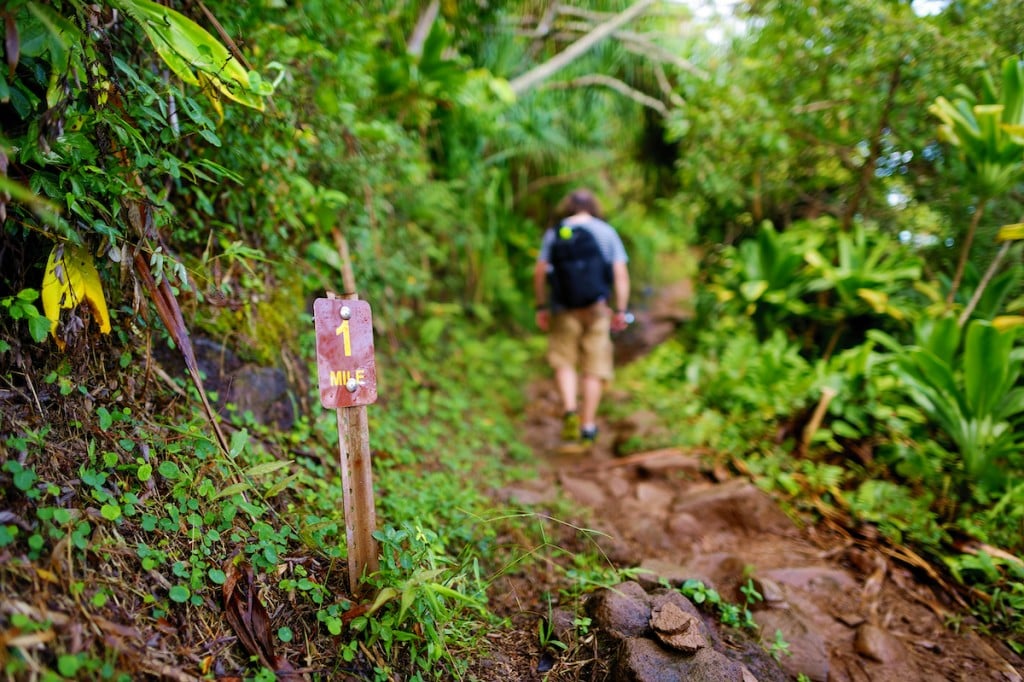 As a lifelong hiker, I can honestly say there's no better way to experience—and appreciate—the natural beauty of Hawaiʻi than by hiking its plethora of trails— and Kauaʻi is no exception. From hikes to waterfalls to paths meandering through majestic mahogany trees, the island's boasts a variety of trails for all hikers. Here are the Top 5 trails on Kauaʻi, as voted by you in the 2021 Readers' Choice Awards.
1. Waimea Canyon Trail to Waipo'o Falls
With more than 50 miles of hiking trails, Kōkeʻe State Park on Kauaʻi is a hiker's dream. One of the most popular—namely because of its panoramic views of Waimea Canyon—is Waipoʻo Falls Trail, a moderately difficult 2-mile roundtrip hike to the top of that 800-foot waterfall you see at the Waimea Canyon Lookout. (You know which one!) The trail meanders along the canyon's rim, offering unique views of this deep, colorful gorge—you won't see much of the waterfall, just FYI—and ends at a small ʻawapuhi (ginger)-lined swimming hole. See ʻōhiʻa and koa trees and even catch a glimpse at native birds, too.
2. Nounou Trail (aka Sleeping Giant)
One of the most popular hikes on Kauaʻi, the Nounou Trail (aka Sleeping Giant) is a steady climb to the top of this mountain, which resembles a sleeping giant. The views of the eastern coastline are stunning. The trail starts with several switchbacks lined with ti plants and through a shady forest of ironwood and strawberry guava trees. There are three trails here—East, West and Kuamoʻo—though we suggest the east fork, which ends at picnic tables with views of the Wailua River and Mount Waiʻaleʻale, one of the wettest spots on Earth. More advanced hikers can continue up to the summit for 360-degree views.
3. Kuilau Ridge Trail
This easy, 4.3-mile roundtrip hike is great for all skill levels. It follows an old road that's wide and well graded. The climb along the ridge in the foothills of the Makaleha Mountains is pretty gradual, with native ʻōhiʻa and ironwood trees. There's a nice grassy field with picnic tables early in the hike; we suggest continuing on, though, as the views of Nounou and Waiʻaleʻale are breathtaking.
4. Māhā'ulepū Heritage Trail
This mostly flat trail—really a series of interconnecting ones—runs about 4 miles along Kauaʻi's rugged southern coast. Starting at Shipwreck Beach, it offers gorgeous views of coastal cliffs, tide pools, sand dunes and, of course, the ocean. (You can even detour to Makuawahi Cave, which we highly recommend.) Along the way look for honu (Hawaiian green sea turtles), monk seals and migrating humpback whales in the winter months. Stop at Māhā'ulepū Beach or Kawelikoa Bay. This trail is great for kids, too.
5. Wai Koa Loop Trail (aka Stone Dam)
(Public access to this trail from Anaina Hou Community Park is currently closed. You can access it via the Kauaʻi North Shore Dog Park.)
This 4.5-mile loop trail is wide, flat and great for any hiker. Walk through the lush Kīlauea Forest and through the largest mahogany plantation in North America. The footpath also offers views of Namahana and ends at the Kīlauea Stone Dam, a historic dam built in 1880 at the height of the sugar plantation era in Hawaiʻi.