The Beachhouse Reopens at the Moana Surfrider in Waikīkī
And dinner is better than ever.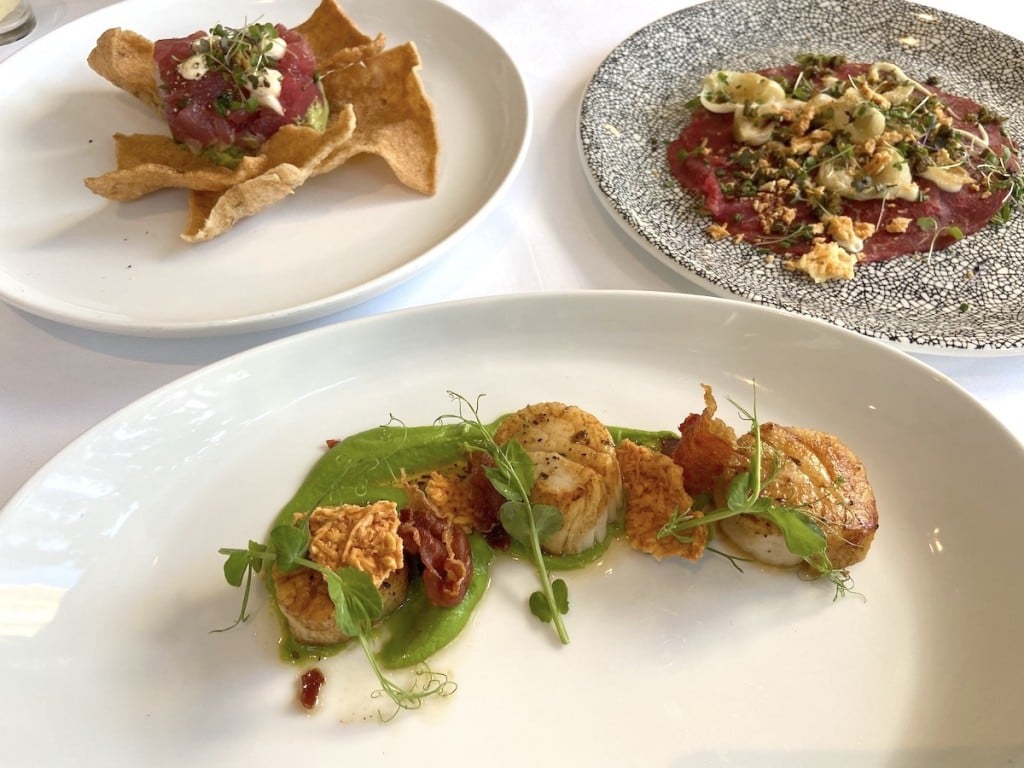 When the Beachhouse at the Moana—the signature restaurant at the historic Moana Surfrider in Waikīkī—reopened on March 12, when the hotel celebrated its 120th anniversary, it offered with a smaller menu twice a week.
But with more and more visitors flocking to Oʻahu—and residents looking for new places to dine-in—the popular restaurant expanded its hours and its offerings. Now, the restaurant is open Wednesday through Sunday—and even that schedule is expected to change.
"Every week we sit down and we talk about what's working and what's not working," says Michael Czarcinski, the hotel's general manager. "We've been successful and expanded our menu a little more to offer more variety."
Guests can choose either a three- or four-course tasting menu ($95 and $115, respectively), in which you can customize from a list of dishes. And there's a nice selection of appetizers and entrées to choose from.
For pūpū, the restaurant offers a fun ʻahi poke with Maui onion, guacamole on cassava chips; thinly sliced beef carpaccio topped with a yuzu-soy vinaigrette; Kona lobster chowder with Nueske applewood-smoked bacon; and pan-seared diver scallops with a truffled sweet pea purée and prosciutto. Entrées include a 14-ounce grilled rib eye with garlic potato purée, Big Island steamed kampachi with lobster fried rice and persillade-crusted Colorado rack of lamb with a charred spiced honey carrot purée and potato goat cheese croquettes.
You can add king crab, grilled prawns and Maine lobster tail to your meal for an additional cost.
Right now there are only two desserts on the dinner menu—and both are equally delicious. If you're into chocolate, there's an addictive chocolate-peanut-butter crunch cup with chocolate mousse, dark chocolate ganache, peanut butter and praline crumble and a red wine berry jelly. And if you love coconut, you won't be disappointed in the restaurant's haupia cake with liliko'i (passion fruit) curd.
And you can't be this close to the beach without a tropical drink. The Beachhouse offers the classics—Blue Hawaiʻi, piña colada and takes on a daiquiri and mai tai—and signature cocktails that feature locally crafted spirits and ingredients.
The Veranda also restarted its afternoon tea service from noon to 2 p.m. on Saturdays and Sundays (except for Mother's Day).
Moana Surfrider, a Westin Resort & Spa, 2365 Kalākaua Ave., Waikīkī, (808) 921-4600, moana-surfrider.com