The best Hawaii activity companies by land, sea and sky: HAWAII Magazine Readers' Choice Awards 2015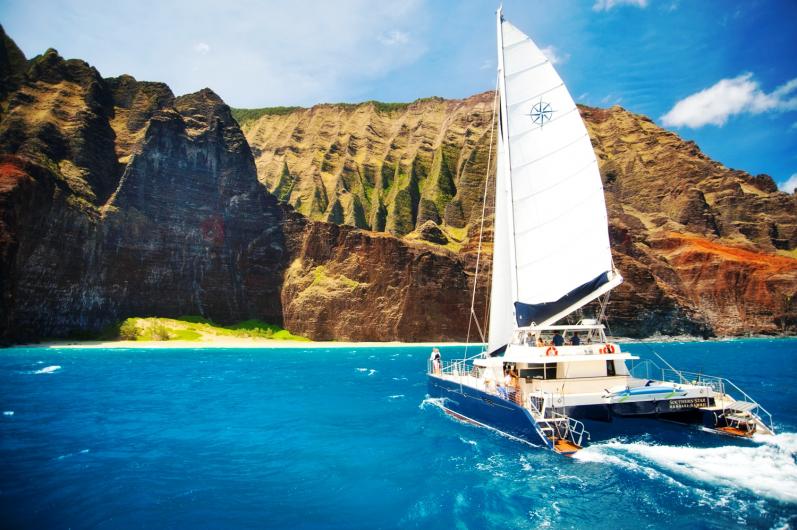 Hawaii's natural beauty beckons millions of visitors to the Islands each year. Fortunately there are many activities—and activity companies—offering ways to get out there, ditch the crowds and experience Hawaii's grandeur. Today we're sharing some of the top companies offering some of Hawaii's favorite activities on land, floating above the waves and in the sky. We've got the top five Best Hawaii Land Activities/Adventure Tour Companies, the top five Best Dinner Cruises/Sunset Sails, and the top five Best Helicopter Tour Companies below.
The best, you ask, says who? Well, says you!
Last summer we asked our more than 200,000-strong HAWAII Magazine reader ohana to share their favorite Hawaii things for our third annual Readers' Choice Awards. They came out in droves, submitting thousands of ballots filled with their nominations for Hawaii's best hotels, resorts, bed-and-breakfasts, indoor and outdoor activities, places to nosh, swim and snorkel, go road tripping and much more.
We tallied votes across 98 categories to bring you this year's 617 HAWAII Magazine Readers' Choice Award winners. We've even compared this year's list with last so you can see how time has changed rankings within each category.
You can find all of our winners in the new March/April 2015 issue of HAWAII Magazine currently on sale nationwide. Want it now? Head to Apple iTunes or Google play stores to download the issue instantly.
Over the last few weeks, we've been sharing a few of the 98 lists from our 2015 Readers' Choice Awards Issue here on HawaiiMagazine.com. We've already shared our readers' picks for the 20 Best Luxury Hotels and Resorts, the 10 Best Places to get a Plate Lunch and 10 each of the Best Beaches for Swimming and Beaches for Stretching Out on the Sand. Keep checking back for more lists in the weeks to come. Until then:
Best Land Activity/Adventure Tour Co.

1.
Skyline Eco-Adventures
(2014 ranking: 1)
2.
Robert's Hawaii
(2014 ranking: 3)
3.
Kualoa
(2014 ranking: 5)
4.
Kauai Backcountry Adventures
(2014 ranking: 4)
5.
Hawaii Forest & Trail
(2014 ranking: 2)
Best Dinner Cruise/Sunset Sail

1.
Captain Andy's Sailing Adventures
(2014 ranking: 2)
2.
Trilogy
(2014 ranking: 3)
3.
Star of Honolulu
(2014 ranking: 4)
4.
Teralani Sailing Adventures
(2014 ranking: not ranked)
5.
Pacific Whale Foundation
(2014 ranking: not ranked)
Best Helicopter Tour Co.

1.
Blue Hawaiian Helicopters
(2014 ranking: 1)
2.
Jack Harter Helicopters
(2014 ranking: 4)
3.
Sunshine Helicopters
(2014 ranking: 3)
4.
Safari Helicopters
(2014 ranking: 2)
5.
Air Maui
(2014 ranking: not ranked)