"The Biggest Loser" to air second Kauai-filmed episode on Jan. 1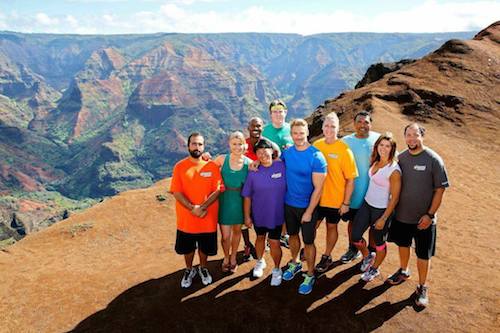 Fans of "The Biggest Loser" and Hawaii have a little something extra to celebrate this New Year's Day. NBC's inspirational weight-loss show will air the second of two hour-long episodes filmed on Kauai this Jan. 1.
This is the second time the show, now in it's 16th season, has selected Hawaii as a destination incentive for its contestants—the last time was on Oahu in 2011.
This season's twin episodes were filmed on the Garden Isle in October.
The two episodes follow the season's remaining six contestants as they experience Kauai in their quest to lose the most weight. The participants take on sea kayaking, explore Waimea Canyon (often called the "Grand Canyon of the Pacific"), enjoy waterfront workouts on Kauai's white sand beaches, snorkel on calm Anini Beach, learn to make healthy island-inspired tacos and compete an obstacle course on one of the island's privately owned ranches.
The first Kauai-filmed episode (episode 1613) aired on Dec. 18 and shows the contestants reaching their weigh-in location—the Kauai Marriott Resort at Kalapaki Beach—by outrigger canoe. Only one challenge winner receives a special prize at the end: A helicopter tour of the island. You can stream the episode in its entirety from the NBC website now through Feb. 28, in case you missed it live.
The Jan. 1, 2015 episode (episode 1614) will feature the contestants as they commit to their New Year's resolutions and try new things—like rappelling down a waterfall (pictured above) or rope swinging in the jungle—while testing their comfort zones. The episode will air at 8 p.m. (EST), 7 p.m. (Central), and 7 p.m. (HST) here in the Islands.
The popular show features teams of overweight contestants competing to lose the highest percentage of their starting bodyweight through the show's strenuous diet and exercise program. Previous seasons of the show have featured themed contestant groupings—pitting couples, families and age groups against one another—and this season is no different. This season's "The Biggest Loser: Glory Days," began with twenty former athletes, including NFL players and Olympic gold medalists, and followed their attempts to regain their former athletic figures. Only six of the season's original twenty contestants remained for competition on Kauai.