The cultural significance of ohia lehua
The brilliant and hardy red bloom plays a major role in Hawaiian culture and storytelling.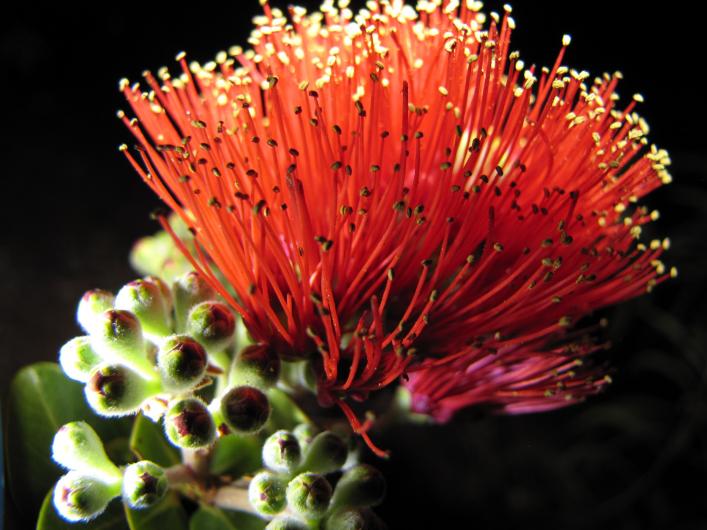 At the 2016 Merrie Monarch Festival, for the first time in its more than half-a-century history, many hula halau (hula schools) opted to forgo traditional lei and adornments from the ohia lehua tree in order to stem the spread of a blight known as Rapid Ohia Death (ROD). The disease is ravaging populations of the tree on Hawaii Island, and has resulted in a permanent ban on taking ohia lehua plants from the island.
Typically, halau collect their adornments from the forest and return them after the competition. But, because there still is still so much to learn about ROD—including how it spreads and how to cure it—concerned community members hosted a Puaenaena Ceremony to burn any ohia parts that were brought to Merrie Monarch and return their ashes to the forest instead.
So why was ohia's reduced presence at the festival such a big deal? In short, this multifaceted mainstay of native forests has as many culturally symbolic uses and meanings as it does forms. The plant can be found growing in dry and wet environments from sea level to heights above 5,000 feet as a shrub, a towering tree or even an epiphyte living off other trees. As such, the abundant plant had many uses for early Hawaiians: Ohia's sturdy wood was used to create weapons, kapa cloth beaters, boards for pounding poi, enclosures and statues; its leaves were used as a medicinal tea; and its flowers and its seeds fed native birds like the apapane and the now-extinct mamo, whose prized feathers—in colors similar to lehua blossoms—were also important adornments in hula and other ceremonies. When listening to traditional Hawaiian moolelo (stories), mele (songs) and oli (chants) about the land or the Gods, it's almost impossible to avoid some mention of ohia or its lehua flowers.
The hardy native ohia lehua is one of the first plants to recolonize otherwise barren lands blanketed in lava, and perhaps because of its ability to thrive in Pele's creations —or perhaps because of its ashy bark and explosion of blooms that come in bright and fiery orange, yellow, pink and red—many associate the plant with the Hawaiian fire goddess. And, indeed, there is a well-known Hawaiian story that tells the tale of their intertwined fates.
Once there was an attractive man named Ohia, and Pele liked him. But Ohia had eyes for another woman: Lehua. Unfortunately for Pele, Lehua liked Ohia in return. Understanding that she could not have Ohia, furious Pele transformed him into into a gnarly, twisted tree. Lehua begged for the spell to be reversed, but Pele was spiteful and refused. Desperate, Lehua then beseeched the other Gods to intervene. In a sort of compromise, they decided the lovers should be forever united and so transformed Lehua into an adornment on the Ohia tree, the lehua blossom.
Hawaiians have an abundance of words for rain, and several—like Ka ua lu lehua o Pana'ewa (lehua-shedding rain of Panaewa) and Ka ua Noelehua o Waialeale (the misty lehua rain of Waialeale)—incorporate the word lehua. Though some of those words describe the nature of the rain falling on lehua blossoms, the same Hawaiian legend also eludes to an additional relationship between lehua blossoms and the rain, the tears of the two lovers, Ohia and Lehua, when they are separated. It's said that shortly after a lehua flower is picked, it will rain.
But Pele isn't the only god associated with ohia lehua. In various stories, the plant is a kinolau, or physical manifestation, of several Hawaiian gods and goddesses including Ku, Hiiaka, Kane, Kapo as well as, some say, Laka, the goddess of hula.
To evoke or inspire the Gods and enhance their storytelling, hula dancers traditionally wear lehua blossoms or buds in lei headbands, around wrists and ankles. Ohia branches are used to create traditional kalaau, or dancing sticks, and branches bearing both woody parts and flowers to symbolize the male and female elements adorn kuahu (altars) when hula students are in training.
Though Rapid Ohia Death is currently only found on Hawaii Island, the quickly-spreading disease poses an imminent threat to this significant tree statewide. Hundreds of thousands of trees have already been killed across 34,000 acres of forest. The loss of the tree would be catastrophic not only to native forests, but also to Hawaiian tradition and storytelling.
---
To learn more about Rapid Ohia Death and what you can do to stop its spread in Hawaii, visit rapidohiadeath.org.