The Hawaii Ulu Producers Cooperative: Better Together
The cooperative links growers to buyers, including schools and hospitals, to help satisfy a growing demand for breadfruit.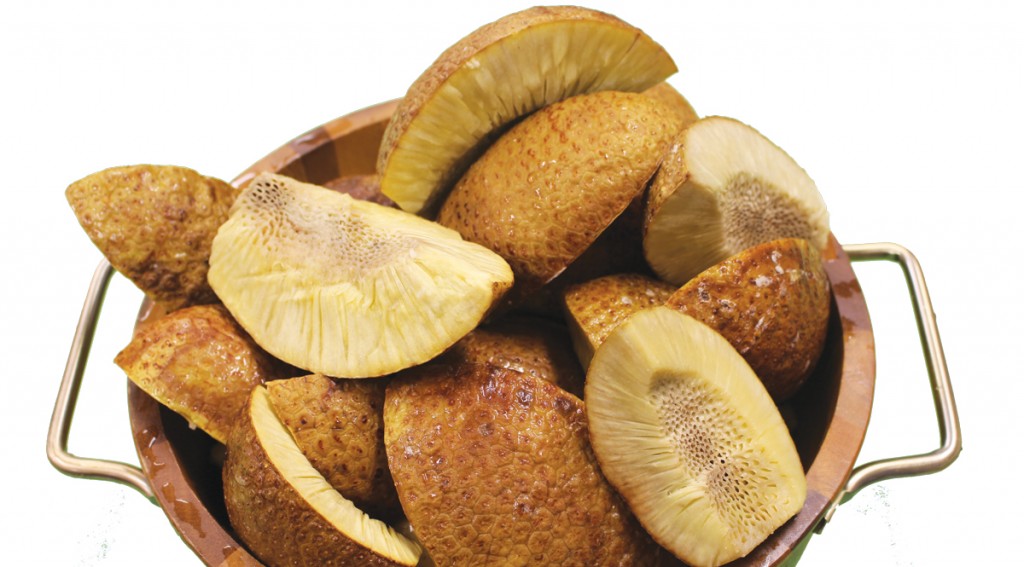 In just two years, the Hawaii Ulu Producers Cooperative (HUPC) has amassed 35 member farms, built a processing facility, harvested 53,000 pounds of ulu, and supplied 3,000 pounds of prepared ulu—enough for one meal—to all of Oahu's public schools. For 2018, it's on track to provide 12,500 pounds to all of the state's public schools. It's tangible proof that "it makes sense to work together, instead of in isolation," says Dana Shapiro, manager of HUPC.
In 2015, she and her husband, Noa Lincoln, a professor in indigenous crops, began Mala Kaluulu, a breadfruit farm, after winning Kamehameha Schools' Mahi Ai Match-up contest. They received a 3.7 acre plot in south Kona, with five years' rent waived, and $25,000 in seed money. The land sits in the Kona historic breadfruit belt, once a half-mile wide and 18 miles long, and by some estimates, used to produce 36,000 tons of breadfruit a year. But after a year, they ran into a few obstacles. The first was the highly seasonal nature of ulu. Large quantities of the fruit usually come into maturity from July through October, resulting in a glut of the crop from late summer to fall and hardly any for the rest of the year. They could steam and freeze the fruit to stretch the season, but they still didn't have the volume to supply a growing year-round demand. "I started reaching out to others in the community, just to see what other breadfruit supply was out there on the Big Island," she says. "We met two other farmers who were in similar position—young families starting out, passionate about ulu." Shapiro, who used to consult for rural producers and worked with different cooperatives around the state, saw the potential. In July 2016, Mala Kalaulu, along with eight other pilot member farms from around Hawaii Island, formed HUPC.
In the beginning, Sweet Cane Cafe, a farm-to-table restaurant in Hilo, served as the sole receiving point and processor. Last year, the co-op built its own processing facility in south Kona to handle a greater volume and provide an additional place farmers could drop off fruit. While HUPC offers fresh breadfruit available in baby, mature and ripe stages, the already prepped and frozen fruit make up 75 percent of sales. The breadfruit is pressure washed to remove the latex and debris, peeled with hand-cranked peelers, cut by hand, steamed and flash-frozen. Most buyers prefer ulu cored and quartered, though HUPC also offers it in other forms including sliced, diced, mashed and cut for fries.
The quarters sell for just $3.50 a pound, which Shapiro says currently means they lose money on every pound. She estimates that HUPC will achieve economies of scale when it is able to sell 100,000 pounds a year; currently, the main bottleneck is supply. Among the 35 members, about 2,500 trees have been planted, but only 400 are mature. The trees take about five years to achieve optimal fruiting, which means by 2023, the HUPC hopes to sell and process 300,000 pounds of ulu. Unfortunately, with the recent eruption on Hawaii Island, member farms in Puna have been covered by lava, and HUPC has lost about 20 percent of production. "That's going to be a setback for the industry as a whole," Shapiro says. "But that's part of agriculture. It could have been a hurricane, it could have been a tsunami."
In the meantime, as member farms ramp up ulu production, HUPC relies on startup grants and loans from community members and the Department of Agriculture. "We're a very social, community-based venture," Shapiro says. "We're in it together, to get to where we can stand on our own, but we're not there yet." In the meantime, "we're committed to making [breadfruit] as accessible as possible to the community. We don't want ulu to be a niche product only available for high-end hotels." While some of the buyers do include hotels such as the Hilton Waikoloa, HUPC's single biggest customer is the Department of Education, and the co-op also supplies Kaiser Oahu's cafeteria. By incorporating ulu in the schools and hospitals and making it affordable enough for everyday meals, Shapiro says, "we want to revitalize ulu as a viable crop and ideal staple for Hawaii."