The Royal Hawaiian's themed dinners are a grand experience
Chef Colin Hazama's decadent dining event is held quarterly with unique menus.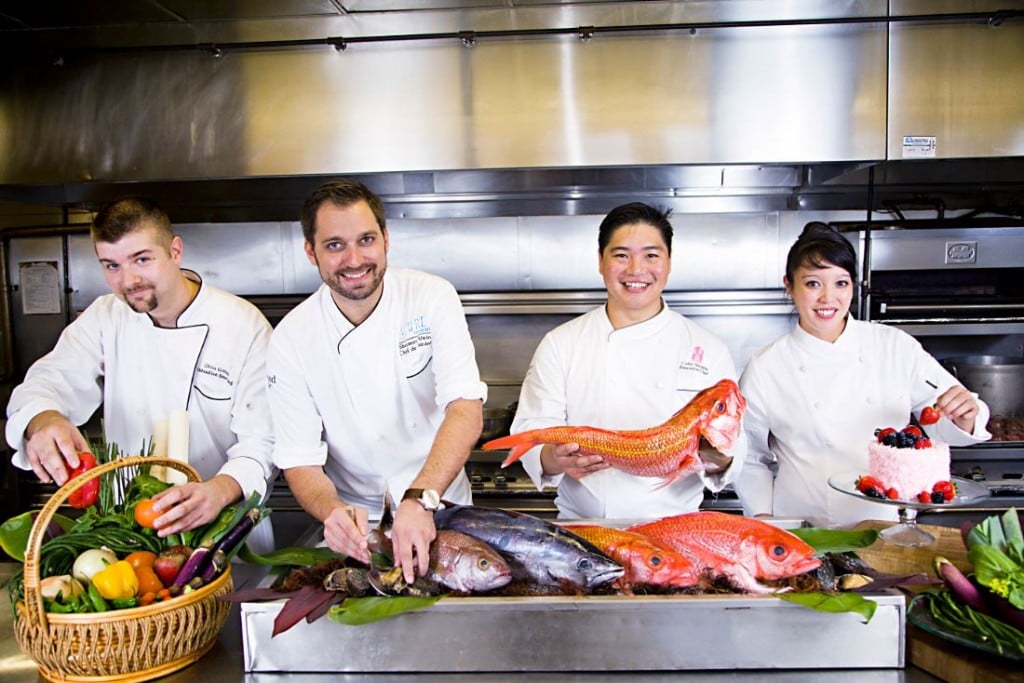 In ancient Greece, a philosopher named Epicurus inspired a school of thought that advocated indulgence in sensual pleasures. In this spirit, the culinary team at The Royal Hawaiian, overseen by rising-star executive chef Colin Hazama, has launched Epicurean Journeys, a decadent dining experience in one of Waikiki's most celebrated hotels.
A quarterly affair designed to be memorable, special dishes are prepared exclusively for each themed dinner, held beachside at the hotel's signature restaurant, Azure, or in the stunning King Kamehameha Presidential Suite. Past menus have included a locally sourced shaved salad with chimichurri, sunflower seed and escargot caviar, or braised pork with Waialua coriander green-papaya mustard, banana-pepper-cabbage kraut and crispy pig ears with spiced tomato beet essence.
"To me, 'epicurean' is an experience like no other, something that is always evolving," says Hazama. "It's the result of trials and tribulations that you go through in life. It's taking things to the highest level you can. It's our travels that we want people to share and examine with us, and with each other."
An evening is not complete without wine pairings, thus Hazama and other chefs, in partnership with Azure general manager and certified sommelier Micah Suderman, have selected wines for each dish with as much care and acuity as they have the ingredients. Special guests, such as local farmers, may also be in attendance, showcasing the important roles they have in the culinary experience. The following day, you can choose to take part in a cooking class with Hazama and his team, followed by a grand luncheon.
"'Epicurean' relates to me as a foodie journey," says Azure's chef de cuisine James Alwin. "[It's for] people who love to experience different things, who seek good food, who are looking for quality over quantity and the memories they can build through that experience."

Upcoming Dinners

Archipelagos
Several different regions of Hawaii are showcased at this event, each course using produce and meats sourced from the earth and sea of that area, with influences from Japan, Greece and Europe. Friday, Sept. 29, and Saturday, Sept. 30.
The Royal Feast
The final event of the year will be a feast fit for royalty, held in The Royal Hawaiian's stunning King Kamehameha Presidential Suite. Friday, Dec. 15, and Saturday, Dec. 16.

$150 Friday dinner only, $180 with wine pairing. $100 Saturday's cooking lesson and lunch, $130 with wine pairing. Call (808) 921-4600 to make a reservation.