The Stories Behind 8 Hawaiʻi Towns and Beaches
For anyone who has ever wondered how places like Pearl Harbor and Lanikai got their names.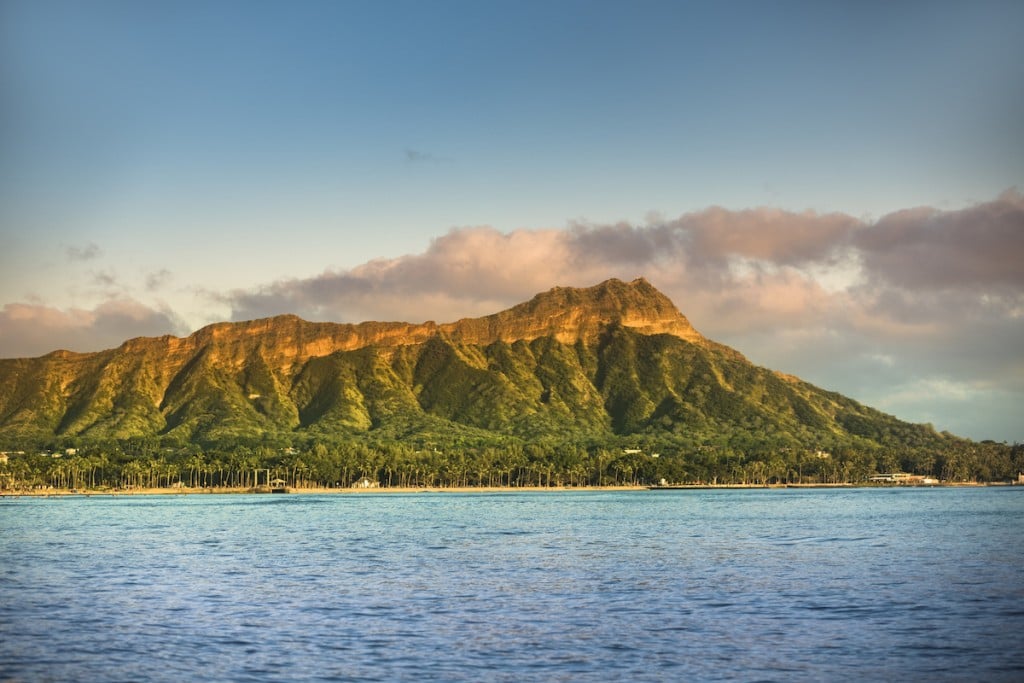 Most of us know the story behind the name Diamond Head, the iconic volcanic crater on Oʻahu that was so named by British sailors, who, while exploring the beach below in 1825, found calcite crystals sparkling in the sand. They thought they were diamond fragments and called the mountain Diamond Hill. (It was later changed to Diamond Head, but now it's referenced back to its Hawaiian name, Lēʻahi, which translates to "the brow of an ʻahi," which is what it resembles.)
But what about other famous Hawaiʻi beaches, towns and sites?
Since we're all just daydreaming of these places—even us, as we sit in our home offices in self-quarantine—we thought we'd share the backstories of some of our favorite (and hopefully yours, too) places in the Islands. (Thanks to historian John Clark and his book, "Hawaiʻi Place Names: Shores, Beaches, and Surf Sites.")
Pearl Harbor, Oʻahu
The harbor, which is home to the USS Arizona Memorial, was named for the pearl oysters that were abundant in the mudflats here through the 1800s, until development and pollution wiped them out. Last year, though, the U.S. Navy, in partnership with the University of Hawaiʻi at Hilo, launched a project to bring back native species of oysters in an effort to improve water clarity and quality in the Pearl Harbor estuary. Historically, this area was known as Wai Momi, or "pearl waters." (The oysters are for conservation efforts only, not for consumption.)
Pearl Harbor, Oʻahu
Before the huge open-air shopping center and beach park with the same name, this area—sometimes referred to as Kālia—was mostly swampland and taro patches. In the 1920s today's beach park was a wetland with kiawe trees and coconut palms that the city used as a garbage dump. In 1931 the city designated the land as Moana Park and started developing it. (Back then there was no beach.) In 1947 the city changed its name to Ala Moana, which means "path to the sea."
Lanikai, Oʻahu
This gorgeous beach on Windward Oʻahu, with the iconic twin Mokulua Islands offshore, has an interesting history. For starters, Lanikai isn't the traditional Hawaiian name for this place. It's Kaʻōhao, which translates to "tying together," as in the ends of a lei or a rope. In 1924 Charles R. Frazier developed the area and named it Lanikai, which is supposed to mean "heavenly ocean," but the words are actually backwards. ("Heavenly ocean" would be Kailani.)
Kīhei, Maui
On Maui's southwest shore, Kīhei is one of the sunniest and driest spots on the island. Its original name is Kamaʻole, which means "barren" in Hawaiian. Makes sense considering this area gets less than 13 inches of rainfall a year. It was a quiet area with very few residents until the 1960s, when water was piped into the town from other parts of Maui, which prompted the development of condos, shopping centers and strip malls. It's unclear when the name was changed to Kīhei, which means "shawl, cloak or cape" in Hawaiian.
Kula, Maui
Nestled on the slopes of Haleakalā, from Makawao to Ulupalakua, reaching to as high as 2,800 feet in elevation, it's easy to think the name Kula is a pidgin version of the word, "cooler," since the climate here is such. But the name really means "open meadows" in Hawaiian, and this area is known for its open country slopes.
Polihale, Kauaʻi
The name of this popular beach on Kauaʻi west side has two different backstories. Polihale has been translated as hale (house) of pō (which has multiple meanings, including "realm of the gods"), which could refer to the beach's northern cliff faces, thought to be a jumping off point for departing souls. Its literal translation, though, is "house bosom," which represents a place of birth or source of life.  There's a Hawaiian legend that tells of a pahapaha (sea lettuce) that grows offshore and possesses a special quality: After being dried out, it can be revived to its original freshness when submerged in water.
Tunnels Beach, Kauaʻi
The Hawaiian name for this beach on Kauaʻi's north shore is Mākua, which means "parents" in Hawaiian. Outside the beach is a massive, hook-shaped reef that forms a lagoon, which is a great spot for snorkeling and diving. Just outside the reef is a surf break, which was first surfed in modern times in the 1950s. Surfers have different ways of describing riding inside a wave as it breaks over them: being in the barrel or tube or tunnel. Those first surfers were so excited about discovering a break with long, inside-the-wave rides, they named the spot "Tunnels."
Hilo, Hawaiʻi Island
There are two explanations for how Hilo, a sleepy town on the eastern side of Hawaiʻi Island, got its name: It was either named after the first night of the new moon or after a famous Polynesian navigator. But there's another account that tells the story of how Hilo was named by King Kamehameha himself. The story goes that the king was camping near the mouth of Hilo's Wailuku River and wanted to visit an old friend who lived nearby. He ventured up the river alone, leaving his servants to guard his canoe. Hours passed and the servants grew uneasy. They were worried he might have been ambushed or captured. One of the men, who hailed from Waipiʻo, suggested making a rope out of ti leaves and tying the king's canoe so it wouldn't drift away. He showed the others how to twist the leaves to create two chains, which he twisted together to form a sturdy cordlike rope. Such twisting, he told them, was called hilo. After securing the canoe, as the king had instructed, the servants set out to search for him. They found him a short way up the river, returning to camp. He demanded to know where his canoe was, and when the servants explained how they had secured the canoe, the king nodded his head in approval and called the place Hilo.