These Local Hawaiʻi Treats Were Made for Fall
And they just might be better than a pumpkin spice latte.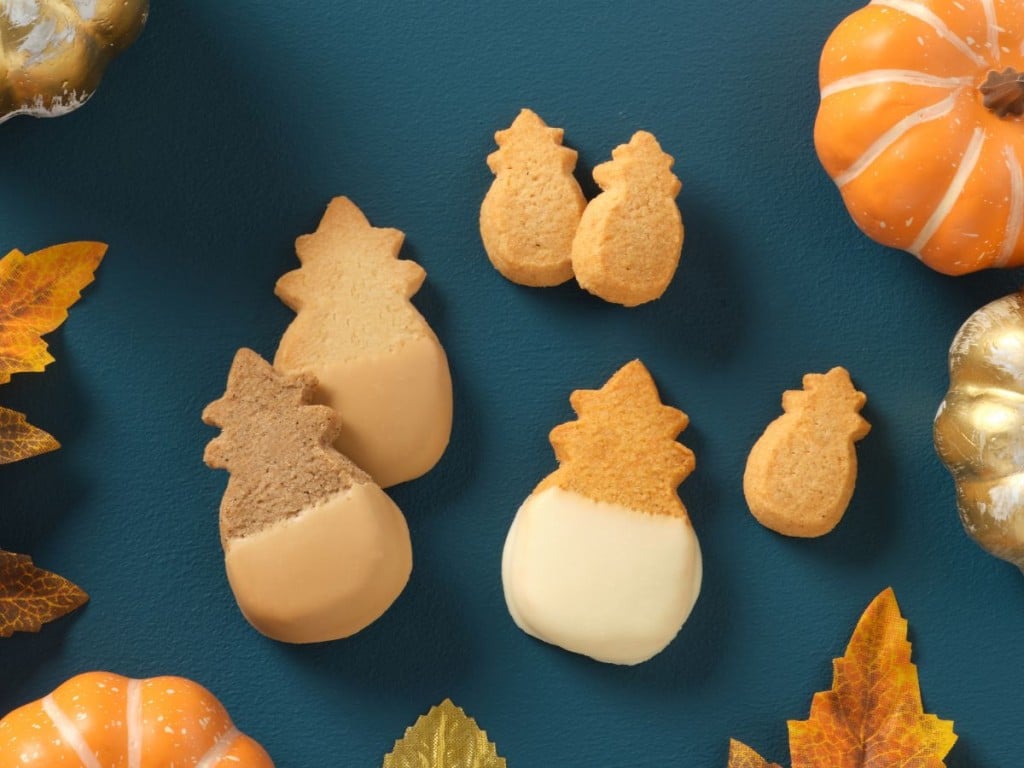 Whether it's how cinnamon and nutmeg bring out warm flavor notes or the comforting sense of nostalgia we get from these sweet treats, there's an undeniable allure to foods associated with the fall season. Some might even call it an obsession. Although the changes from summer to autumn are subtle in Hawaiʻi (sweater weather hardly exists), that doesn't mean the Islands lack the season's festive fare. You'll find many foods flavored with pumpkin spice; Spam even released a limited-edition variety back in 2019. While that's one of the more out-of-the-box pairings, scroll down to find how some of the Islands' bakers and businesses are spicing up their sweet treats with fall flavors and flair.
1.
Caramel apples from The Good Apple
Bite into one of Angela Bascon's caramel apples and it's very likely you'll end up with a "good apple" addiction. Her caramel apples took Maui by storm when she started The Good Apple during the Covid pandemic. Not long after, orders for her caramel apples skyrocketed and Bascon made The Good Apple her full-time job. While her apples are popular year-round, caramel apples are a quintessential autumn treat. At The Good Apple, tart Fuji apples are coated in Bascon's buttery caramel sauce, dipped in white chocolate and then finished with over-the-top confections. In the spirit of Halloween, this month's specials include the "Great Pumpkin," in which caramel apples are dusted in bright orange li hing powder, then drizzled in white chocolate. The matcha monster mash is another special this month. The apples are coated in matcha flavored white chocolate, then molded into spooky critters. Then there's the trick-or-treat apple, loaded with Halloween candy, of course, and the webbed pretzel apple, which is the ideal combination of sweet and salty. Any trick-or-treater would be thrilled to receive one of these good apples. thegoodapplemaui.com
2. Oh My Pumpkin Pie from Maui Cookie Lady
Step into The Maui Cookie Lady's charming cottage shop and you'll be whisked away to cookie heaven. The cozy store exudes festive vibes all year. This fall, make sure to snag an Oh My pumpkin Pie cookie, which is also available online. The decadent 6-ounce pumpkin cookie includes notes of caramel, butterscotch, nutmeg and cloves. You could argue the cookies are better than pumpkin pie! themauicookielady.com
3. White chocolate pumpkin cookies from Honolulu Cookie Company
October is pumpkin spice season and it's not limited to pumpkin spice lattes. Honolulu Cookie Company released its white chocolate pumpkin cookie, and you shouldn't wait to try this seasonal special. The sweet shortbread cookie is balanced with warm spice including ginger, nutmeg and cinnamon. It's then dipped in white chocolate for a delightful autumn flavor. honolulucookie.com
4. Spiced apple pie milk chocolate bar from Puna Chocolate Co.
In these limited bars by Puna Chocolate Co., cinnamon and ginger seasoned apples are pressed into milk chocolate resulting in flavors reminiscent of your favorite apple pie. The Hawaiʻi Island business even incorporates pieces of ginger snap cookies for a tasty crunch in its spiced apple pie milk chocolate bar. And don't miss Puna Chocolate Co.'s pumpkin spice macadamia nut toffee, either. The pumpkin flavored toffee is topped with the Big Island company's white chocolate and roasted Hawaiʻi macadamia nuts. punachocolate.com
5. Pumpkin spice mix from Kauaʻi Gourmet Nuts
Macadamia nuts, pecans and almonds are all roasted with a blend of fall spices then drizzled with icing in Kauaʻi Gourmet Nuts' pumpkin spice mix. These sweet nuts make an easy, on-the-go snack. If you're in Kapaʻa or Kōloa, stop by a Kauaʻi Gourmet Nuts store to sample a variety of roasted nuts and snag a few bags of the pumpkin spice mix while it's in season. Kauaʻi Gourmet Nuts also has booths at the Wailua and Waipā farmers markets. tastes-of-aloha.com/collections/hawaiian-snacks/products/kauai-gourmet-nuts-pumpkin-spice-nut-mix
6. Halloween themed desserts from Kulu Kulu
Kulu Kulu at the Royal Hawaiian Center is known for its roll cakes, Diamond Head puffs and signature desserts like strawberry shortcakes and soufflé cheesecakes. This October, the Japanese-style cake shop offers a selection of well-crafted fall themed desserts. The black cat consists of strawberry and dark chocolate mousse. The spooky boo is a yogurt mousse cake filled with a raspberry jam center. And the Frankenstein cake features layers of ube and matcha mousse. The Halloween desserts will be available through October, with more holiday treats available Oct. 28-31. royalhawaiiancenter.com/kulu-kulu
7. Pumpkin crunch ale from Beer Lab HI
Beer isn't really considered a dessert, but it can be a treat. And this October, Beer Lab HI unveiled its first pumpkin beer—ever! The pumpkin crunch ale is flavored with pumpkin, nutmeg, ginger, vanilla and milk sugar. Stop by any of Beer Lab HI's three locations on Oʻahu to sample the fall beer or pick up a crowler or two to go. beerlabhi.com.