This Kailua Food Truck Is Keeping a Legendary Malasada Recipe Alive
Agnes' Portuguese Bake Shop, a longtime staple in Kailua, returns as a food truck with a slightly different name—but the same delicious pastry.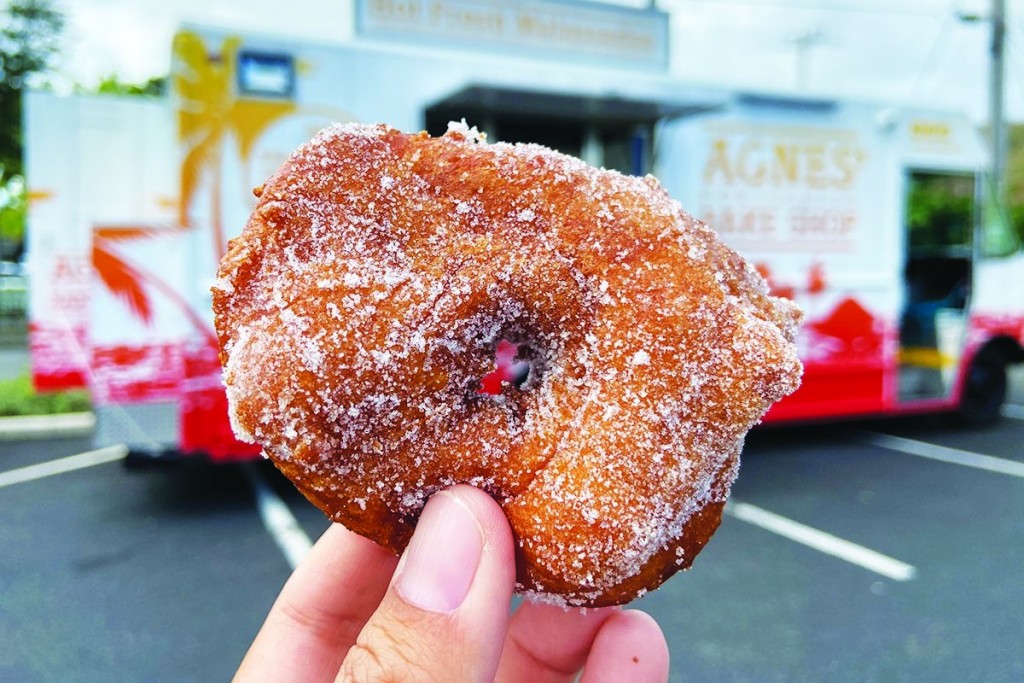 Growing up in Kailua on O'ahu's Windward Side, Ryan Katsuno would go to Agnes' Portuguese Bake Shop at least once a week, stocking up on sweet bread, pastries and—the bakery's signature treat—malasadas.
Malasadas are Hawai'i's quintessential comfort food. They're basically deep-fried, sugar-dusted doughnuts, brought to Hawai'i with the 1878 arrival of Portuguese plantation laborers from the Madeira and Azores islands. And Agnes' in Kailua made arguably the most authentic—and tastiest—on the island.
"I like to believe I'm a little bit of a malasada connoisseur," Katsuno says. "Anytime I see someone selling malasadas, I'll try it. Throughout my lifetime, I've never found a malasada that tastes better than an Agnes' malasada."
Then, in 2018, the beloved bakery closed after nearly 50 years in business.
View this post on Instagram
This was not OK with Katsuno. He contacted the owner, Non deMello, to buy the bakery's name and, more importantly, the recipe for its malasadas.
"It just broke my heart to see another Kailua staple business shutting its doors," says Katsuno, who now lives in nearby Kāne'ohe with his wife and four kids. "Over the years, Kailua has changed tremendously and all I wanted to do was try to keep a little piece of Kailua, Kailua."
It took months, under the tutelage of deMello, before Katsuno perfected the Agnes' malasada, which included learning how to "drop" the batter into the hot oil. This is what gives Agnes' malasadas its signature—and nostalgic, church-fair—look.
"Dropping is the technique of actually hand-scooping the batter, making a hole in the center with your fingers and gently dropping them into the oil," Katsuno explains. "Believe it or not, there's actually a technique and skill to this!"
View this post on Instagram
This summer Katsuno brought back the old-school malasadas to Kailua, making them by hand and to order out of the Agnes' Bake Shop food truck. It's parked at Manuheali'i, a local clothing boutique, six days a week, with a very limited menu: just malasadas, crispy on the outside and covered in white sugar, the traditional way. You won't find funky toppings or fillings here. (Though you can request cinnamon sugar; it's an off-the-menu option.)
The food truck wasn't in Katsuno's original plan. He was hoping to open a brick-and-mortar—then COVID-19 hit. So he decided on a food truck and opened during a pandemic. It actually worked.
"Everyone is looking for comfort food right now," Katsuno says, standing outside the truck and throwing shakas to customers, many of whom he knows. "We keep it traditional. We feel that simple is better."  
Open 9 a.m. to 5 p.m. Monday through Saturday (though hours may change), until sold out, Manuheali'i parking lot, 5 Ho'olai St., Kailua, O'ahu, @agnesbakeshop808