This Kauaʻi Bakery May Be the ʻHoly Grail' of Artisanal, Plant-Based Doughnuts
Holey Grail Donuts in Hanalei uses taro-based dough for its made-to-order doughnuts.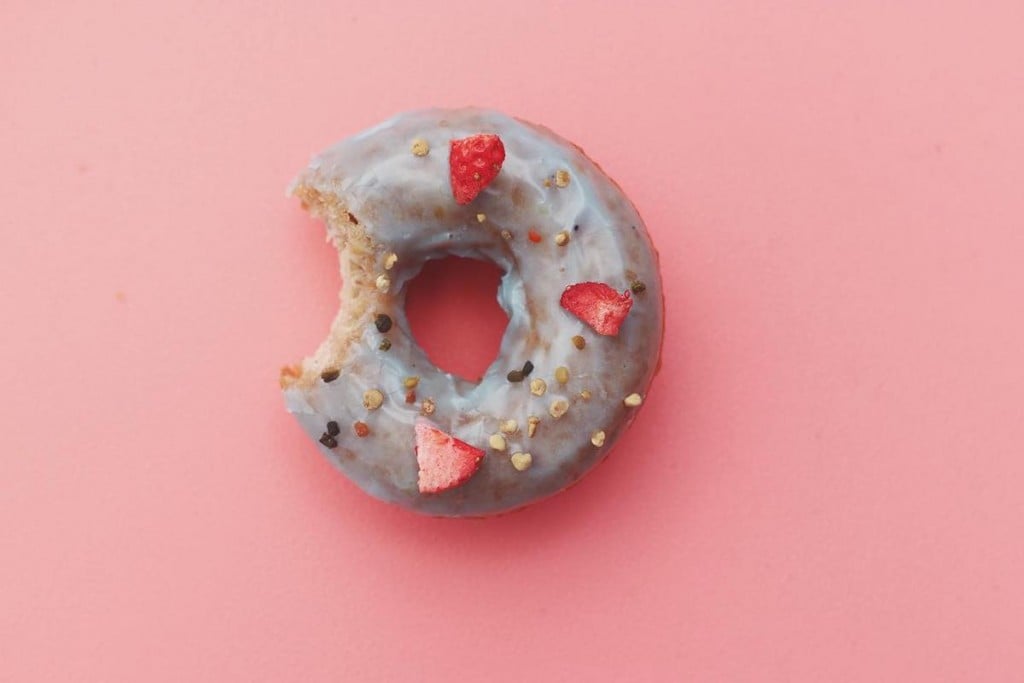 What started as a Sunday-only pop-up in Hanalei, Kaua'i, is now a full-fledged food truck operation that offers locally harvested taro doughnuts and plant-based beverages made to order.
"The creation of the idea is something that we have been developing over the past four years together," says Nile Dreiling, who owns Holey Grail Donuts with his sister, Hana. "We are both passionate about sustainability and whatever we do in our lives, we want it to serve our community and serve the Earth."
Both Dreilings have culinary pasts. While working full-time in the food industry in Oregon and on Kaua'i, the siblings had been developing and experimenting with doughnut recipes as a side project. "Hana is more focused on the glaze, the flavors and the farm partnerships," Dreiling says. "And I am a little bit more focused on the actual creation of the dough recipe itself and integrating the taro. We kind of just came together as the perfect match."
Holey Grail Donuts, located in a parking lot right off Kūhiō Highway before you reach Aku Road, offers a menu that is entirely plant-based. "We wanted to create the best tasting, highest quality doughnuts in the world that use local, sustainable ingredients," Dreiling says. "It just so happened that we don't believe that dairy products or animal products added any value to the recipe."
The base dough is made out of taro sourced from Keālia Farms in Kapaʻa, where it is harvested and made into poi. The starch molecules within the poi are then crushed, creating a doughlike texture and taste, and then lightly fried in organic coconut oil.
The taro-based dough paired with the coconut oil creates a mild, savory flavor completely different from actual poi. The coconut oil creates a crispy coating over a foundation of dense, yet fluffy, dough. When paired with rich glazes, Holey Grail doughnuts are a harmony of sweet and savory.
The ingredients for the carefully crafted doughnut glazes are almost all locally and sustainably sourced on Kaua'i, and the owners always look to nature as inspiration for unique, new ingredients. Aside from wild strawberry guavas and dragon fruit (aka pitaya), Holey Grail also utilizes local cacao and vanilla beans from Lydgate Farms in Kapaʻa and sources finger limes, or citrus caviar, from AlohaHoneyBee Family Farm in Kīlauea.
Hana takes care of all recipe developments and changes the doughnut flavors weekly, according to what ingredients are fresh and available. Four flavors are offered each week and can be purchased individually or altogether in a tasting box.
The "Reincarnated" is Holey Grail's most popular doughnut and the only one on the menu that does not rotate seasonally. "This is our take on a maple bacon doughnut but we wanted to elevate it a little bit," Dreiling says. "Instead of using maple bacon, we have an organic maple glaze that is not too sweet, and then we garnish it with smoked coconut before topping it off with Hawaiian sea salt."
Another popular flavor is the L&L, a lemon infused sugar doughnut topped with citrus caviar.
"We want (our doughnut) to encapsulate Hawai'i and we want to shed light on the local ingredients that we have in our area, and that ideology spreads across our whole menu," Dreiling shares. "This simplistic, rotating seasonal model that rotates with the environment that we are in allows us to have something far more fresh and far more interesting."
Current seasonal flavors are featured on the truck's Instagram page and website.
Holey Grail also offers an elevated beverage menu and includes a homemade cashew-coconut milk blend, which serves as a base for its fresh matcha, chai and coffee lattes. This blend is processed through a nitrogen infuser, giving the milk a smoother and creamier taste and texture.
Dreilings' passion for food and environmentalism, and their tasty doughnuts, have gained them recognition and support from all over Kaua'i, and now they want to expand their business. Holey Grail will open a second food truck location in Honolulu on Aug. 29 in Ward Village, with a brick-and-mortar to follow.
"We have such high standards for products and ingredients," Dreiling says, "and we definitely don't want that to diminish at all as we expand—our top priority is to open up here in Honolulu and serve the same exact quality and customer experience that people have known to love in Hanalei."
Holey Grail Donuts, 5-5100 Kūhiō Ave., Hanalei, (808) 212-7147, holeygraildonuts.com