This Waikīkī Hotel and Restaurant Opened Right Before the COVID-19 Pandemic
Here's how ESPACIO and its restaurant, Mugen Waikīkī, has dealt with Hawaiʻi's shutdown.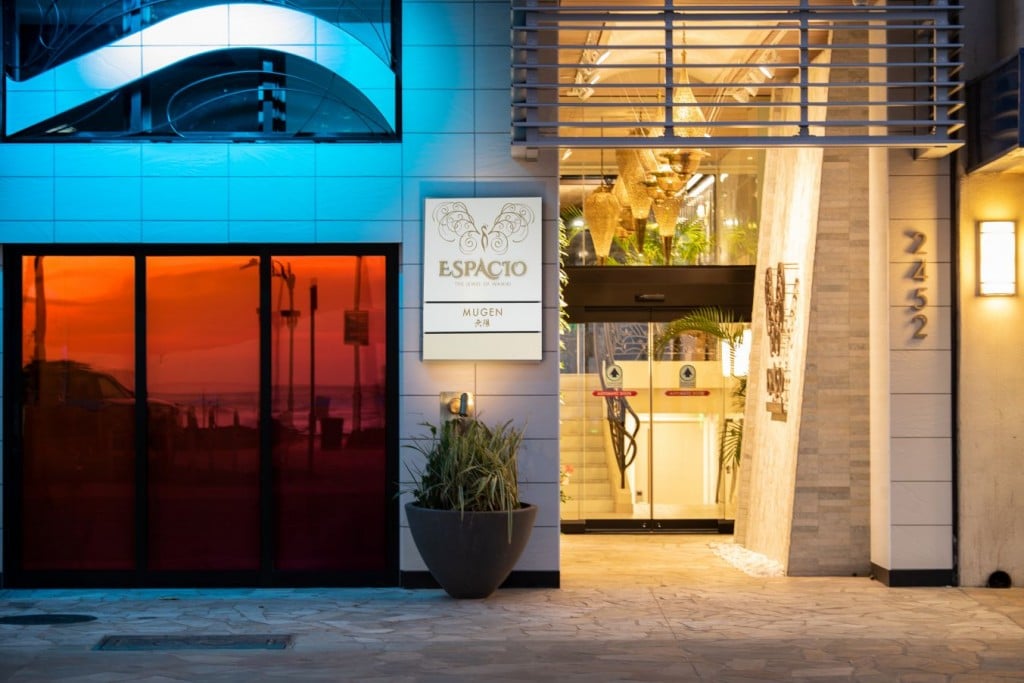 When ESPACIO opened in Waikīkī in September 2019, it was lauded as the most indulgent luxe hotel on Oʻahu—arguably the state. The hotel features just nine three-bedroom suites sprawling over 2,250 square feet each with ocean-view balconies equipped with Jacuzzis and personal butlers. Rooms start at $5,000 a night, which includes two 50-minute spa treatments and a private Japanese-French dinner by ESPACIO executive chef Jason Yamaguchi. In December the hotel was sold out.
ESPACIO was poised to raise the bar of luxury accomodations in Hawaiʻi.
Then COVID-19 hit.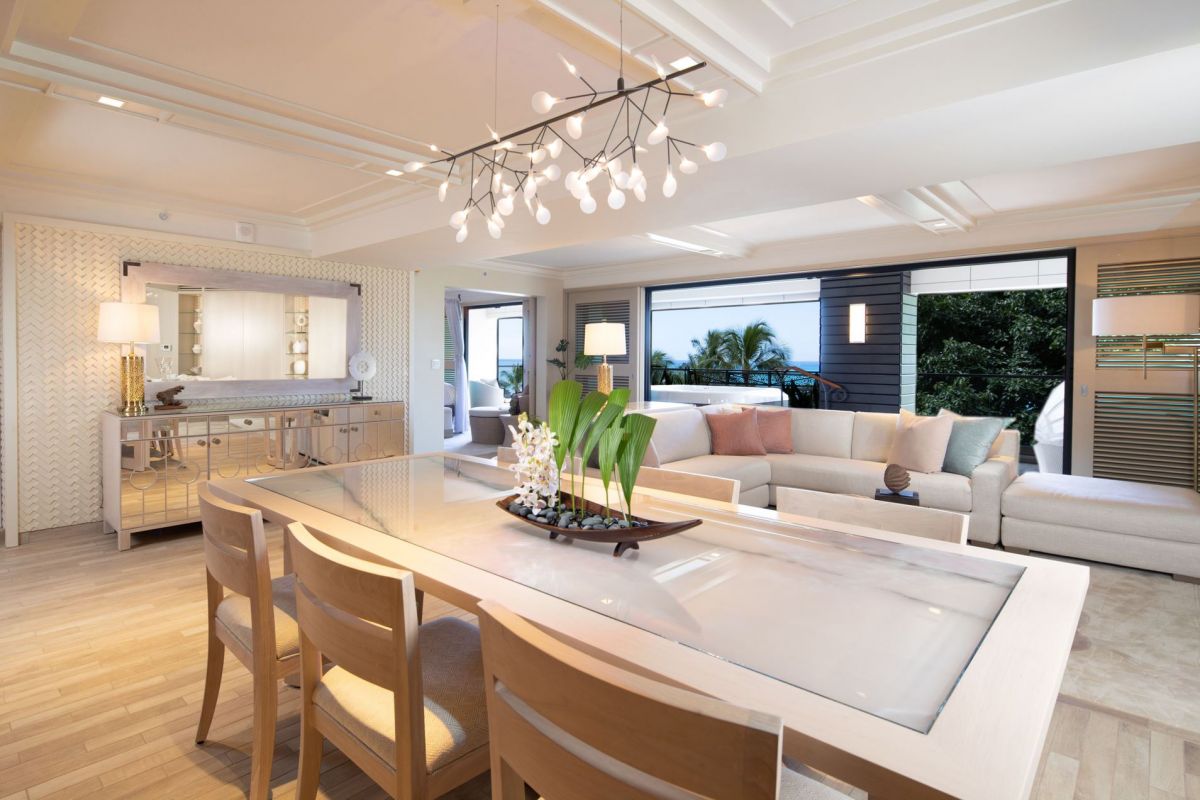 In late March Hawaiʻi Gov. David Ige issued a statewide shutdown intended to help stop the spread of the coronavirus. Only essential businesses could stay open. Beaches, hiking trails, parks—all closed. And all trans-Pacific travelers to the Islands were subjected to a mandatory 14-day quanratine upon arrival in Hawaiʻi—a rule that stands today.
SEE ALSO: What You Need To Know If You're Traveling to Hawaiʻi Now
That quarantine has caused Hawaiʻi's tourism industry to slow to a trickle. Instead of an average of 35,000 visitors a day this summer, the Islands received fewer than 200 on some days. Restaurants and retailers shuttered—some permanently—and many hotels closed temporarily, waiting for tourism to rebound.
ESPACIO closed in March—and it hasn't announced a reopening date yet.
"We had a really successful opening and we were really encouraged," says Theresa Van Greunen, a spokeswoman for Aqua-Aston Hospitality, which manages the resort as well as other hotels in Hawaiʻi. "We felt like we had some good momentum, but unfortunately, this could not be avoided. We're not different from any of the other properties."
While the hotel could have opened to guests who would have to quarantine—2,250 square feet and a private Jacuzzi isn't a bad way to spend 14 days—but Van Greunen says the company decided to close for health and safety concerns. "We also wanted to be a community player and not encourage travel to Hawaiʻi," she adds.
In the meantime, the hotel's signature restaurant, Mugen Waikīkī, needed to pivot.
When the restaurant opened in November 2019, it launched with an eight-course tasting menu that boasted high-quality products from Hawaiʻi and around the world like fresh seafood flown in from Japan daily and white asparagus imported from Denmark. In its first four months, Mugan enjoyed buzz from local foodies and earned a spot on USA Today's Best New Restaurant list. (Mugen was No. 6 and the only Hawai'i restaurant to make the list.)
When the hotel—and, subsequently, the restaurant—closed in March, the staff was whittled down to four, including Yamaguchi. The culinary worked eight-hour shifts—mostly keeping an eye on the property, Yamaguchi says—while overseeing the renovation to Mugen's dining room, which expanded the seating capacity by 30. "It was a blessing in a way to have the time to focus on that," Yamaguchi says.
After a few months of discussion between the hotel owners and its management company, ESPACIO decided to reopen Mugen in mid-August 2020, at a time when many other restaurants in Waikīkī were still closed. "When you looked at what was open, it was next to nothing," Yamaguchi says. "There was nowhere residents could go to eat. I thought, 'Why not make a cost-efficient menu that's approachable to everyone and capitalize on that?'"
And that's exactly what Yamaguchi did.
In August, he and his team launched a takeout menu that reflects the restaurant's French-Japanese cuisine: Stone fruit salad with grilled plums and compressed heirloom tomatoes, pork belly don with aged enoki mushrooms and sesame rice, a shareable bouillabaisse brimming with Kauaʻi prawns and Kona lobster in a saffron broth. You can even order dessert and its cocktails to go.
This way, the hotel could keep some of its employees working while supporting local farmers, ranchers and food producers. It was a win-win, Van Greunen says.
"These are people that our customers are actually supporting by ordering takeout," she says. "That's the case for not only Mugen but other small businesses, too."
View this post on Instagram
But what has really become popular are the restaurant's weekly made-to-order bento boxes ($20 each). On any given week, the box could be filled with crab fried rice, Kona kampachi (short-fin amberjack) or mochiko mongchong (sickle pomfret).
At first, Yamaguchi was only going to limit the number of bentos he made to 20 a day. On the first day—with minimal advertising on social media—all 20 bentos sold out.
"There was a bento craze going on," Yamaguchi says. "It was outta control. Chris [Kajioka of Miro Kaimukī] was doing his bentos for $14, but that wasn't what we were about. We were going to just do what we were doing and do the best we can and just maintain that."
Van Greunen says the bento concept worked to help Mugen showcase what it does in an affordable, approachable way.
"For us, I thought it was a perfect fit," she says.
The plan is for the restaurant to reopen for dine-in service with its original concept: high-end tasting menus with à la carte options. When it will reopen, though, is another question.
Right now, Yamaguchi is focused on one simple thing: Feed people.
"You gotta keep your mind right in order to get through these challenging time," he says. "For me, I'm just trying to help the economy in Hawaiʻi. People need to eat; that's kind of where I'm at. I want to serve good food at reasonable prices."