Toast the Maui Sunset at the Refreshed Humuhumu Restaurant at the Grand Wailea
A new chef has crafted a menu that showcases the island's bounty of ingredients and fresh seafood.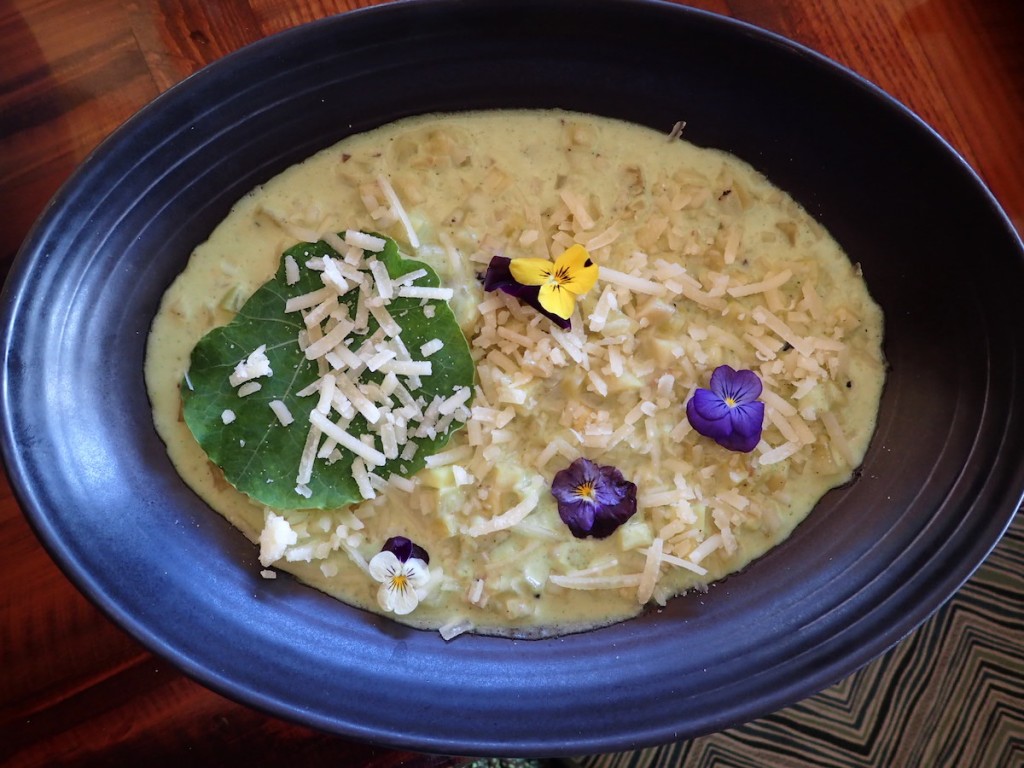 It's hard to leave the 40-acre Grand Wailea on the sunny southern shores of Maui.
And it's not because it takes so long for you to walk from your room to the valet.
The sprawling property provides just about everything a traveler could want in one place: restaurants, shops, lush gardens, direct access to Wailea Beach, a variety of activities, a world-class spa and a mini water park on its premises.
Not that we're suggesting you never leave. Beyond the Grand Wailea, Maui has much to offer, from trendy eateries to stunning hikes to even goat yoga.
SEE ALSO: Downward Dog Meets Upright Goat at Maui Goat Yoga
But if you do find yourself at the Grand Wailea, take your time. Walk its 40 lush acres. Book a lomilomi massage at the 50,000-square-foot Spa Grande. And definitely build your schedule around the hotel's maze of pools and water slides, including a three-story, 14-second thrill ride down its longest tube slide.
And then stay for dinner. The hotel's signature restaurant, the Humuhumunukunukuapuaa, affectionately referred to simply as Humuhumu, boasts a relaxing atmosphere with a great sunset view and a new chef who's updated the menu with modern dishes that showcase fresh seafood and Maui-grown ingredients.
At the end of last year, noted chef Alvin Savella was named chef de cuisine at the restaurant, bringing his unique approach and local flare to the cuisine. Some of his specialties include a glazed octopus appetizer in a taro stew with pork dumplings and fish roe ($21) and a ramen dish with half a Kona lobster, a 63-degree egg and whatever the fresh catch of the day is in a red miso coconut broth ($61).
SEE ALSO: Q&A with Maui Chef Alvin Savella, aka The Kitchen Assassin
The restaurant, which opened with the hotel in 1991, gets its veggies, greens, beef, cheeses and seafood from local farmers, ranchers and fishermen.
The dinner menu featured dishes that showcased local flavors in modern ways: char siu pork belly—the Chinese-style sweet pork is very local—with a kabocha (pumpkin) purée and black sesame choy sum with house-made chicharrón and chutney made from poha (Hawaiian gooseberry); Kona kampachi with squid ink risotto and crispy soft-shell crab; and Maui Cattle bone marrow with smoked kampachi musubi (rice ball) and pickled local radish. Our favorite, though, was the ulu (breadfruit) risotto with truffle and Parmesan and adorned with tiny nasturtium. It was both cheesy and hearty, and the breadfruit chunks gave the dish a nice texture.
(And if you're curious about what your kids can eat, the restaurant has a great kids' menu with teriyaki steak, grilled mahimahi, chicken fingers, even stir-fry chuka udon noodles. It even offers kid-friendly mocktails like the Big Red Hibiscus—Sprite and grenadine—and the Starburst—lemonade, coconut créme and strawberry purée. Also, kids under 5 eat free.)
Humuhumu also offers a vegetarian menu with hearty dishes (not just salads) and a dessert menu worth splurging on that includes house-made sorbet and ice creams.
My favorite part, though, was just sitting in the open-air restaurant as the sun descended over Wailea Beach. In 2017 the restaurant, which is named after the state fish, was renovated as part of a $70 million refresh to the entire property. The interior's design emulates a traditional Hawaiian hale (home) with native ohia hardwood posts and rafters and lauhala weave ceiling panels and thatch roof. It felt like you were sitting on a canoe—thankfully, a stationary one—overlooking a calm ocean. It was both relaxing and invigorating—as your vacation should be.
Dinner, 5 to 9:30 p.m., bar open until 10 p.m., Grand Wailea, 3850 Wailea Alanui Drive, Wailea, (808) 875-1234 ext. 2500, grandwailea.com