Top 10 best Hawaii restaurants: HAWAII Magazine Readers' Choice Awards 2015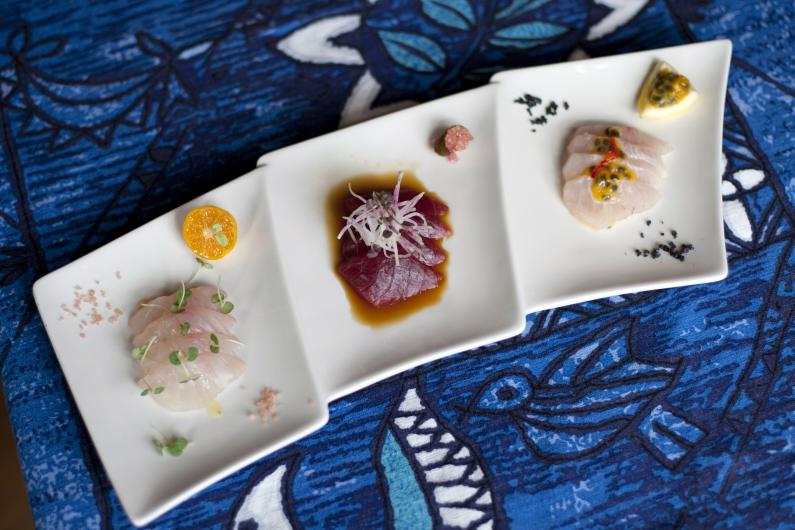 It's no secret that Hawaii has an abundance of delicious dining options. In fact, HAWAII Magazine dedicates an entire issue to the Islands' food and foodie culture each year! Wondering where to go next time you're in the Islands? We've got a roundup of the 10 best restaurants in three different price ranges courtesy of our readers' votes below. (If you're in the mood for something specific, you should also check out our lists of Hawaii's best ethnic food spots.)
Last summer we asked our more than 200,000-strong HAWAII Magazine reader ohana to share their favorite Hawaii things for our third annual Readers' Choice Awards. They submitted thousands of ballots filled with their nominations for Hawaii's best hotels, resorts, bed-and-breakfasts, indoor and outdoor activities, places to nosh, swim and snorkel, go road tripping and much more.
We tallied votes across 98 categories to bring you this year's 617 HAWAII Magazine Readers' Choice Award winners. We've even compared this year's list with last so you can see how time has changed rankings within each category.
You can find all of our winners in the March/April 2015 issue of HAWAII Magazine currently on sale nationwide. Want it now? Head to Apple iTunes or Google play stores to download the issue instantly.
We've already shared 21 lists of our readers' favorite things and you can see links to all of them at the end of the post. Until then… Bon Appétit!
Best Restaurant ($61+ per person)
1.
Mama's Fish House
Paia, Maui
(2014 ranking: 1)
2.
Roy's
Maui; Hawaii Island; Kauai; Oahu
(2014 ranking: 2)
3.
Merriman's
Hawaii Island; Maui; Kauai
(2014 ranking: 4)
4.
Alan Wong's King Street
Honolulu, Oahu
(2014 ranking: 3)
5.
Beach House Restaurant
Koloa, Kauai
(2014 ranking: 7)
6.
La Mer
Halekulani, Waikiki, Oahu
(2014 ranking: 5)
7.
Ruth's Chris Steakhouse
Oahu; Maui; Hawaii Island
(2014 ranking: not ranked)
8.
Lahaina Grill
Lahaina, Maui
(2014 ranking: 6)
9.
Morimoto
The Modern Honolulu, Waikiki, Oahu
Morimoto
Andaz Maui at Wailea Resort, Wailea-Makena, Maui
(2014 ranking: not ranked)
10.
Michel's at the Colony Surf
Waikiki, Oahu
(2014 ranking: not ranked)
Best Restaurant ($30-$60 per person)
1.
Duke's Waikiki
Waikiki, Oahu
(2014 ranking: 1)
2.
Duke's Kauai
Lihue, Kauai
(2014 ranking: 5)
3.
Hukilau Lanai
Kapaa, Kauai
(2014 ranking: 7)
4.
Sansei Seafood Restaurant & Sushi Bar
Maui; Oahu; Hawaii Island
(2014 ranking: not ranked)
5.
Honu Seafood & Pizza
Lahaina, Maui
(2014 ranking: not ranked)
6.
Duke's Beach House
Kaanapali, Maui
(2014 ranking: not ranked)
7.
Kimo's
Lahaina, Maui
(2014 ranking: not ranked)
8.
Mala Wailea
Wailea Beach Marriott Resort & Spa, Wailea-Makena, Maui
(2014 ranking: not ranked)
9.
Hula Grill
Oahu; Maui
(2014 ranking: 4)
10.
Monkeypod Kitchen
Maui; Oahu
(2014 ranking: 3)
Best Restaurant ($29 or less per person)
1.
Star Noodle
Lahaina, Maui
(2014 ranking: 2)
2.
Zippy's
Oahu; Maui; Hawaii Island
(2014 ranking: 1)
3.
Aloha Mixed Plate
Lahaina, Maui
(2014 ranking: 3)
4.
Café O'Lei
Kahului and Kihei, Maui
(2014 ranking: not ranked)
5.
Kauai Pasta
Lihue and Kapaa, Kauai
(2014 ranking: not ranked)
6.
Da Kitchen
Kahului and Kihei, Maui
(2014 ranking: 6)
7.
Cool Cat Café
Lahaina, Maui
(2014 ranking: not ranked)
8.
Leoda's Kitchen & Pie Shop
Olowalu, Maui
(2014 ranking: 10)
9.
Kona Brewing Co.
Hawaii Island; Oahu
(2014 ranking: 5)
10.
Nico's Pier 38
Honolulu, Oahu
(2014 ranking: not ranked)