Top 5 favorite Hawaii parks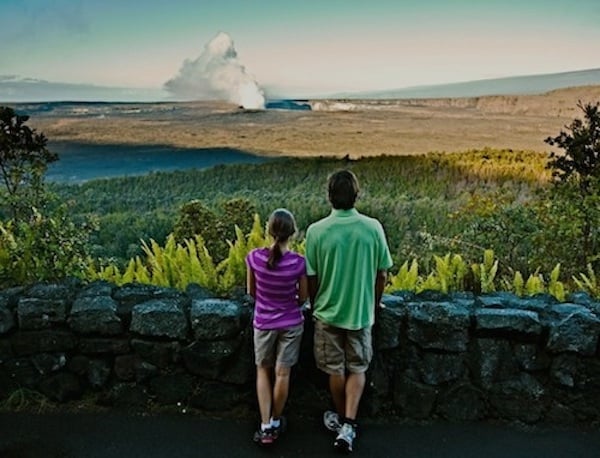 When it comes to beautiful parklands, Hawaii has no shortage. Between Hawaii Island, Maui, Molokai, Oahu and Kauai you'll find seven national parks, 55 state parks and countless city, county and regional beach parks.
Over the last few weeks, we've polled our HAWAII Magazine Facebook reader ohana, asking them, "What's your favorite Hawaii park?" Several hundred of you chimed in with your votes for best park. Amid the (admittedly accurate) "too many to choose from" and "all of Hawaii" responses that we received, we tabulated a diversity of parks—107 in all.
With all of those parks to choose from, you may be surprised by some of the results. Popular picks—like Hanauma Bay's snorkel-able volcanic crater on Oahu, the sheltered blue waters of Kauai's Lydgate Beach Park and the long white sand beach of Hawaii Island's Hapuna Beach State Park—were all close contenders that didn't make the Top 5 cut. You'll have to read on to find out what did.
If you'd like to join in on our next HAWAII Magazine Facebook Ohana Poll and vote along with our 138,000-reader-strong Facebook family, go to the HAWAII Magazine Facebook page and "like" us. In return you'll be able to share your answers in all of our future "Hawaii favorite" poll questions as soon as we post them, know the results of the poll when all of the votes are counted, and get all of our daily HawaiiMagazine.com photos and features.
We'll be posting our next Ohana Poll question on HAWAII Magazine's Facebook page in the weeks ahead, so "like" us now if you haven't yet.

Until then, here's the Top 5 countdown of our Facebook ohana's favorite Hawaii parks:
#5
Haleakala National Park
Maui
Haleakala—whose Hawaiian name means "house of the sun" for the legend in which Maui, a demigod, imprisoned the sun here in an attempt to lengthen the day—makes up the entirety of Maui's southern half. Barren volcanic landscape, forested overlooks, streams filled with rare native fish and sweeping ocean views combine to make this 33,265-acre national park a popular pick. Haleakala National Park's acreage includes two distinct areas: The trails along the reddish-brown, dormant and climbable Haleakala Volcano (its huge crater is nearly seven miles across!) and the Kipahulu District, a coastal area reached by winding road along Maui's windward side. Don't leave without seeing the Haleakala silverswords—endemic plants found only near the volcano's summit, with conical tops resembling a bushy version of pineapple spines—or looking for nene, the endangered Hawaiian goose and official state bird of Hawaii.

#4
Kailua Beach Park
Oahu
Situated on Oahu's windward (eastern) side, within walking distance of quaint-but-bustling Kailua town, this gently curving stretch of white sand is a perennially popular place to plant a beach umbrella and spend the day. Though just a 35-minute drive from crowded Waikiki, the lengthy 2 ½-mile expanse of sand here seems a world apart, and the quintessential laid-back Hawaii beach. Most mornings and afternoons kite-boarders launch into the turquoise water of Kailua Bay fronting the beach. You'll also find kayakers, swimmers and stand-up paddle boarders making the 1,000-foot journey to nearby Popoia (Flat Island) and back.

#3
Puuhonua O Honaunau National Historical Park
Hawaii Island
Puuhonua O Honaunau occupies 420 acres fronting Honaunau Bay on Hawaii Island's west side. Hawaiian for "place of refuge at Honaunau," its boundaries are imbued with deep cultural significance having been witness to more than 400 years of Hawaiian history. Puuhonua O Honaunau was a burial place of kings—its temple housed the bones of early Hawaiian chiefs. It also preserves a compound where, up until the early 19th century, anyone who broke the culture's laws—kapu, in Hawaiian—could find protection from punishment and be absolved. In times of war, defeated warriors and non-combatants would also seek refuge at this and other puuhonua throughout Hawaii. Today the park is home to a number of archeological sites ripe for exploring, including the remains of a coastal village, temple platforms, royal fishponds and more. An annual cultural festival, held in June, celebrates and shares the Hawaiian cultural underpinnings of the park.

Also called the "Grand Canyon of the Pacific," Waimea Canyon State Park overlooks the reddish depths of Waimea Canyon, a 3,000-foot deep gorge. The volcanic collapse responsible for the creation of Kauai and the erosive flow of the Waimea River are jointly responsible for this 10-mile-long gash in the middle of Kauai's west side. The canyon provides craggy outlooks for share-worthy photo-ops. The colors and shadows within the canyon change throughout the day. And from the rim's vantage, it's even possible to see the neighboring island of Niihau. Visitors eager to get a closer look should head further up Waimea Canyon Road to Kokee State Park, which houses the trailhead for a hike down into and out of the impressive canyon.

#1
Hawaii Volcanoes National Park
Hawaii Island
The state's most visited national park—and one of its most popular visitor attractions, period—Hawaii Volcanoes National Park is home to Hawaii Island's only two classified-active volcanoes, Kilauea and Mauna Loa. Kilauea, which has been continuously erupting since 1983, is also one of the world's most active volcanoes. Mauna Loa is the world's second-most massive volcano. Hawaii Volcanoes' blackened lava fields and rare native flora and fauna conjure up images of the primordial past. Yet the park, on the island's southeastern edge, is just a short 30-mile drive from the island's largest town, Hilo.
Hawaii Volcanoes National Park offers multiple opportunities for exploration. Though a large section of Crater Rim Drive has been closed for several years due to a continuing Kilauea summit caldera eruption, drivers and hikers can still take in lava desert and rainforest landscapes. Evening and overnight visits afford the chance for a glimpse of the famous ethereal red glow of Kilauea's summit Halemaumau crater underground lava lake. Can't make it to the park or still dreaming from afar? Check out the park's live webcam overlooking Kilauea's caldera from an observation tower at the Hawaiian Volcano Observatory.